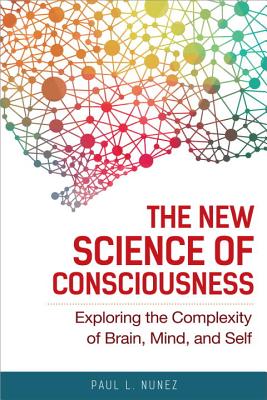 The New Science of Consciousness
Exploring the Complexity of Brain, Mind, and Self
Hardcover

* Individual store prices may vary.
Other Editions of This Title:
Paperback (7/1/2021)
Description
This book explains in layperson's terms a new approach to studying consciousness based on a partnership between neuroscientists and complexity scientists. The author, a physicist turned neuroscientist, outlines essential features of this partnership. The new science goes well beyond traditional cognitive science and simple neural networks, which are often the focus in artificial intelligence research. It involves many fields including neuroscience, artificial intelligence, physics, cognitive science, and psychiatry.

What causes autism, schizophrenia, and Alzheimer's disease? How does our unconscious influence our actions? As the author shows, these important questions can be viewed in a new light when neuroscientists and complexity scientists work together. This cross-disciplinary approach also offers fresh insights into the major unsolved challenge of our age: the origin of self-awareness. Do minds emerge from brains? Or is something more involved?

Using human social networks as a metaphor, the author explains how brain behavior can be compared with the collective behavior of large-scale global systems. Emergent global systems that interact and form relationships with lower levels of organization and the surrounding environment provide useful models for complex brain functions.

By blending lucid explanations with illuminating analogies, this book offers the general reader a window into the latest exciting developments in brain research.
Praise For The New Science of Consciousness: Exploring the Complexity of Brain, Mind, and Self…
"The question of consciousness—how subjective experience can arise from activity in the brain—is arguably the greatest question in science, so much so that it's become well known simply as 'the hard problem"…. Making explorations of this question accessible to a general audience is a hard problem in itself, but Paul Nunez manages to do just that."
—The Lancet Neurology 

"A thoroughly engaging, fascinating, and lively tour of the relationship between physics, complexity, and the mind. Challenging, innovative, and thought-provoking."

—Todd E Feinberg, coauthor of The Ancient Origins of Consciousness: How the Brain Created Experience

"Nunez applies a mixture of philosophy and science to tackle the fundamental problem in neuroscience—consciousness and how the brain works to create mind. The thought-provoking book will open many readers' eyes to the new appreciation of the brain as a complex dynamic system of waves of electrical activity interacting at different rhythms and phases to process and filter information, to learn from experience, and to operate at an unconscious, pre-conscious, and conscious level."
 
—R. Douglas Fields, PhD, neuroscientist and author of The Other Brain and Why We Snap

"It is rare to encounter such a readable and yet deep exploration of the nature of consciousness. The New Science of Consciousness draws on some of the most fascinating findings in fields as diverse as neuroscience, quantum mechanics, relativity, complexity theory, and the role of information as the fundamental underpinning of physical reality. Nunez demonstrates that the materialistic reductionist approach frequently used to dismiss or trivialize the 'hard problem' of consciousness is fundamentally flawed. He goes on to propose a fascinating and altogether more plausible 'multiscale conjecture' that opens the possibility of consciousness being encoded at multiple spatial and temporal scales of brain function and structure. A profound yet lucid contribution to one of the deepest questions facing science: the nature of consciousness."

—Richard Silberstein, PhD, Professor Emeritus at Swinburne University, Melbourne, and chairman of Neuro-Insight

"How does our conscious mental life arise in conjunction with neurophysiological processes going on in our brains? That vital question is the central target of this fine book, which is authored by one of the principal architects of contemporary brain theory and written in an engaging and informed style accessible to anyone who wants to get a general picture of what's going on in this rapidly emerging field—by which I mean not only what's already more or less agreed upon scientifically but also the potentially revolutionary new ideas that are just now coming over the horizon. Strongly recommended!"

—Edward F. Kelly, lead author of Irreducible Mind and Beyond Physicalism

"Paul L. Nunez is a leading expert on brain dynamics, particularly on the mechanisms of EEG generation. This volume is an impressive compendium of major current topics in physics, neuroscience, and cognitive science. From this foundation, Nunez attempts to build a link between the physical and mental worlds by adding consciousness to the unsolved problems of relativity theory, quantum mechanics, and thermodynamics."

—György Buzsaki, author of Rhythms of the Brain

"In the humble and highly illuminating manner of a master of several disciplines, Nunez shares his life's work on the relation between the dynamic (multiscale) patterns of the brain and mental states. His synthesis culminates in an enticing conjecture linking the physical and mental worlds that the 'new science' of consciousness ignores at its peril."

—J. A. Scott Kelso, Creech Chair in Science, Florida Atlantic University, and professor of computational neuroscience, Ulster University
Prometheus Books, 9781633882195, 350pp.
Publication Date: November 8, 2016
About the Author
Paul L. Nunez is emeritus professor of biomedical engineering at Tulane University and the owner and chief scientist of Cognitive Dissonance, LLC, a consulting firm specializing in brain research. He is the author of four books on the brain, most recently Brain, Mind, and the Structure of Reality.
or
Not Currently Available for Direct Purchase