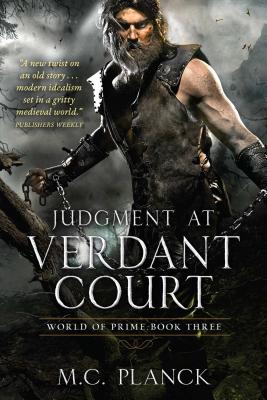 Judgment at Verdant Court (World of Prime #3)
Paperback

* Individual store prices may vary.
Description
The continuing adventures of Christopher Sinclair, mechanical engineer turned priest of war. Our hero faces evil on two fronts: a friend turned murderer by the power of magic, and an entire nation of murderous wolf-men. One he has to save from the vengeful clutches of the Druids, and the other from the mercenary greed of the king. But the true enemy is despair: the shame of a man who has done terrible things, and the madness of a man who is doing terrible violence. Can Christopher pick a path through broken and bloody bodies that still leaves room for goodness?
Praise For Judgment at Verdant Court (World of Prime #3)…
PRAISE FOR THE WORK OF M. C. PLANCK:


"Lively characters and solid worldbuilding keep the story moving."

--Publishers Weekly (on Gold Throne in Shadow)


"This is excellent epic fantasy... pulls the reader in quickly."

--Bull Spec (on Gold Throne in Shadow)


"Leaves the reader eager for the next chapter in this story."

--SFCrowsnest (on Gold Throne in Shadow)


"Sword of the Bright Lady is an exciting new take on the modern-man-meets-magic conflict--it's a how-to guide for surviving in a world of gods and monsters."

--DAVE GROSS, author of Prince of Wolves
Pyr, 9781633882294, 343pp.
Publication Date: December 6, 2016
About the Author
M.C. Planck is the author of Sword of the Bright Lady (World of Prime, Book 1), Gold Throne in Shadow (World of Prime, Book 2), and The Kassa Gambit. After a nearly-transient childhood, he hitchhiked across the country and ran out of money in Arizona. So he stayed there for thirty years, raising dogs, getting a degree in philosophy, and founding a scientific-instrument company. Having read virtually everything by the old Masters of SF&F, he decided he was ready to write. A decade later, with a little help from the Critters online critique group, he was actually ready. He was relieved to find that writing novels is easier than writing software, as a single punctuation error won't cause your audience to explode and die. When he ran out of dogs, he moved to Australia to raise his daughter with kangaroos.
or
Not Currently Available for Direct Purchase