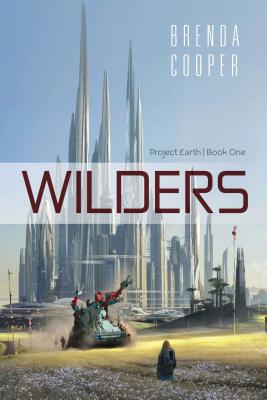 Wilders (Project Earth #1) (Paperback)
Pyr, 9781633882652, 367pp.
Publication Date: June 13, 2017
* Individual store prices may vary.
Description
Coryn Williams has grown up in the megacity of Seacouver, where her every need is provided for—except satisfaction with her life. After her parents' suicides, her sister Lou fled the city to work on a rewilding crew, restoring lands once driven to the brink of ecological disaster by humans to a more natural state. Finally of age, Coryn leaves the city with her companion robot to look for her sister. But the outside world is not what she expects—it is rougher and more dangerous, and while some people help her, some resent the city and some covet her most precious resource: her companion robot. As Coryn struggles toward her sister, she uncovers a group of people with a sinister agenda that may endanger Seacouver. When Coryn does find her sister, Lou has secrets she won't share. Can Coryn and Lou learn to trust each other in order to discover the truth hidden behind the surface and to save both Seacouver and the rewilded lands?
About the Author
Brenda Cooper is the author of Edge of Dark and Spear of Light, Books One and Two of The Glittering Edge series; The Creative Fire and The Diamond Deep, Books One and Two of Ruby's Song; and the The Silver Ship series. Her most recent short-story collection is Cracking the Sky. She is also the author of Mayan December and has collaborated with Larry Niven (Building Harlequin's Moon). Cooper is a working futurist and a technology professional with a passionate interest in the environment.
Praise For Wilders (Project Earth #1)…
"Engaging. . . . Cooper's world feels…real." 
—New York Times Book Review

"A captivating eco-thriller…. Wilders blends environmentalism, futurism, and science fiction for an engaging story with important messages about humanity's relationship with the world around it."
—Foreword Reviews

"Wilders is a vision of future America that's by turns exhilarating and terrifying. With a heroine you can genuinely root for and a world that's an all-too-likely outcome of our generation's choices, Wilders is one of the best near-future adventures in years. Combining the ecology of rewilding, next-gen robotics, and the savage politics of a post-global America, this is a book that raises and answers more questions than most writers manage in an entire series. And there's more to come!"
—Karl Schroeder, award-winning author of Lockstep
 
"A vivid picture of a world rebuilding from the edge of ecological ruin and the seeming conflicts between civilization and the nature it depends on."
—Ramez Naam, award-winning author of the Nexus series
 
"Wilders is a fantastic voyage into a beautifully intricate solarpunk future. Cooper's work is philosophically and psychologically relevant. Throughout Wilders, she gracefully examines the tensions between emerging technologies, human nature, and our ecosystem."
—Gray Scott, futurist and techno-philosopher
 
PRAISE FOR THE WORK OF BRENDA COOPER:

"Spear of Light exceeds my already high expectations for a Brenda Cooper novel. The exploration of what makes us human shines through this entertaining read."
--J. A. Pitts, author of Black Blade Blues 
 
"I loved Brenda Cooper's Philip K. Dick Award-nominated novel Edge of Dark, but the follow-up, Spear of Light, is even better. Cooper pits human against post-human and brilliantly reveals the best and worst of her characters. This is a fascinating, well-realized world."
--Patrick Swenson, author of The Ultra Thin Man

"Like...most of Brenda Cooper's work, really, Edge of Dark is a wonderful fusion of the character's futurist and science fiction vision with well-drawn characters and character dynamics that propel the plot and action."
--Skiffy and Fanty

"Fascinating... Edge of Dark is worth reading for a unique vision of artificial intelligences... and Cooper gives you a lot to think about."
-io9

"An intelligent, thoughtful look at what it might mean to coexist with superior AIs that we ourselves have created. Brenda Cooper's universe is detailed, inventive, and ultimately dazzling. I will remember Chrystal for a very long time."
--Nancy Kress, winner of multiple Hugo and Nebula awards