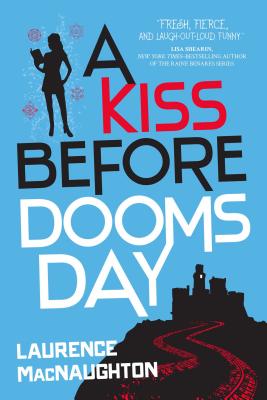 A Kiss Before Doomsday (A Dru Jasper Novel #2)
Paperback

* Individual store prices may vary.
Description
When an undead motorcycle gang attacks Denver's sorcerers, only one person can decipher the cryptic clues left behind—Dru Jasper, proprietor of the Crystal Connection and newly minted sorceress. Though Dru has learned how to harness the powers of her crystals, she's in over her head. A necromancer is using forbidden sorcery to fulfill the prophecy of the apocalypse and bring about the end of the world. Dru's only chance to stop him requires tracking down her would-be boyfriend, hot rod mechanic and half-demon Greyson. Everyone thinks he's dead, but Dru believes he's still alive, and finding him is the key to unraveling this evil. To learn the truth behind the necromancer's attacks, Dru must team up with her friends, and maybe even an enemy or two. Only Rane's brawn, Opal's wisdom, and Salem's spells can help her infiltrate the necromancer's hidden lair, stop the prophecy, and save the world. But they need to do it fast before legions of the undead rise to consume the souls of everyone on earth. . . .
Praise For A Kiss Before Doomsday (A Dru Jasper Novel #2)…
"Peppy urban fantasy…. Comedy, fantasy, and romance blend together smoothly…. This bubbly blend of genre tropes has spirit and whimsy with some good pieces in place."
            -Kirkus Reviews
 
"Delightful…. The ending provides just enough resolution to be satisfying while leaving plenty of questions unanswered to heighten anticipation for the next installment."
            -Publishers Weekly
 
"A Kiss Before Doomsday stays true to the series' familiar brand, offering a light, frothy confection of an apocalypse filled with soapy drama, cringe-worthy antics, and campy horror."
            -ForeWord Reviews
 
"MacNaughton has a real gift for developing quirky and a bit crazy characters who enliven the zany storylines. Another terrific outing!"
            -RT Book Reviews
 
"A long way from being yet another gloomy, claustrophobic urban fantasy. This is urban fantasy for readers who want to have a good time—even a few laughs… A well-crafted and thoroughly entertaining novel."
            -Booklist
 
"The follow-up to It Happened One Doomsday is a fun turducken of humor, magical exploits, and entertaining characters. More urban fantasy than supernatural romance, this offers fans of both subgenres a fun crossover read"
            -Library Journal
Pyr, 9781633882676, 295pp.
Publication Date: July 11, 2017
About the Author
Laurence MacNaughton is a fantasy writer and the author of It Happened One Doomsday, The Spider Thief, and Conspiracy of Angels.
or
Not Currently Available for Direct Purchase