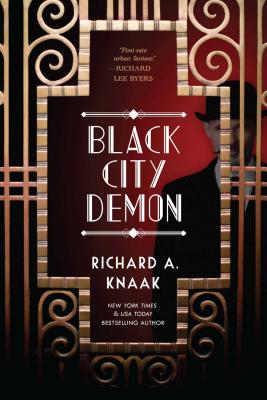 Black City Demon (Paperback)
Pyr, 9781633882751, 363pp.
Publication Date: March 14, 2017
* Individual store prices may vary.
Description
Since he became the guardian of the Gate between our world and Feirie sixteen hundred years ago, Nick Medea, once Saint George, has battled to keep the darkest Feirie--the Wyld--from invading the mortal plane. With the dragon an unwilling part of him, Nick maintains balance between realms, often at great cost to him and those nearest to him. Nick and his ragtag confederates--including the shape-shifter Fetch and Nick's reincarnated love, Claryce--have battled the Wyld, but mortals as sinister as the darkest Feirie. Now, with Prohibition in full swing and bootlegger wars embattling Chicago, a murderous evil born of the mortal world has turned its attention to the power of the Gate...and Nick himself. Nick must turn again to his most untrustworthy ally: the dragon within. Yet even together they may not be enough to face what was once a man...but is now a creature even dragons may fear.
About the Author
Richard A. Knaak is the New York Times- and USA Today-bestselling author of The Legend of Huma, WoW: Wolfheart, and nearly fifty other novels and numerous short stories, including Black City Saint and works in such series as Warcraft, Diablo, Dragonlance, Age of Conan, and his own Dragonrealm. He has scripted a number of Warcraft manga with Tokyopop, such as the top-selling Sunwell trilogy, and has also written background material for games. His works have been published worldwide in many languages. His most recent releases include Shade--a brand-new Dragonrealm novel featuring the tragic sorcerer--Dawn of the Aspects--the latest in the bestselling World of Warcraft series, and the fourth collection in his Legends of the Dragonrealm series. He is presently at work on several other projects.
Praise For Black City Demon…
"Black City Demon is a beautifully conceived fantasy, peopled with believable characters and interesting settings, that never cheats once on the reader. Bravo to Richard A. Knaak!"
 
—Five-time Hugo winner Mike Resnick


PRAISE FOR BLACK CITY SAINT:

"There's a lot to digest in this fast-paced, unpredictable world with a surprisingly well-developed cast of characters, including a lovable shapeshifter, an honest detective in a dishonest city, feirie royalty, and a kelpie made of Lake Michigan waters. Because of many resemblances to Jim Butcher's Dresden Files, urban fantasy fans will be hoping for more from Nick Medea." --Booklist

 
"Black City Saint is jam-packed with awesome -- cursed Roman emperors, incorporeal dragons, paranormal detectives, a shapeshifter from the Feirie realm trapped inside a dog's body, and one very tormented unsaintly Christian saint -- all set in prohibition-era Chicago. Knaak's latest is fast-paced and funny, frightening and more than a little fiendish, a brilliant mash-up of Ghostbusters, The Da Vinci Code, and the ancient story of St. George and the Dragon."

--Brian Staveley, author of The Emperor's Blades


"Black City Saint is first-rate urban fantasy. Richard A. Knaak has mixed myth with real-world history to create a fast-paced, unpredictable story filled with intriguing characters, terrifying monsters, and sinister magic. Readers in search of the next Harry Dresden should join Nick Medea on what is sure to be the first of many adventures."

--Richard Lee Byers, author of The Reaver, Blind God's Bluff, and Dissolution