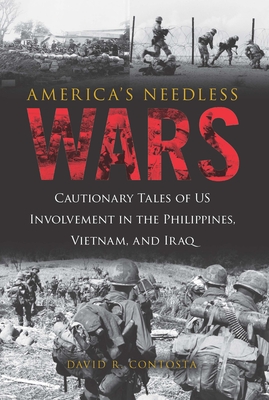 America's Needless Wars
Cautionary Tales of US Involvement in the Philippines, Vietnam, and Iraq
Hardcover

* Individual store prices may vary.
Description
This eye-opening book takes a unique approach to the history of U.S. foreign policy by examining three unrelated conflicts, all of which ended tragically and resulted in the deaths of millions on both sides. By analyzing what went wrong in each case, the author uncovers a pattern of errors that should serve as a precaution for future decision makers contemplating a conflict abroad.

Why did President McKinley oppose Filipino independence forces if his motivation was truly to help Filipinos overthrow Spanish domination? Why did several U.S. presidents ignore the failures of the French in Vietnam and reject peace overtures from popular revolutionary leader Ho Chi Minh to bring the conflict to an early end? And how could American leaders have been so wrong about Saddam Hussein's alleged weapons of mass destruction and then let Iraq devolve into chaos after overthrowing the dictator?

Historian David R. Contosta has sifted through official hearings, media investigations, public documents, memoirs of those for and against the conflicts, and numerous histories to uncover the answers to these questions. The common thread that links these wars from different centuries is that political leaders all too often have acted out of ignorance, arrogance, fear, and partisan gamesmanship. These lapses were compounded by the failure of the media to inform the public accurately and dispassionately. The sad result is that America has paid a high price in lost lives and tarnished national reputation.

As the author notes in conclusion, if American exceptionalism is to have any meaning, then we must honestly appraise our past foreign-policy blunders to ensure wiser political action in the future.
Praise For America's Needless Wars: Cautionary Tales of US Involvement in the Philippines, Vietnam, and Iraq…
"This provocative book issues a scalding indictment of America's foreign policy blunders across the long twentieth century. Whether motivated by ignorance, political calculation, or national arrogance, the United States entered into wars in the Philippines, Vietnam, and Iraq on false pretenses and reaped the bitter fruits of defeat. Contosta's research is thorough and his analysis piercing, resulting in an object lesson in why politicians, generals, and citizens should ask hard questions and think deeply before rushing into wars that will drain the national treasury and bring sorrow to American families, especially when no fundamental interests are at stake. Presidents should keep this book on their bedside table lest they be tempted to launch another needless war without realizing the potential consequences."
 
—Thomas A. Chambers, professor of history, Niagara University, and author of Memories of War: Visiting Battlegrounds and Bonefields in the Early American Republic

"A tract for the times, Contosta's book is a sober reappraisal of the deformation of American foreign policy over the last century. Republicans and Democrats alike have fallen into the trap of using military force at moments when the country was not in imminent danger of attack. God help us if we repeat these catastrophic errors today or tomorrow."
 
—Jay Winter, Charles J. Stille Professor of History Emeritus, Yale University

"In America's Needless Wars, David R. Contosta earnestly examines three pivotal conflicts in US history—ill-fated military ventures born of hubris and misconception, which culminated in tragedy and disillusionment."
 
— Gregg Jones, author of Honor in the Dust: Theodore Roosevelt, War in the Philippines

"A 'splendid little book,' to paraphrase one of its subjects. Thoughtful, provocative, readable, and full of arresting details—Ho Chi Minh playing 'The Star-Spangled Banner,' or the origins of waterboarding in the Philippine-American War. You can agree or disagree with Contosta, but his account of three seemingly different conflicts, across three centuries, will leave you convinced that history really does "rhyme." And that ultimately the biggest threat to American power and prestige—past, present, and future—may be when policy makers, media, and citizens fail to ask the hard questions."
 
—Joseph Torsella, US Ambassador (ret.)
Prometheus Books, 9781633882898, 206pp.
Publication Date: March 21, 2017
About the Author
David R. Contosta is professor of history at Chestnut Hill College in Philadelphia, PA, and the author of twenty-three previous books, including Rebel Giants: The Revolutionary Lives of Abraham Lincoln and Charles Darwin. Contosta has been a Fulbright Scholar to France, a visiting scholar at Cambridge University in England, and most recently a visiting professor at Pyeongtaek University in South Korea. In addition, he has written, coproduced, and appeared in several historical documentaries for public television, as well as for local cable television.
or
Not Currently Available for Direct Purchase