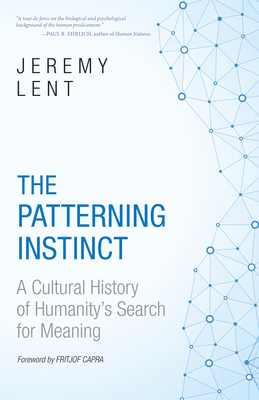 The Patterning Instinct
A Cultural History of Humanity's Search for Meaning
Hardcover

* Individual store prices may vary.
Other Editions of This Title:
Digital Audiobook (9/18/2017)
Paperback (10/15/2022)
MP3 CD (9/5/2017)
Compact Disc (9/5/2017)
Compact Disc (9/19/2017)
Description
Winner of the 2017 Nautilus Silver Award!

This fresh perspective on crucial questions of history identifies the root metaphors that cultures have used to construct meaning in their world. It offers a glimpse into the minds of a vast range of different peoples: early hunter-gatherers and farmers, ancient Egyptians, traditional Chinese sages, the founders of Christianity, trail-blazers of the Scientific Revolution, and those who constructed our modern consumer society.

Taking the reader on an archaeological exploration of the mind, the author, an entrepreneur and sustainability leader, uses recent findings in cognitive science and systems theory to reveal the hidden layers of values that form today's cultural norms.

Uprooting the tired clichés of the science-religion debate, he shows how medieval Christian rationalism acted as an incubator for scientific thought, which in turn shaped our modern vision of the conquest of nature. The author probes our current crisis of unsustainability and argues that it is not an inevitable result of human nature, but is culturally driven: a product of particular mental patterns that could conceivably be reshaped.

By shining a light on our possible futures, the book foresees a coming struggle between two contrasting views of humanity: one driving to a technological endgame of artificially enhanced humans, the other enabling a sustainable future arising from our intrinsic connectedness with each other and the natural world. This struggle, it concludes, is one in which each of us will play a role through the meaning we choose to forge from the lives we lead.
Praise For The Patterning Instinct: A Cultural History of Humanity's Search for Meaning…
"This fascinating, page-turning exploration of the human journey from the stone age to the space shuttle gives us powerful new ways to see ourselves. Deeply researched, and written with great clarity and style, this book is also full of hope about humanity's possibilities in the twenty-first century."
 
—Rick Hanson, PhD, author of Buddha's Brain: The Practical Neuroscience of Happiness, Love, and Wisdom

"A tour de force on the biological and psychological background of the human predicament. If you are concerned about our future, you should know about our past. This amazing, well-documented book should be read by every college student and every congressman."

—Paul R. Ehrlich, author of Human Natures

"A brilliant deep dive into the history of human cultures that brings us to today's cultural dysfunctions that threaten the planet. Insight, illumination, and potential ways out of the seeming dead end that we've walked ourselves into. I would recommend it!"

—Thom Hartmann, author of The Last Hours of Agent Sunlight

"In prose that is a joy to read, Lent takes us on a tour of human history, guided by systems theory and cognitive science, to argue for the prominence of culture and the habits of the mind in shaping our collective destiny.  If you've been too busy for the last twenty years to pay attention to the big ideas about the nature of the human animal, the engines of history, our place in the biosphere, and the shape of things to come, Lent can bring you up to date painlessly."
 
—J. R. McNeill, University Professor, Georgetown University, and author of Something New Under the Sun
 
"The Patterning Instinct is a must-read for anyone concerned about the future of humanity. The book delves beneath the surface of problems facing our world today to examine the dominant cultural assumptions that lie at their root. The book thoughtfully traces how views about human nature and the natural world in both Eastern and Western culture have shaped history and how the emerging global culture of connectedness and the systems view of life may hold the key to humanity's evolution and future survival."
 
—Atossa Soltani, Amazon Watch founder and president

"This breathtaking book is already a classic. With its unique synthesis of thought history, actual historical events, and cultural patterns, it does what no other work has achieved since Lovejoy's The Great Chain of Being. Lent explains in one sweeping argument why global civilization has separated from life. And he shows how we can find our way back into it. Lent narrates the history of humanity's growing alienation from a shared biosphere and from our own feeling bodies with the suspense and art of a novelist. It is heart-wrenching to see to what degree thought patterns can form not only our worldview, but the actual world, handing it over to destruction. The good message though is Lent proves that humanity's destructiveness is not God-given; it is, as any cultural pattern, reversible. That is our chance."
 
—Andreas Weber, author of The Biology of Wonder: Aliveness, Feeling, and the Metamorphosis of Science

"Shell-shocked liberals and progressives are casting around to explain the political setbacks of 2016. The Patterning Instinct tells us that seeking answers from recent history is likely to prove forlorn; deep-seated patterns in the way we both think and behave have predisposed us to acting in ways that are self-evidently irrational and against our own interests. To have any hope of transforming this perverse and potentially apocalyptic worldview, we will need to dig much deeper into our own history—and this extraordinary book provides an authoritative and inspirational guide."
—Jonathon Porritt, environmentalist and author
Prometheus Books, 9781633882935, 569pp.
Publication Date: May 23, 2017
About the Author
Jeremy R. Lent is a writer and the founder and president of the nonprofit Liology Institute, dedicated to fostering a worldview that could enable humanity to thrive sustainably on the earth. The Liology Institute (www.liology.org), which integrates systems science with ancient wisdom traditions, holds regular workshops and other events in the San Francisco Bay Area. Lent is the author of the novel Requiem of the Human Soul. Formerly, he was the founder, CEO, and chairman of a publicly traded Internet company. Lent holds a BA in English Literature from Cambridge University and an MBA from the University of Chicago.