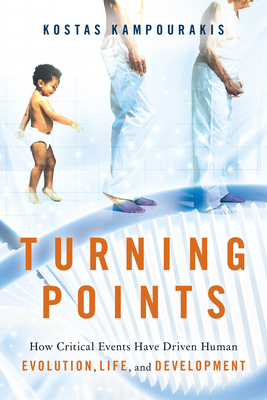 Turning Points
How Critical Events Have Driven Human Evolution, Life, and Development
Hardcover

* Individual store prices may vary.
Description
An accessible introduction to core concepts in evolution for lay readers, which shows that random events have played a critical role in the development of life

Critical historical events--or "turning points"--have shaped evolution and continue to have a decisive effect on individual lives. This theme is explored and explained in this lucid, accessible book for lay readers. The author argues that, although evolution is the result of unpredictable events, these events have profound influences on subsequent developments. Life is thus a continuous interplay between unforeseeable events and their decisive consequences.

As one example, the author cites the fusing of two chromosomes, which differentiated the human species from our closest animal relatives about 4 to 5 million years ago. This event was not predictable, but it had a profound effect on the evolution of our species thereafter. By the same token, certain unpredictable circumstances in the past enabled only Homo sapiens to survive to the present day, though we now know that other human-like species also once existed.

The author contrasts such scientific concepts grounded in solid evidence with prevalent misconceptions about life: specifically, the religious notion that there is a plan and purpose behind life, the widespread perception that intelligent design governs the workings of nature, the persistent belief in destiny and fate, and the attribution of an overly deterministic role to genes.

This excellent introduction for laypersons to core ideas in biology goes a long way toward dispelling such misconceptions and presents current scientific research in clearly understandable, jargon-free terms.
Praise For Turning Points: How Critical Events Have Driven Human Evolution, Life, and Development…
"For curious and open-minded science aficionados, Turning Points provides a roadmap for disentangling evolutionary biology's most complicated concepts. . . . Kampourakis deserves credit for bringing underappreciated topics to a mainstream audience. . . . He excels at communicating complicated scientific material … Whether you pray to an omniscient Creator or worship at the altar of Genomics, Turning Points prompts serious introspection."
 
—The Cooper Square Review

""Turning Points, analyses the key evolutionary events — a chain of chance and contingency — that shaped humanity for better and for worse. … Kampourakis … takes the broadest view of the chance events and their consequences. He even includes a fascinating chapter to illustrate the way events unfold at the individual level, by showing the chain of coincidences through which Charles Darwin came to formulate his theory of evolution through natural selection and write On the Origin of Species."

— Financial Times

"Philosophers, scientists, and historians have long debated the relative importance of chance versus destiny. In this insightful analysis, Kostas Kampourakis sides convincingly with Stephen Jay Gould, demonstrating the importance of unpredictable events in shaping both our lives and the course of evolution."

— Jonathan Losos, William H. Danforth Distinguished University Professor and director of Living Earth Collaborative at Washington University, and author of Improbable Destinies: Fate, Chance, and the Future of Evolution

"Kampourakis explains how the course of time runs on a knife-edge, how history is full of apparent coincidences on which the greater story turns. The result is a refreshing look at how events unfold, from the grandeur of evolution to the moment-by-moment progress of our own stories."

— Henry Gee, author of The Accidental Species: Misunderstandings of Human Evolution

"In this extremely original, incisive, and informative treatise concerning human evolution, Kampourakis asserts that the evolution of our species, Homo sapiens, was determined by a number of contingent events, or 'turning points,' starting perhaps with the fusion of two chromosomes in one of our hominin ancestors two to four million years ago. Contingent events are also turning points that determine what we are as individuals. No biological expertise is needed—all should read Turning Points. Whether or not you are persuaded by Kampourakis's arguments, you'll enjoy his originality and the multitude of his illuminating examples. I very much enjoyed the book."

— Francisco J. Ayala, University Professor and Donald Bren Professor of Biological Sciences, University of California–Irvine

"Kampourakis presents a strong argument for understanding life processes—including human behaviors—as the result of numerous contingencies that are not determined in a linear, causal sequence. Particularly effective is the argument against genetic determinism, which is presented, like the rest of the book, in very clear prose."

— Garland E. Allen, Professor of Biology Emeritus, Washington University in St. Louis

"In this lucid and readable book, Kampourakis makes a compelling philosophical and historical case for the contingency of evolution, the absence of intelligent design, and much more. It should appeal to wide range of readers."

— Ronald L. Numbers, Hilldale Professor of the History of Science and Medicine Emeritus, University of Wisconsin–Madison

"A new and exciting way of looking at life's past, including our own evolution. You may not always agree, but you will be led to rethink many old beliefs and prejudices."

— Michael Ruse, Lucyle T. Werkmeister Professor of Philosophy and director of the Program in History and Philosophy of Science, Florida State University

"Many people still believe that their lives are governed by fate; others have replaced the latter with the genetic plan in the DNA of our cells. Many, while not explicitly denying evolution, nevertheless accept that the emergence of humankind is the outcome of Intelligent Design. Kampourakis convincingly shows that all of these ideas are wrong. I am confident that by reading this book many readers will experience a healthy turning point in their worldview."

— Alessandro Minelli, professor of zoology (ret.), University of Padova, and editor in chief, Frontiers in Evolutionary Developmental Biology

"Turning Points: How Critical Events Have Driven Human Evolution, Life, and Development could have been featured in our science or psychology sections; but is reviewed here because of its wide-ranging insights into critical historical events which have affected both individual lives and society as a whole. The author maintains that while evolution results from unpredictable events, they also have shaped human development. Various theories about influencers on human development are contrasted, from scientific to religious ideas about life and its influencers, making for a fine introduction linking biology to human evolution."

— The Midwest Book Review

"Kostas Kampourakis delivers a stimulating argument in his new book, Turning Points … Readers love when they are halted in their view of the author's thoughts while driven into a reflective state with enlightening graphics. And Kampourakis does this well. … the discussion and topics are worth plowing through."

— Tulsa Book Review

"Kampourakis produces a lot of validity to evolution and significant points in Man's own state. You also get a better understanding of genetics that will certainly want you to find out more about how things work. The only thing he can't cover because we simply don't have enough knowledge is why some things happen and some don't although I have covered my own thoughts on the subject in my March article that I drafted before reading this book. Read this book and think. Whether you can get a creationalist convinced otherwise is a tough question."

— SF Crowsnest

 "Another new and very different book on the theme of human evolution is Turning Points: How Critical Events Have Driven Human Evolution, Life, and Development … . Kampourakis … takes a more scholarly but still readable approach. His emphasis is on dramatic events, many of which were coincidental, that marked the development of our species, or as the dust jacket flap notes, "Life is thus a continuous interplay between unforeseeable events and their decisive consequences." For this reviewer, that is a fascinating genetic parallel to the view of influence of geological and astronomical events on the evolution of our planet's species through sustained periods of uniformity punctuated by catastrophes."

— Science Shelf Blog
Prometheus Books, 9781633883291, 366pp.
Publication Date: February 27, 2018
About the Author
Kostas Kampourakis is the author of Making Sense of Genes and Understanding Evolution, as well as the editor of The Philosophy of Biology: A Companion for Educators and (with R. L. Numbers) Newton's Apple and Other Myths about Science. He is also the editor in chief of the journal Science & Education and the book series Science: Philosophy, History and Education. Currently, he is a researcher in science education at the University of Geneva, where he teaches courses at the University Teacher Training Institute and the Section of Biology.
or
Not Currently Available for Direct Purchase