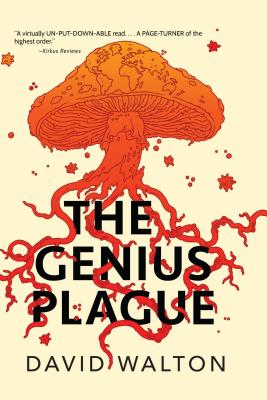 The Genius Plague
Paperback

* Individual store prices may vary.
Other Editions of This Title:
Digital Audiobook (10/2/2017)
MP3 CD (10/3/2017)
Compact Disc (10/3/2017)
Compact Disc (10/3/2017)
Description
WINNER of the 2018 Campbell Award for Best Novel A WALL STREET JOURNAL Best Science Fiction Book of 2017 In this science fiction thriller, brothers are pitted against each other as a pandemic threatens to destabilize world governments by exerting a subtle mind control over survivors. Neil Johns has just started his dream job as a code breaker in the NSA when his brother, Paul, a mycologist, goes missing on a trip to collect samples in the Amazon jungle. Paul returns with a gap in his memory and a fungal infection that almost kills him. But once he recuperates, he has enhanced communication, memory, and pattern recognition. Meanwhile, something is happening in South America; others, like Paul, have also fallen ill and recovered with abilities they didn't have before. But that's not the only pattern--the survivors, from entire remote Brazilian tribes to American tourists, all seem to be working toward a common, and deadly, goal. Neil soon uncovers a secret and unexplained alliance between governments that have traditionally been enemies. Meanwhile Paul becomes increasingly secretive and erratic. Paul sees the fungus as the next stage of human evolution, while Neil is convinced that it is driving its human hosts to destruction. Brother must oppose brother on an increasingly fraught international stage, with the stakes: the free will of every human on earth. Can humanity use this force for good, or are we becoming the pawns of an utterly alien intelligence?
Praise For The Genius Plague…
"This is great sci-fi, constantly pushing new facts and new thoughts at you, and—most important—weaving them into a plot as well.... Walton keeps the ideas, sensations and plot twists coming. Twenty pages from the end, you still don't know who will win—or who deserves to. With this book and his earlier "quantum" stories, Walton has brought hard sci-fi roaring back to life."

—WALL STREET JOURNAL

"David Walton, who wrote the stellar Superposition and Supersymmetry, deserves to be a lot better known than he is. The tightly plotted and smoothly written The Genius Plague proves that …. In Walton's hands, what could be a straightforward ''we must save humanity with science'' thriller (not that there's anything wrong with that), becomes, at times, a meditation on what makes us human and why that alone is a survival advantage…. A winner."
             
—LOCUS

"Paired with relentless pacing, an action-packed narrative, and a cast of interesting characters, Walton's fluid writing style and tightly constructed plot produce a virtually un-put-down-able read. Tonally the love child of Crichton's The Andromeda Strain and Aldiss' SF classic Hothouse, this is a page-turner of the highest order."

—Kirkus Reviews

"Fast-paced and engaging, this had me rapt from beginning to end. A surprisingly vicious, timely look at the line between humanity and its environment. Beautifully done. I am eating a mushroom omelet as revenge."

 —Mira Grant, New York Times–bestselling author of Feed
 
"David Walton is one of our very best writers of science-fiction thrillers, and The Genius Plague is a triumph from first page to last.  This one will stick with you."

 —Robert J. Sawyer, Hugo Award-winning author of Quantum Night
 
"Riveting. David Walton gives us a wild ride through new territory."

—Jack McDevitt, Nebula Award–winning author of the Alex Benedict and Priscilla Hutchins novels

"Once areader picks up Walton's latest whirlwind sf thriller, she will not be able to put it down."

—Booklist

Walton infuses his latest novel with adventure, spycraft, humor, and shudders…. The Genius Plague freshens up the nature-versus-man archetype with an unusual "critter" and contemporary global politics, resulting in a page-turning read that is also thought-provoking. We may never look at mushrooms the same way again."

—ForeWord Reviews

"This original and frightening ecological response to human activity dances tantalizingly on the edge of believability. Adding to questions of species survival are chewy concepts that touch on individual choice and free will."

—Publishers Weekly

PRAISE FOR SUPERPOSITION:

"This is the way sci-fi ought to be."

--WALL STREET JOURNAL

"An expanding universe of delight."

--WASHINGTON POST

"Gripping, suspenseful and original, this is a page-turning novel that readers are sure to devour. "

--RT BOOK REVIEWS 

"Walton delivers fast-paced action, suspense and riveting mystery--all of it spinning about a core of vivid, speculative science. Enjoy some tense, imaginative fun."

--David Brin, Hugo and Nebula Award-winning author of Existence

PRAISE FOR SUPERSYMMETRY:

"Thrills and spills and sheer excitement on full-throttle overdrive."
 --KIRKUS REVIEWS  

"This sequel to Superposition is just as excellent as the first.  Fast-paced, mind-bending, super-scientific yet fully accessible. . . .  Full of new possibilities and probabilities, Supersymmetry gives readers a peek into what the future may hold and the cost that comes with it.  This is a science fiction novel full of humanity and all its inherent beauty and ugliness.  

--RT BOOK REVIEWS 
Pyr, 9781633883437, 384pp.
Publication Date: October 3, 2017
About the Author
David Walton is the author of six novels and recipient of the Philip K. Dick Award for his first novel, Terminal Mind. Superposition and Supersymmetry are quantum physics murder mysteries. He is also the author of Quintessence, a science fantasy in which the Earth is really flat, and its sequel, Quintessence Sky. David lives a double life as a top secret engineer working with the US intelligence community by day, and the mild-mannered father of seven children at night.
or
Not Currently Available for Direct Purchase