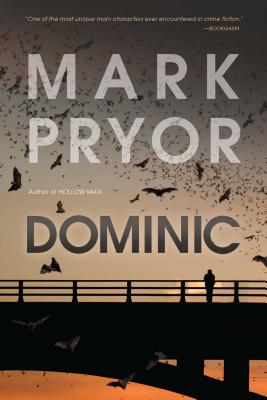 Dominic (Paperback)
Seventh Street Books, 9781633883659, 239pp.
Publication Date: January 2, 2018
* Individual store prices may vary.
Description
Fans of YOU on Netlfix will love Mark Pryor's Dominic.

Only two other people know that Dominic, a charming Englishman, prosecutor, and musician in Austin, Texas, is also a psychopath. They also know that a year ago he got away with murder. One of those people is his "special lady," and the other is her brother, a teenager and fellow psychopath called Bobby. When a wily homicide detective starts digging up that past murder, little Bobby offers to take care of the problem--permanently. Dominic tries to dissuade him, but as he himself knows, psychopaths aren't good with following instructions. Or impulse control. As Detective Megan Ledsome circles closer, Dominic knows his life depends on keeping his secrets hidden, from her and the rest of the world. And when his annoying office-mate declares his interest in a judicial position, one he himself would like, Dominic realizes that one of his carefully-orchestrated plans could kill two birds with one stone. Of course, that means some sleight of hand and a sacrifice or two. But if there's one thing a psychopath doesn't mind, it's sacrificing other people.
About the Author
Mark Pryor is the author of Hollow Man and the Hugo Marston novels The Bookseller, The Crypt Thief, The Blood Promise, The Button Man, The Reluctant Matador, The Paris Librarian, and The Sorbonne Affair. He has also published the true-crime book As She Lay Sleeping. A native of Hertfordshire, England, he is an assistant district attorney in Austin, Texas, where he lives with his wife and three children.
Praise For Dominic…
"Fast paced with well-crafted characters, Dominic is a psycho-thriller that will have you wondering if your co-worker and neighbors are really who they appear to be."

―Killer Nashville Book of the Day

"Pryor's skillful narrative crystallizes in the best possible way, in the novel's last sentence. Pryor… can write realistically about the mind of a psychopath. Maybe that is useful for an assistant district attorney. It certainly is for a murder mystery writer."

―San Antonio Express-News

"Dominic goes into action, pulling several diabolical tricks that solve the murders, simultaneously confirming Dominic's own status as a psychopath in a clever book that has a significant number of puzzles and an equal list of tantalizing answers."

―Toronto Star

"An intriguing psychological thriller, with many twists, turns, and blind alleys to keep the reader guessing right to the very end. And despite Dominic's psychopathy, the reader ultimately roots for him and wants him to succeed."

―The Big Thrill 

"[An] entertaining sequel to Hollow Man, making the reader wonder where Dominic's destiny will take him next."

―New York Journal of Books

PRAISE FOR HOLLOW MAN:

"Dominic is not your grandmother's psychopath. . . . This noirish twisty tale will appeal to those who enjoy Jeff Lindsay's Dexter series, Gillian Flynn's Gone Girl, and Pryor's own Sherlockian international thriller series starring Hugo Marston."

―Booklist, STARRED REVIEW

"As sharp and slick as a switchblade--both excellent entertainment and an acute psychological portrait. Add Mark Pryor to your must-read list--I have." 

―LEE CHILD, #1 New York Times-bestselling author 

"One of the freshest and most chilling noirs since Megan Abbott's Dare Me."

―MysteryPeople, PICK OF THE MONTH

"Innovative… Dominic is a fascinating protagonist."

―Dallas Morning News

"Devilishly clever…. As the mishaps escalate for the conspirators, so does the suspense, culminating in a denouement worthy of the neo-noir film classic The Usual Suspects."

―Publishers Weekly, STARRED REVIEW

"Pryor's exquisite [novel] is a gem that explores a man who will go to any lengths to fulfill his needs. On the surface, what seems like a crime novel ends as a carefully plotted thriller."

―RT Book Reviews, 4 ½ Stars - FANTASTIC - KEEPER

 "An audacious [novel] that dares the reader to sympathize with a coldblooded killer whose lack of empathy allows his cunning to run free."                                                 

―Kirkus Reviews

"One of the most unique main characters ever encountered in crime fiction."

―Bookgasm