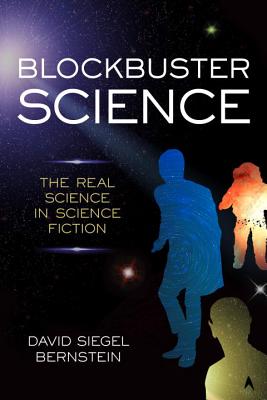 Blockbuster Science
The Real Science in Science Fiction
Hardcover

* Individual store prices may vary.
Description
If you've ever wondered how much real science goes into movies like Gravity, novels like The Martian, and television shows like Doctor Who, this is the book for you.

Written by an author who is both a data scientist and a science fiction writer, this entertaining and accessible book uses popular science fiction movies, stories, and TV shows to explain the science behind popular narrative concepts like time travel, lightsabers, AI, genetic mutation, asteroids, cyborgs, black holes, alien invasion, the zombie apocalypse, and more.

What could be a more fun way to explore the world of science than through its use—accurately or fantastically—in science fiction entertainment: movies, books, and TV shows?

Learn about relativity through Orson Scott Card's Ender's Game and the movie Interstellar; black holes and wormholes in connection with Contact and Planet of the Apes; theories about the origin of life as reflected in Battlestar Galactica, Star Trek: The Next Generation, and The Hitchhiker's Guide to the Galaxy; computer science and artificial intelligence in reference to A.I. Artificial Intelligence; and much, much, more.

Written with wit, clarity, and a great sense of fun, Blockbuster Science will inspire science fiction fans to get excited about real science while also putting an engaging pop culture spin on science for any curious reader.
Praise For Blockbuster Science: The Real Science in Science Fiction…
"The book covers everything, with a truly encyclopaedic ability to fire example after example from science fiction to illustrate the science being discussed…. Because this book is all about the science of science fiction, there are examples that blur the line between the two and really capture the imagination…. If you are looking for a primer on a wide range of sciences and a wide range of science fiction, then Blockbuster Science is your hitchhiker's guide."

—Nature Physics

"David Siegel Bernstein's charming and engaging book is a whirlwind tour of the mind-bending ideas and discoveries at the heart of modern science. Reality is often stranger than fiction; Blockbuster Science is a welcoming guide to anyone who wants to explore the ever-expanding boundaries between proven science and inspired speculation."
 
—Andre Bormanis, television writer and producer, and science consultant for the Star Trek television and film franchise

"It's always scarier if it's possible, and Blockbuster Science takes the 'fiction' out of science fiction. Brilliant, weird, and unnerving. Highly recommended!"
 
—Jonathan Maberry, New York Times–bestselling author of Patient Zero and Mars One
Prometheus Books, 9781633883697, 336pp.
Publication Date: October 10, 2017
About the Author
David Siegel Bernstein has written two science fiction novelettes and many short stories for various science fiction magazines and anthologies. He works as a managing consultant for BLDS LLC, where he applies mathematical and statistical modeling to discrimination and civil rights matters. He previously worked at LECG and the Center for Forensic Economic Studies in Philadelphia.
or
Not Currently Available for Direct Purchase