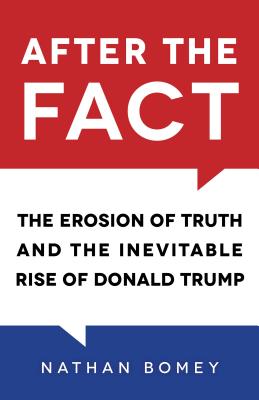 After the Fact
The Erosion of Truth and the Inevitable Rise of Donald Trump
Hardcover

* Individual store prices may vary.
Other Editions of This Title:
Digital Audiobook (5/7/2018)
Description
This trenchant analysis examines the many ways our society's increasingly tenuous commitment to facts laid the groundwork for Donald Trump's rise to power.

Award-winning journalist Nathan Bomey argues that Trump did not usher the post-truth era into being. He was its inevitable outcome. Bomey points to recent trends that have created the perfect seedbed for spin, distortion, deception, and bald-faced lies: shifting news habits, the rise of social media, the spread of entrenched ideologies, and the failure of schools to teach basic critical-thinking skills

The evidence supporting the author's argument is all around us: On Facebook, we present images of our lives that ignore the truth and intentionally deceive our friends and family. We consume fake news stories online and carelessly circulate false rumors. In politics, we vote for leaders who leverage political narratives that favor ideology over science. And in our schools, we fail to teach students how to authenticate information.

After the Fact explores how the convergence of technology, politics, and media has ushered in the misinformation age, sidelining the truth and threatening our core principle of community.
Praise For After the Fact: The Erosion of Truth and the Inevitable Rise of Donald Trump…
"After the Fact is at once frightening, important, and clear-eyed as it deals with the central question of our times: can truth and facts prevail over manipulation and lies?"
 
—David Maraniss, Pulitzer Prize–winning associate editor at the Washington Post

"A penetrating, disturbing, and highly readable look at the multifaceted war on truth, with some smart suggestions for limiting the casualties."
 
—Rem Rieder, former USA Today media columnist and former editor of American Journalism Review

"Troubling and essential..."

—Leonard Pitts, columnist, Miami Herald

"Nathan Bomey explains how 'alternative facts' and other official fictions and lies came to infect our democracy. More importantly, Bomey offers readers useful tools to remove the post-fact era's corrosive influence and to restore verifiable, fact-based reality as the basis of our civic debates." 
 
—David Cay Johnston, Pulitzer Prize–winning author of It's Even Worse Than You Think: What the Trump Administration Is Doing to America

"American democracy depends on trust. If we cannot meet in the middle, we are doomed to a world of shouting heads on cable and lying memes on the internet. Bomey outlines how we got here and gives the factual blocks for building understanding so we can evolve solutions for the benefit of the Republic. It is a big contribution to an informed debate."

—Alberto Ibarguen, president, John S. & James L. Knight Foundation

"Through spot-on reporting and analysis, Bomey makes a convincing case that two of our most cherished institutions—journalism and education—failed us during the 2016 election. This book offers a harrowing account of what went wrong, but Bomey also offers a way out, urging us to help our young people get the skills they need to tell real news from fake and junk science from fact. This book is required reading for anyone interested in keeping our crazy democracy afloat."

—Greg Toppo, USA Today national education writer, and author of The Game Believes in You: How Digital Play Can Make Our Kids Smarter

"If, like me, you wonder why so much complete nonsense becomes the accepted norm in this data-rich and knowledge-starved world, After the Fact will help lift the veil. An enlightening and intriguing book."

—Chris McGowan, curator emeritus, Department of Paleobiology at the Royal Ontario Museum in Toronto, and author of Saving Science Class
 


Prometheus Books, 9781633883772, 270pp.
Publication Date: May 8, 2018
About the Author
Nathan Bomey is an award-winning business reporter for USA Today and the author of Detroit Resurrected: To Bankruptcy and Back. Previously, he was a reporter for the Detroit Free Press, a business reporter for publications in Ann Arbor, Mich., and a reporter for his hometown newspaper in Saline, Mich. Among other honors, Bomey has received the Michigan Notable Books Award (2017) from the Michigan Department of Education, the Outstanding Young Alumni Award (2015) from Eastern Michigan University, the Young Journalist of the Year Award (2015) from the Society of Professional Journalists Detroit, two Society of American Business Editors and Writers (SABEW) Awards, the Wade H. McCree Award for the Advancement of Justice, and Governing magazine's Hovey-Harkness Award, honoring the best public service journalism on government issues.
or
Not Currently Available for Direct Purchase