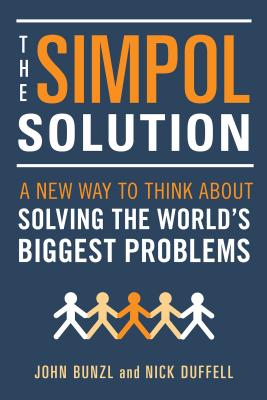 The SIMPOL Solution (Paperback)
A New Way to Think about Solving the World's Biggest Problems
Prometheus Books, 9781633883932, 253pp.
Publication Date: May 15, 2018
Other Editions of This Title:
Paperback (6/1/2017)
* Individual store prices may vary.
Description
The SIMPOL Solution, spearheaded by the Simultaneous Policy (SIMPOL) Organization, gives voters around the world a new way to pressure their leaders to address global problems ranging from climate change to mass immigration and gross income disparities.

Blending politics and psychology, The SIMPOL Solution shows how through simultaneous action--through cooperation--we can overcome the problems we face today and our children will face tomorrow.

The authors argue that the chief barrier to tackling pressing international issues is a vicious circle of destructive global competition, in which nations, corporations, and citizens are helplessly caught. Our current economic system--which rewards corporations and nations that offer the greatest profits no matter what the social costs--has the effect of hollowing out national politics and encouraging either voter apathy or populism championed by the Far Right.

The good news is that it doesn't take masses of people to break this vicious circle and initiate lasting change. In fact, key transitions in human history were initiated by small numbers of activists. Already endorsed by leading policy-makers, visionaries, and public figures, this exciting book offers everyone a way to become a part of this important worldwide movement for change.
About the Author
John Bunzl is a global political activist and businessman with a new and compelling vision for citizen-driven global governance. In 2000 he founded the International Simultaneous Policy Organisation (ISPO) and launched the Simultaneous Policy (SIMPOL) campaign. He is the author of Global Domestic Politics, Solving Climate Change, People-Centred Global Governance, Monetary Reform (with James Robertson), and The Simultaneous Policy. He has also published articles in the Journal of Integral Theory & Practice and the Huffington Post (UK) and has presented lectures to the World Trade Organization, the Schumacher Society, the London School of Economics, and other universities around the world. He is the director of Martin Bunzl International Ltd.
Nick Duffell is a psychohistorian who has practiced psychotherapy for thirty years and has written for journals and newspapers. His pioneering work on the psychology of residential education has been featured in many articles, interviews, and an acclaimed TV documentary. He is the author of several books, including The Making of Them; Wounded Leaders; Sex, Love and the Dangers of Intimacy (with Helena Løvendal); and Trauma, Abandonment and Privilege, (with Thurstine Basset).
Praise For The SIMPOL Solution: A New Way to Think about Solving the World's Biggest Problems…
"It's a pleasure to read a book that captures the modern evolutionary worldview so well, and the authors' actual solution is very clever. We even share an awareness of the need for a psychological therapeutic process and a global policymaking process."

—David Sloan Wilson, author of Does Altruism Exist? Culture, Genes, and the Welfare of Others and president of the Evolution Institute

"Imaginative, learned and full of passion, this book provides an elegant introduction to the damage created by the competitive imperatives of contemporary globalized capitalism. It shows the real possibilities of a world-centric paradigm shift, transcending from a competitive to a cooperative evolution and mode of consciousness. A potential political pathbreaker."
 
—Ugo Mattei, coauthor, Plunder: When the Rule of Law Is Illegal 
 
"A courageous and urgently needed book. It points to the crux of the issue: 'We can't solve the problems of the world with the same thinking that produced them.' Einstein said this, and Bunzl and Duffell point the way to acting on it. This book needs to be read by just about everyone!"
 
—Ervin Laszlo, author, philosopher and evolutionary systems theorist,
 and founder, the Club of Budapest
 
"The SIMPOL Solution combines a razor-sharp description of today's competitiveness conundrum—vital yet now locking us into self-destructive patterns—with an equally pithy practical solution. I'd love to see this plan in motion."
 
—Dr. Sally Goerner, author, After the Clockwork Universe, and science advisor, the Capital Institute
 
"Only through simultaneous policy change across nations could we hope to escape the iron grip of a competition regime that prevents governments from embracing the true public interest. SIMPOL's ingenious technique for such worldwide action is underway—and everyone needs to know about it."
 
—Dr. Kerryn Higgs, historian and author, Collision Course: Endless Growth on a Finite Planet
 
"An encouraging first step, truly workable and pragmatic. The SIMPOL solution consists of actions that can be taken—and, in many cases, already have been taken—that create beginning networks of internationally indexed and unified governing agreements. This is the best thing we have, at this time, for anything resembling a genuine and functional world-governing system." 
 
—Ken Wilber, consciousness theorist and author, The Integral Vision
 
"Takes a welcome, fresh look at political/economic reality and clearly explains the psychology behind why we need new eyes to see how we might force politicians to change the world on our behalf."
 
—Joris Luyendijk, author, journalist and talk-show host

"The SIMPOL Solution does not pretend to provide a perfect blueprint, but it does point a way to approach many of the world's most pressing problems. Given the bleak realization that the majority of political-economic and ecological problems cannot be resolved on either a local or a national basis, the book advocates a citizen's campaign to press all political leaders—whether left, right, or center—to declare that they will work to implement practical policies based on interstate compromises for the most important issues impacting our daily lives—if not our very survival. But as has always proved to be the case, whether or not resolutions to our most pressing problems can eventually be achieved remains in the dirty details."

—Hall Gardner, author of World War Trump