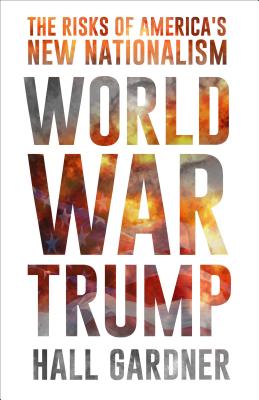 World War Trump
The Risks of America's New Nationalism
Hardcover

* Individual store prices may vary.
Description
An expert on global politics details the dangers of Trump's nationalist agenda and its destabilizing effects on the world.

How will Donald Trump's "America First" policy impact international stability? This sobering book argues that it will put the country on a path toward war. International relations expert Hall Gardner analyzes the twists and turns of our president's foreign policy pronouncements from the beginning of his campaign to the present. He argues that Trump's proposed economic nationalism and military buildup--if implemented--will alienate America's friends and rivals alike. The unintended and perilous consequence could well be to press Russia, Iran, Turkey, and China into a closer counter-alliance versus the United States, Europe, Japan, Taiwan, South Korea, Israel, and Saudi Arabia.

Gardner has long warned that the uncoordinated NATO and European Union enlargement into former Soviet spheres of influence and security would not only provoke a Russian revanchist backlash, but could also encourage Moscow to forge a Sino-Russian alliance. That Russian backlash has already taken place since the annexation of Crimea in 2014 during the Obama administration. Now Trump's seeming contempt of trade pacts and multilateral relations, plus his confrontation with both Iran and North Korea, could push Russia to construct closer ties with a more assertive China to form a polarizing alliance. At the same time, "America First" trade and monetary disputes with allies could tempt some of those states to move into neutrality or else drift into the Russia-China orbit.

Against this dangerous and destabilizing unilateralism, Gardner makes a convincing case that the only workable means of maintaining a peaceful world order is through patient and thoroughly engaged diplomacy and a realist rapprochement with both Russia and China.
Praise For World War Trump: The Risks of America's New Nationalism…
"A sweeping and comprehensive indictment of the dangers posed by Donald Trump's version of American nationalism. A must-read for foreign policy realists."

—Nicolai N. Petro, Silvia-Chandley Professor of Peace Studies, University of Rhode Island


"In this extremely timely reflection, Hall Gardner looks at how Trump's policies and behavior are changing the America that the world was accustomed to seeing and had accepted as a leader. This book proves that the country is far from being an assured success. And, after reading World War Trump, nobody can say that we have not been warned about a very insecure future."

—Roberto Savio, founder, Inter Press Service, and international analyst and director for external relations, European Center for Peace and Development


"An incisive commentary on the vicissitudes of America's newly invigorated nationalism, which has a direct bearing on the current strategic environment. Gardner examines the possible ramifications of Donald Trump's policies, should they become yet another casus belli."
 
—Maj. Gen. Ashok Hukku Y.S.M. (ret.), former chief military intelligence advisor, Cabinet Secretariat of India, and Advisory Board representative, UNESCO (IHP)


"Gardner foretells a possible new version of a Cold War between Russia and the West if the necessary preventive measures are not soon taken—lessons learned from both the previous Cold War and Mikhail Gorbachev's bold initiatives. Gardner explains, without claiming any feeling of self-satisfaction, the fulfillment of some of his most alarming prophecies, and, after the election of Donald Trump, these include the world's dangerous slipping toward the abyss of a global conflict."
 
—Andrey Grachev, former adviser and official spokesman of Mikhail Gorbachev, and chairman of the Scientific Committee of the New Policy Forum
Prometheus Books, 9781633883956, 399pp.
Publication Date: March 6, 2018
About the Author
Hall Gardner has been the chair or co-chair of the Department of International and Comparative Politics at the American University of Paris since 1992. He is the author, editor, or co-editor of twelve books on global politics, most recently, Crimea, Global Rivalry, and the Vengeance of History and The Failure to Prevent World War I: The Unexpected Armageddon. His research blends a historical and theoretical approach with contemporary international affairs, concentrating on questions involving NATO and European Union enlargement, the collapse of the Soviet Union and its impact on China and Eurasia in general, as well as the global ramifications of the "war on terrorism"--with an eye toward conflict resolution. He is additionally an internationally published poet. He completed his BA at Colgate University and both his MA and PhD at the Johns Hopkins Paul H. Nitze School of Advanced International Studies.
or
Not Currently Available for Direct Purchase