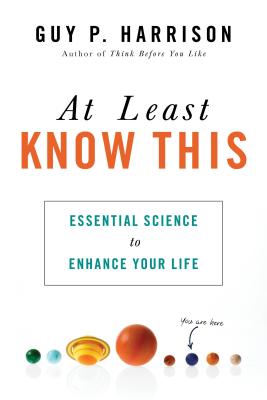 At Least Know This
Essential Science to Enhance Your Life
Paperback

* Individual store prices may vary.
Description
This primer on essential scientific literacy gives readers the basics to understand themselves and the world around them, plus a glimpse of how much more science has to offer.

Science tells us a good deal about who we are, where we come from, the nature of the universe, how our brains work, and much, much more. Unfortunately, most people are largely unaware of this treasure trove of information. As a result, we are more prone to do things like aim nuclear weapons at each other, inflate the meaning of cultural differences, lay waste to the land, poison and deplete the oceans, fill the sky with carbon, and generally make poor judgments that cause needless trouble.

This book seeks to remedy this situation by providing scientific answers to the most basic yet important questions about existence. Following the standard six-question list used by journalists researching a news story, critical-thinking advocate Guy P. Harrison turns to science to answer the who, what, why, when, where and how of life on Earth.

How old is our planet? Where did it come from and where is it located in the universe? What is everything made of? When did life begin? Who are we as a species and what connections do we share with other life forms? Why is human culture continuously plagued by war, disease, and crime? Harrison not only offers science's best current answers to these crucial questions but shows how all of this information fits together. Going well beyond the simplistic factoids readily available on any smartphone, he reveals the wider implications and deeper meanings inherent in the scientific worldview.

Both entertaining and informative, this exciting tour of the cosmos and human nature will leave readers with an accurate, up-to-date view of realities small and large, near and far.
Praise For At Least Know This: Essential Science to Enhance Your Life…
"Guy P. Harrison has done it again. With his usual breezy, accessible, and always-readable style, he has crafted a love letter to the human species. In At Least Know This, Harrison applies a journalistic approach to the investigation of who we are and what we know about the universe, the Earth, life, and ourselves, cleverly crafting a multidisciplinary and panoramic scientific discussion in the form of answers to the reporter's fundamental questions: who, what, when, where, how, and why? As Harrison points out, Homo sapiens is the only species on Earth with the capacity—and even the need—to ask the broad question 'Who are we?' At Least Know This engagingly provides the answers to that question as we currently know them."
 
—Kenneth L. Feder, PhD, archaeologist, Central Connecticut State University, and author, Frauds, Myths, and Mysteries: Science and Pseudoscience in Archaeology 

"At Least Know This is a monumental, wonderfully wide-ranging, scientifically accurate account of, well, what you should at least know. It's not only accessible but downright fun and exhilarating to read!"

—David P. Barash, Professor of Psychology Emeritus, University of Washington, and author of Through a Glass Brightly: Using Science to See Our Species as We Really Are

"In the spirit of other scientists/humanists, such as Jacob Bronowski or Carl Sagan, Harrison thoughtfully delves into life's greatest questions—who we are, where we come from, why we behave the way we do—and what these imply for our future. These are the questions that continue to inspire wonder in us all."
 
—Nancy Forbes, coauthor, Faraday, Maxwell, and the Electromagnetic Field: How Two Men Revolutionized Physics
 
"For those who hunger for knowledge about the natural world and universe, this book asks and answers all the right questions. We live in an age of reason but, according to Guy P. Harrison, a surprisingly large number of us wander through life in a deep fog of willful ignorance. It takes curiosity and critical thinking—and science— to clear away the fog."

—David Siegel Bernstein, author, Blockbuster Science: The Real Science in Science Fiction

"At Least Know This is the kind of book you hide somewhere and refer to at the appropriate occasion, leading everyone to think you are very smart. 'Why, yes, let me tell you about the Denisovians. . . .' It's a good introduction to biology, evolution, astronomy, genetics, neurology, brain science, and more. Harrison covers the basics of all of these subjects, leaving no room for myth or conspiracy."
 
—Joel N. Shurkin, author, True Genius: The Life and Work of Richard Garwin, the Most Influential Scientist You've Never Heard Of
 
"More than ever our daily decisions depend on a firm understanding of science, but such understanding is slipping away from many of us, it seems. The world is big and complex. How are we to know it all? This book is an entertaining guide to the things you need to know in order to make sensible decisions in the world—about energy, your body, matter, and more. It is full of surprises and sublimity."
 
—Rob Dunn, biologist and author, Never Out of Season
 
"[Harrison] manages to convey in accessible terms an enormous amount of information about topics ranging from the big bang to the paradoxes of quantum mechanics to human evolution, among other things. But, more importantly, he conveys his personal enjoyment of this knowledge and shows how these things relate to our existence and survival as individuals, as decision-makers, and as a species. His commentaries are well-informed and very up-to-date (he even warns us about social media as an instrument of control), and the range and depth of material covered are a tribute to his infectious intellectual curiosity."
 
—Paul Braterman, professor and Honorary Senior Research Fellow, University of Glasgow
 
"Bravo! In At Least Know This, Harrison leads a full-frontal attack on ill-conceived, misinformed, cherished beliefs. Not a page turns without the reader learning a new fact or discovering a new perspective. From the macrocosm to the microcosm, he rips the filters off the data and brings reality to the reader. Harrison's goal? A more sensible world."

—Cathy Cobb, author, Creations of Fire, The Joy of Chemistry, and The Chemistry of Alchemy
Prometheus Books, 9781633884052, 384pp.
Publication Date: July 17, 2018
About the Author
Guy P. Harrison is an award-winning journalist and the author of Good Thinking: What You Need to Know to Be Smarter, Safer, Wealthier, and Wiser; Think: Why You Should Question Everything; 50 Simple Questions for Every Christian; 50 Popular Beliefs That People Think Are True; 50 Reasons People Give for Believing in a God; and Race and Reality: What Everyone Should Know about Our Biological Diversity.
or
Not Currently Available for Direct Purchase