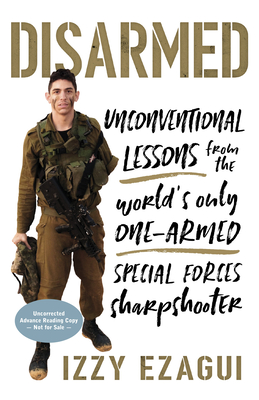 Disarmed
Unconventional Lessons from the World's Only One-Armed Special Forces Sharpshooter
Hardcover

* Individual store prices may vary.
Description
The inspiring story of a young American who volunteered to fight in the Israel Defense Forces, lost his arm in combat, and then returned to the battlefield.

Combining refreshing candor with self-deprecating wit, this inspiring memoir will encourage readers to live up to their aspirations despite seemingly impossible odds.

On January 8, 2009, Izzy Ezagui--an American who had enlisted in the Israel Defense Forces (IDF) at nineteen--lost his arm in a mortar attack on the border of the Gaza Strip. In this stirring and wryly humorous memoir, Izzy recounts his tortuous trek through rehabilitation to re-enlistment as a squad commander in the IDF. He became the world's only one-armed Special Forces sharpshooter.

This isn't a typical war chronicle, full of macho bluster and the usual hero tropes. Izzy wrote this book with his fellow millennials in mind--not necessarily those with military ambitions, but everyone facing life's daily battles. His message is universal: if a self-described "nerd" and "one-armed basket case" like him can accomplish what he set his mind to, then anyone can become a hero in his or her own life.

Growing up in a religious household in Miami, Izzy's early life was plagued by self-doubt, family drama, and (far too few) girl troubles. His search for direction eventually led him to that explosion on the Gaza border, changing his life forever.

In the midst of disaster, Izzy discovered a deep well at his core, from which he could draw strength. Through his motivational speeches across the world, and now through this book, he encourages people to seek their own power, and to face whatever adversity life throws at them.
Praise For Disarmed: Unconventional Lessons from the World's Only One-Armed Special Forces Sharpshooter…
"Izzy Ezagui may be the most inspirational figure you'll meet. Gruesomely wounded as a volunteer soldier, he allows nothing to stop his quest to return to a normal life. That he tells his story with irreverence and laugh-out-loud humor makes reading Disarmed a joy. People thrown by lesser obstacles will benefit from reading this moving and triumphant story." 

—Seth M. Siegel, author of the New York Times bestseller Let There Be Water

"Amidst a sea of compelling military memoirists, Ezagui's voice stands out. Not because he's tougher, more tenacious, or further accomplished than the Lone Survivor or the American Sniper. But because Izzy is human, flawed, and often weak, which are his greatest strengths as a writer. He isn't afraid to bleed on the page, to leave a piece of himself with his readers, the way he did on the battlefield that crisp morning. Helping Izzy return to combat was a risk well taken on my part. A few pages into Disarmed, and you'll understand why."
 
—Maj. Gen. Yoav Galant, former commander, Southern Command, Israel Defense Forces

"A thoroughly engaging combat memoir driven with action, which our narrator negotiates with hope, reflection, humor, and insight. Izzy describes the IDF as Joseph Heller would, and deftly weaves his story of recovery through time with a fluid style and unflinching candor. I'm looking forward to seeing what he writes next."
 
—Mark Valley, actor, writer, veteran 


"Warning: The author of Disarmed will try to convince you that he's average, ordinary, a total 'nerd.' Okay, so the last one's right on the money. But know this: Izzy is anything but conventional, not as a warrior nor as a poet. His blend of comedy and brutal honesty regarding his own shortcomings will keep you in a tight, one-armed grip until the final act. I hope to see an adaptation of Disarmed on the big screen!"
 
—Haim Saban, founder of Saban Entertainment


"Izzy's well-told story is not simply one of overcoming myriad obstacles but also a tribute to the fellow soldiers, noncommissioned officers, company-grade officers, and even a general, whose tough love and unwavering support enable him to return to combat duty."

—COL Carl A. Singer, PhD, US Army (ret.), and former national commander, Jewish War Veterans of the United States of America


"This story of an American Jew who lost an arm fighting for Israel is a Jewish story, an American story, and a human story about young people in battle. A fascinating account."

—Benjamin Ginsberg, author of The Worth of War


"A detailed personal account of a young soldier's journey through life, with gripping, gritty details of soldiering and firsthand combat experience—including being wounded in action and the hideous aftermath and struggle of recovery—all of it packed with witty writing that makes it entertaining to read. Ultimately, Izzy Ezagui has shown the world that despite being a one-armed man, or a person with any other disability, for that matter, you can still be a deadly soldier for your country."

—Keith R. Nolan, deaf former US Army ROTC cadet
Prometheus Books, 9781633884274, 286pp.
Publication Date: March 20, 2018
About the Author
Izzy Ezagui, a decorated squad commander in the Israel Defense Forces, is the only soldier in the world who lost an arm in combat and returned to the battlefield. In 2011, former President Shimon Peres awarded him one of Israel's highest military honors. While he continues to serve in an elite unit in the reserves, Izzy delivers inspirational talks across the United States and internationally. He has appeared on Huffington Post Live, Al Jazeera America, and Fox News. Izzy also raises millions of dollars for hospitals, rehabilitation programs, and other charities, such as the Birthright Israel Foundation. He has worked with amputee organizations, schools, colleges, universities, hedge funds, and corporate events for companies such as Nike and Apple. He lives in Los Angeles, where he acts, writes screenplays, and wanders around with his dog, Punch.
or
Not Currently Available for Direct Purchase