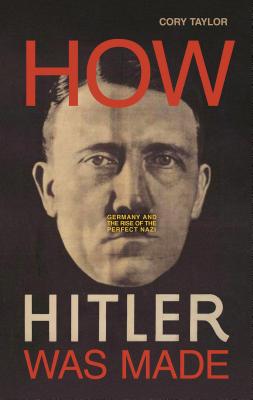 How Hitler Was Made
Germany and the Rise of the Perfect Nazi
Hardcover

* Individual store prices may vary.
Description
Focusing on German society immediately following the First World War, this vivid historical narrative explains how fake news and political uproar influenced Hitler and put him on the path toward dictatorial power.

How did an obscure agitator on the political fringes of early-20th-century Germany rise to become the supreme leader of the "Third Reich"? Unlike many other books that track Adolf Hitler's career after 1933, this book focuses on his formative period--immediately following World War I (1918-1924). The author, a veteran producer of historical documentaries, brings to life this era of political unrest and violent conflict, when forces on both the left and right were engaged in a desperate power struggle. Among the competing groups was a highly sophisticated network of ethnic chauvinists that discovered Hitler and groomed him into the leader he became.

The book also underscores the importance of a post-war socialist revolution in Bavaria, led by earnest reformers, some of whom were Jewish. Right wing extremists skewed this brief experiment in democracy followed by Soviet-style communism as evidence of a Jewish-Bolshevik plot. Along with the pernicious "stab-in-the-back" myth, which misdirected blame for Germany's defeat onto civilian politicians, public opinion was primed for Hitler to use his political cunning and oratorical powers to effectively blame Jews and Communists for all of Germany's problems.

Based on archival research in Germany, England, and the US, this striking narrative reveals how the manipulation of facts and the use of propaganda helped an obscure, embittered malcontent to gain political legitimacy, which led to dictatorial power over a nation.
Praise For How Hitler Was Made: Germany and the Rise of the Perfect Nazi…
"This disturbing tale has impact...Taylor makes good sense of a turbulent and confusing period in German history." 

—Library Journal

"How Hitler Was Made is striking narrative revealing how the manipulation of facts and the use of propaganda helped an obscure, embittered malcontent to gain political legitimacy, which led to dictatorial power over a nation...very highly recommended."

—Midwest Book Review

"How Hitler Was Made unpacks in great detail the tensions between the political figures and the various movements that arose in the wake of Germany's devastating WWI loss. With lucid writing and thorough research, Cory Taylor takes apart the toxic stew of anti-Semitism, political opportunism, and devastating social circumstances, to show how it all led to the rise of the Nazis and Hitler. At times the book reads not just as history but as a warning manual to future generations."
 
—Dov Hassan, BA, MFA, Chair of Theater Arts Dept. Chabot College

"Masterful.... A chilling account of the cataclysmic unfolding of one of history's most significant narratives: Hitler's rise to power....Taylor locates the 'making' of Hitler in the trenches of [the first world] war and in its complicated aftermath, a time of economic collapse, civil unrest, political power struggles, widespread violence, and myriad ways 'blame' for a failed war was levied. In a dramatic narrative that reads like a spy novel, Taylor focuses on the years from 1918 to 1924, exploring this critical period in German history and the ways it was shaped by many competing factions and personalities.... Hitler, as a leader, would emerge as a product of this larger context, both revered and feared.... Taylor's well-researched account of that long road to creating such dangerous power is an important, if unsettling, addition to history of the twentieth century."
 
—Jenny Thompson, PhD, Director of Education, Evanston History Center, and author of War Games

"A cinematic narrative of an obscure man's first steps toward becoming history's most recognized monster. Taylor leads us into a world of seething polarization that trampled the best of humanity and enthroned its most craven. Detail by graphic detail, he builds a world, strange and all too familiar, that set Hitler on a path to power, and which prefigures our world today."
 
—Nathan Stoltzfus, author of Hitler's Compromises, and professor of Holocaust Studies at Florida State University

"Hitler's crimes were so vast and so hideous that we overlook the remarkable story of how he came to be. Cory Taylor takes us on a fascinating journey into Germany's dark past, to a time with a chilling resonance to our own."
 
—Evan Thomas, recurring guest on Meet the Press, former editor at large at Newsweek magazine, and author of Being Nixon

"Taylor concentrates on Hitler's early years, tracing the evolution of a human monster, with the result that even readers already versed in Hitler's adolescence and young adulthood will find here a new wealth of detail. Taylor points out Hitler's sense of insecurity, matched by that of the German people. He shows how Hitler studied speech, and, unlike his contenders who read their speeches in leaden tones, he dazzled the world with a free voice that rolled like Wagner's thunder. Hitler won by democratic election. That is the frightening point. Taylor's book is timely, for the problem is born again: democracy seen as an enemy of the people. Such is the power of voice, reminding us of the old adage: he who knows how to summon the demons from the deep, him will they follow."
 
—David Wingeate Pike, Distinguished Professor Emeritus of Contemporary History and Politics, the American University of Paris, and author of Spaniards in the Holocaust: The Horror on the Danube

"Cory Taylor brilliantly unmasks the chameleon-like evolution of Hitler's ideology and the politically opportunistic schemes that were at the core of its development."

—Paul S. Nussbaum, president and CEO, Los Angeles Museum of the Holocaust
Prometheus Books, 9781633884359, 295pp.
Publication Date: June 5, 2018
About the Author
Cory Taylor is a primetime Emmy award-winning filmmaker with twenty-five years of experience in documentaries who began his career with National Geographic Television. His most recent film, JFK: A President Betrayed (2013), was narrated by Morgan Freeman and uncovered startling information about President Kennedy's back-channel efforts for peace. Praised for its "cinematic scholarship," the film was lauded for its accurate depiction of Kennedy's foreign policy. Taylor also wrote and directed the award-winning feature-length documentary, The Power of the Powerless (2009), which tells the story of the Velvet Revolution. Narrated by Jeremy Irons and featuring Vaclav Havel, Powerless details the dissident movement in Czechoslovakia that overturned the country's forty-year-old Communist regime in 1989. Powerless was distributed by human rights organizations to encourage dissidents seeking non-violent democratic change in numerous countries. His award-winning documentary, A Quiet Revolution, narrated by Meryl Streep, introduced viewers to Nobel Peace Prize winner Wangari Maathai and was aired in fifty countries. He is currently a partner and executive producer at Storylight Media and president of Agora Productions.
or
Not Currently Available for Direct Purchase