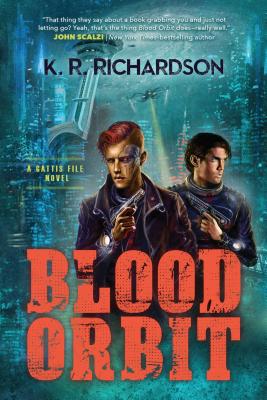 Blood Orbit
Paperback

* Individual store prices may vary.
Description
This science fiction police procedural pairs an idealistic rookie with an officer who uses cybernetic implants to process forensics; in solving a mass murder, they will uncover a vast conspiracy. Eric Matheson, an idealistic rookie cop trying to break from his powerful family, is plunged into the investigation of a brutal crime in his first weeks on the job in Angra Dastrelas, the corrupt capital city of the corporate-owned planet Gattis. A newcomer to the planet, Matheson is unaware of the danger he's courting when he's promoted in the field to assist the controversial Chief Investigating Forensic Officer, Inspector J. P. Dillal, the planet's first cybernetically enhanced investigator. Coming from a despised ethnic underclass, the brilliant and secretive Dillal seems determined to unravel the crime regardless of the consequences. The deeper they dig, the more dangerous the investigation becomes. But in a system where the cops enforce corporate will, instead of the law, the solution could expose Gattis's most shocking secrets and cost thousands of lives--including Matheson's and Dillal's.
Praise For Blood Orbit…
"Richardson has written a diabolically delicious twisty murder mystery set on a faraway planet against a backdrop of corporate greed, racial tensions, corrupt law enforcement, and secrets that refuse to stay buried. This is Criminal Minds meets Sherlock Holmes in space, and you're going to want to drop everything you're doing and grab a copy now."

—DIANA PHARAOH FRANCIS, author of the Diamond City Magic series

"Blood Orbit is crime-driven science fiction with crystal-sharp writing on a large, planetary canvas."

—KEVIN J. ANDERSON, New York Times–bestselling author of The Dark Between the Stars

"That thing they say about a book grabbing you and just not letting go? Yeah, that's the thing Blood Orbit does—really well." 

—JOHN SCALZI, New York Times–bestselling author

"Using a brisk pace and an engaging and exciting narrative, Richardson establishes a world full of intrigue, injustice, violence, and mystery that will no doubt be built upon in further entries in the series. Blood Orbit is recommended for those looking for an effective blend of gritty space opera and police procedural or just for a fun, page-turning read."

—BOOKLIST

"Richardson creates a vivid world, a tense and gritty story combined with top-notch worldbuilding. A page-turner that's hard to put down."

—YASMINE GALENORN, New York Times–bestselling author of the Otherworld series and the Wild Hunt series

"At turns both cyber-bright and grim as old noir, Blood Orbit is a clever procedural with a killer cast of cops and robbers, on an alien world that's somehow very, very close to home."

—CHERIE PRIEST, Hugo Award–nominated author of Boneshaker and Maplecroft

"An intense tale of future crimes and the detectives we'll need to solve them, deftly set in world as alien as it is familiar."

—JASON M. HOUGH, New York Times–bestselling author of Zero World

"A clever, twisting, and savage science fiction crime story that fuses colonization fiction with genuine deep noir. The end result is original, culturally rich, and as ruthless as a novel about murder, secrets, and lies should be."

—WARREN ELLIS, New York Times–bestselling author of Gun Machine, Normal, and Transmetropolitan

"Blade Runner meets The Big Sleep, as only K. R. Richardson could write it."
 
—JACK CAMPBELL, New York Times–bestselling author of Vanguard

"Richardson successfully grafts SF tropes onto a noir framework in this fresh and convincing futuristic thriller….  the storytelling is outstanding."

—PUBLISHERS WEEKLY

"Richardson takes sci-fi noir to a whole new level by dropping you into the site of a massacre in the rough-and-tumble streets of Angra Dastrelas and never letting you catch your breath. Richardson paints a fascinating world with a lush and complex story of family, revolution, and politics. It is a heart-stopping rush of a story."

—K. B. WAGNERS, author of the Indranan War trilogy

"A deeply satisfying mystery that unfolds as expertly as Richardson's dark and secretive Gattis, a planet I can't wait to visit again."

—WARREN HAMMOND, author of the KOP series

"Captivating space noir in the tradition of Richard Morgan's Altered Carbon."
 
—STINE LEICHT, Campbell Award finalist and author of Of Blood and Honey

"A smooth blend of science fiction and police procedural. . . . [A setting] filled with potential, both narratively and thematically: an exotic planet fueled by corporate greed and the oppression of its native races." 

—KIRKUS REVIEWS

"A heart-pounding crime novel set in a fascinating future, Blood Orbit is a tale of law enforcement protecting the underclasses. I loved the world, and, best of all, I grew to love the characters. Well done!"

—BRENDA COOPER, author of Wilders and Keepers

"'Who am I?' meets whodunit in a cyber-noir tangle. Philip K. Dick and Raymond Chandler would both recognize Richardson as a worthy addition to their shelves."

—LAURA ANNE GILMAN, author of the Paranormal Scene Investigations series

Pyr, 9781633884397, 495pp.
Publication Date: May 8, 2018
About the Author
K. R. Richardson is a bestselling Washington-based writer and editor of science fiction, crime, mystery, and fantasy. A former journalist with publications on topics from technology, software, and security, to history, health, and precious metals, Richardson is also a lifelong fan of crime and mystery fiction, and films noir. When not writing or researching, the author may be found loafing about with dogs, riding motorcycles, shooting, or dabbling with paper automata.
or
Not Currently Available for Direct Purchase