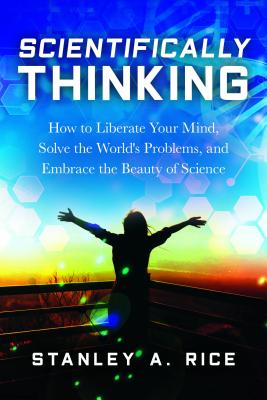 Scientifically Thinking
How to Liberate Your Mind, Solve the World's Problems, and Embrace the Beauty of Science
Hardcover

* Individual store prices may vary.
Description
Shows the many advantages of thinking like a scientist and argues that today's problems require a scientific approach.

You don't have to be a scientist to think like a scientist. Anyone can do it and everyone should. This book will show you how. The advantages are many: from detecting bias to avoiding error and appreciating the richness of the world. Author Stanley Rice, himself a scientist, explains that science is essentially organized common sense. While the brain is hardwired for common sense, unfortunately, it also relies on a number of misleading tendencies. Instead of reasoning objectively it tends to rationalize. Often it sees what it wants to see rather than what is really there. And it is adept at both self-deception and deceiving others. Rice notes that these tendencies were useful in the past as the human race evolved in an often-hostile environment. But today bias and delusions put us at risk of worldwide catastrophe.

The author invites readers to participate in the adventure of scientific discovery. He provides many interesting and humorous examples of how science works. He shows how hypothesis testing can be used to tackle everyday problems like car trouble or seeing through the specious appeal of a fad diet. Beyond practical applications, science meets the basic human need to satisfy curiosity: it tells verifiable stories about the universe, providing humans with fascinating narratives supported by testable facts. The author also explores some of science's biggest ideas, including natural selection (creating order out of randomness) and interconnectedness (Earth's systems are intricately intertwined).

Read this book and learn to think like a scientist. It will guard you against being manipulated by politicians, corporations, and religious leaders, and equip you to deal with the world's most pressing problems. And you will have a lot of fun doing it.
Praise For Scientifically Thinking: How to Liberate Your Mind, Solve the World's Problems, and Embrace the Beauty of Science…
"Scientifically Thinking couldn't have come at a better time. This book goes beyond works that highlight the tricks our minds play on our perception of reality—it offers a tried and true solution for our propensity to believe what we want to believe—and all in a well-written, painstakingly fair, and entertaining read. If everyone read this book, the world would be a far better place."

—Elicka Peterson Sparks, PhD, author of The Devil You Know: The Surprising Link between Conservative Christianity and Crime and Intimate Partner Violence: Effective Procedure, Response and Policy 

"Stanley A. Rice is a biologist who is a wonderful teacher. When he thinks about the nature and methodology of science, he is interesting, funny, serious, profound, irreverent—in short, everything to make the learning experience worthwhile and lasting. If you cannot take one of his classes, then do please read his Scientifically Thinking, the subtitle of which tells all."

—Michael Ruse, author of The Problem of War: Darwinism, Christianity, and Their Battle to Understand Human Conflict

"Our minds have evolved to take shortcuts. In order for our ancestors to survive in the wild, their brains were pre-wired to rapidly respond to natural threats like snakes. We have retained that ability and have a neural shortcut that warns us of dangers before the brain fills in and sharpens the peripheral areas of our vision. Our brains simplify big data, look for linear trends, and make up things to fill gaps in that information. In Scientifically Thinking, Rice argues that these mental shortcuts lead to bias and misconceptions. Errors like these are increasingly important in today's politically divided world. According to Rice the best way to overcome this bias is to think scientifically. What we need most is not the knowledge that has come from science but the scientific way of thinking itself. In a breezy and sometimes lighthearted manner, Rice tells us how to think scientifically. Along the way we are introduced to his research (botany), to thigmotropism, to ants walking on stilts and stumps, and to spontaneously generated maggots."
 
—Prof. Marc Zimmer, author of Illuminating Disease


Prometheus Books, 9781633884700, 266pp.
Publication Date: December 18, 2018
About the Author
Stanley A. Rice is the author of Life of Earth: Portrait of a Beautiful, Middle-Aged, Stressed-Out World; Green Planet: How Plants Keep the Earth Alive; The Encyclopedia of Evolution; and The Encyclopedia of Biodiversity. He is a professor of biological science at Southeastern Oklahoma State University.
or
Not Currently Available for Direct Purchase