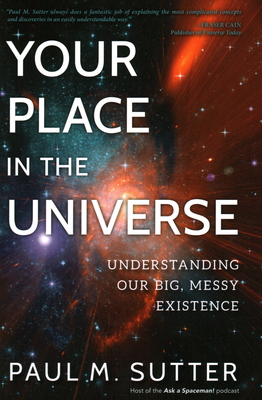 Your Place in the Universe
Understanding Our Big, Messy Existence
Hardcover

* Individual store prices may vary.
Other Editions of This Title:
Paperback (5/1/2021)
Description
An astrophysicist presents an in-depth yet accessible tour of the universe for lay readers, while conveying the excitement of astronomy.

How is a galaxy billions of lightyears away connected to us? Is our home nothing more than a tiny speck of blue in an ocean of night? In this exciting tour of a universe far larger than we can imagine, cosmologist Paul M. Sutter emphasizes how amazing it is that we are part of such a huge, complex, and mysterious place.

Through metaphors and uncomplicated language, Sutter breathes life into the science of astrophysics, unveiling how particles, forces, and fields interplay to create the greatest of cosmic dramas. Touched with the author's characteristic breezy, conversational style--which has made him a breakout hit on venues such as The Weather Channel, the Science Channel, and his own popular Ask a Spaceman! podcast--he conveys the fun and wonder of delving deeply into the physical processes of the natural universe. He weaves together the past and future histories of our universe with grounded descriptions of essential modern-day physics as well as speculations based on the latest research in cosmology.

Topics include our place in the Milky Way galaxy; the cosmic web--a vast web-like pattern in which galaxies are arranged; the origins of our universe in the big bang; the mysteries of dark matter and dark energy; how science has dramatically changed our relationship to the cosmos; conjectures about the future of reality as we know it; and more.

For anyone who has ever stared at the starry night sky and wondered how we humans on Earth fit into the big picture, this book is an essential roadmap.
Praise For Your Place in the Universe: Understanding Our Big, Messy Existence…
"This excellent resource celebrates the wonders of space. Sutter's brisk, often humorous writing and gift for clear explanations make this the perfect choice for readers looking to understand the universe on scales both human and cosmic."

—Publishers Weekly STARRED Review

"Never before has the story of the universe been so accessible. Paul M. Sutter's Your Place in the Universe brings the cosmos down to earth and shows that you don't have to be an astrophysicist to enjoy the wonder of it all."
 
—Tariq Malik, managing editor, Space.com

"Sutter always does a fantastic job of explaining the most complicated concepts and discoveries in an easily understandable way. He's the perfect guide to help you find your place in the universe."
 
—Fraser Cain, publisher of Universe Today

"Imagine sitting around a campfire with an astrophysicist who doesn't just recount the history of cosmology, but also answers your questions.  He puts them in context, and he is always understandable and never condescending. This is a wonderful read for those who are curious about big ideas—it's definitely not your daddy's intro astronomy book."
 
—Seth Shostak, senior astronomer, SETI Institute

"What a marvelous book! Sutter delights in hosing down the gory details of our inscrutable, existential place in the universe. Using pithy humor, inspired analogies, and a turbo turn of phrase, he deftly deconstructs the inner workings of everything from dark energy and black holes to stellar evolution and ultimate cosmological fate. His articulate, unorthodox style will have you smiling blithely all the way to the heat death of the universe."
 
—Jeff Kanipe, author of The Cosmic Connection: How Astronomical Events Impact Life on Earth
Prometheus Books, 9781633884724, 280pp.
Publication Date: November 20, 2018
About the Author
Paul M. Sutter is the cosmological researcher and community outreach coordinator for the Department of Astronomy at The Ohio State University. He is also the chief scientist at the COSI Science Center (Center of Science and Industry). As a new, fresh voice in science communication and an astrophysicist, writer, speaker, producer, and on-air host of podcasts and TV programs, Sutter strives to bring science to new audiences. He is the creator of the Ask a Spaceman! podcast, a contributing editor to Space.com, and the founder of Active Galaxy Productions, a company that blends science with art in groundbreaking ways. Sutter has authored over sixty academic papers on topics ranging from the earliest moments of the Big Bang, to the emptiest places in the universe, to novel methods for detecting the first stars. He has given over 100 seminars, colloquia, and conference talks at institutions around the world. Watch him on YouTube, listen to him on Space Radio, and follow him on social media. Details can be found at http://www.pmsutter.com/outreach.