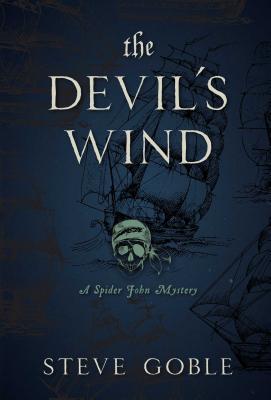 The Devil's Wind
A Spider John Mystery
Paperback

* Individual store prices may vary.
Description
A historical mystery that blends nautical adventure in pirate waters with a locked-room murder mystery, featuring a pirate sleuth whose wits are as sharp as his blade. 1723--Spider John, longing to escape the pirate life he never wanted, has an honest seafaring job at last, aboard a sailing vessel, and is returning to his beloved Em and their child. But when Captain Brentwood is murdered in his cabin, Spider's plans are tossed overboard. Who killed Redemption's captain? The mysterious pirate with a sadistic past? The beautiful redhead who hides guns beneath her skirt? One of the men pining for the captain's daughter? There are plenty of suspects. But how could anyone kill the captain in his locked quarters while the entire crew was gathered together on the deck? Before he can solve the puzzle, Spider John and his ex-pirate friends Hob and Odin will have to cope with violence, schemes, nosy Royal Navy officers, and a deadly trap set by the ruthless pirate Ned Low.
Praise For The Devil's Wind: A Spider John Mystery…
"An outstanding locked-room mystery combining whodunit and action into a marvelous adventure mystery. Its cast of exotic characters are rendered with precision and detail. The dialogue matches the characters and the story perfectly. There are several instances where Spider's cursing resembles high art, requiring a second and third reading to admire clever vulgarity. The plotting is devilishly tight, Spider is intelligent and tough, and, for this reader, the culprit was hidden until the final pages."

—Mystery Scene

"Excellent…. Goble adroitly combines action and deduction."

—Publishers Weekly STARRED REVIEW

"A pirate detective? Ahoy, mateys! Steve Goble presents us with an extremely likable swashbuckler with a brain; a murder mystery whodunit with diabolical twists, fiery damsels, quirky characters, and historical accuracy; and sea-bound action that would make Errol Flynn proud. An immensely fun read!"

—Raymond Benson, author of In the Hush of the Night and several James Bond thrillers

"You may have read a locked-room mystery, but never one like this! Spider John is back, and he's better than ever, solving murder on the high seas with a lusty lot of pirates muddying the waters."

—Nichole Christoff, award-winning author of the Jamie Sinclair private eye series

"In this second seafaring adventure, Goble lures readers into the pirate-infested waters of the Caribbean, where danger lurks around every spar and where men—and women—must rely on their sharpest wits to survive. Grab your cutlass and prepare for a rousing voyage into another perplexing mystery!"
 
—Alyssa Maxwell, author of the Gilded Newport Mysteries series

"A rip-roaring page-turner filled with swashbuckling action, a delightfully piratical cast, and a twisting mystery whose treasure chest of clues will keep readers guessing all the way to the thrilling final showdown and reveal."

—Susan Spann, author of the Hiro Hattori mysteries

"The Devil's Wind combines top-notch mystery writing with gritty portrayals of pirates that never stoop to clichés. It's an intriguing, adventurous, and page-turning read."

—Andrew Welsh-Huggins, author of the Andy Hayes private eye series and winner of the 2017 Al Blanchard prize for best New England short crime fiction
Seventh Street Books, 9781633884847, 253pp.
Publication Date: September 11, 2018
About the Author
Steve Goble is the author of The Bloody Black Flag and The Devil's Wind, the first and second Spider John mystery novels. A digital producer for the Cincinnati Enquirer and the USA Today Network in Ohio, Goble edits news copy and helps manage website and print production, along with social media presence, for ten USA Today Network sites in Ohio. Previously, he wrote a weekly craft beer column called "Brewologist," which appeared on the USA Today Network websites.
or
Not Currently Available for Direct Purchase