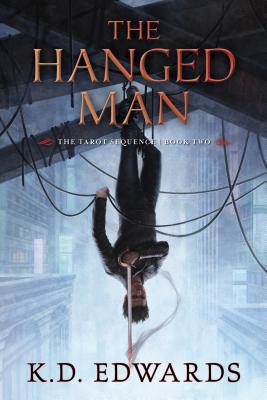 The Hanged Man (The Tarot Sequence #2)
Paperback

* Individual store prices may vary.
Other Editions of This Title:
MP3 CD (3/10/2020)
Description
The last member of a murdered House tries to protect his ward from forced marriage to a monster while uncovering clues to his own tortured past. The Tarot Sequence imagines a modern-day Atlantis off the coast of Massachusetts, governed by powerful Courts based on the traditional Tarot deck. Rune Saint John, last child of the fallen Sun Throne, is backed into a fight of high court magic and political appetites in a desperate bid to protect his ward, Max, from a forced marital alliance with the Hanged Man. Rune's resistance will take him to the island's dankest corners, including a red light district made of moored ghost ships; a surreal skyscraper farm; and the floor of the ruling Convocation, where a gathering of Arcana will change Rune's life forever.
Praise For The Hanged Man (The Tarot Sequence #2)…
A superb combination of engaging characters, witty banter, and edge-of-your-seat action, The Hanged Man moves like a buddy-cop film—think Lethal Weapon but with magic. The story is a grand mix of noir and urban fantasy and kept me turning the pages deep into the night.
— T. Frohock, author of the LOS NEFILIM series

K.D. Edwards raises the bar for fantasy to incredible heights with The Hanged Man, a story full of life, thrills, and deep compassion, set within a world so utterly convincing and fabulous, it took my breath away. I will read everything Edwards writes.
— Julie E. Czerneda, award winning author of THE GOSSAMER MAGE

Edwards takes a startling debut and plunges us headfirst into an even better sequel. All of our favorite characters are back, but now they're evolving to face an even darker threat. The story is fueled by political intrigue, devastating consequences, and fascinating magic. So much for the supposed sophomore slump; Edwards is here to stay.
— Scott Reintgen, author of ASHLORDS

This book takes everything you loved about The Last Sun and takes it up a level. And another. And another. And then just when you think, 'Well, that has to be the peak,' it smiles and takes you up into another building stacked on top of this one. Because the last 1/3 of the book? F*cking brace yourselves.
— Kathy Shin

Much like The Last Sun, The Hanged Man is a quest story, and yet it is much more than that. It is theater of the mind. It is the finest form of escapism I have ever read. There are no proper terms to express how powerfully this book affected me…The Hanged Man receives 5 out of 5 Sigils!!!
— Ben Ragunton

A thrilling and satisfying follow-up to The Last Sun, The Hanged Man proves that K.D. Edwards is the real deal. The story shines with unique and complex world-building, stellar writing, and a fast-paced plot that is rounded out with humor and heart-felt emotional moments. I didn't want the book to end!
— Books, Bones & Buffy

Edwards skillfully blends rigorous characterization with political intrigue, action, and haunting worldbuilding in the exciting follow-up to 2018's The Last Sun. Edwards conjures a believably dangerous setting filled with tarot imagery and supernatural menaces. Series fans and new readers alike will be hooked.
— Publishers Weekly

It fulfilled every promise made by The Last Sun and set the entire series into an even more exciting direction.
— Fantasy Inn

This book was phenomenally written, and it gave me the entire gamut of emotions throughout its course. This is one of those books where I come for the characters but stay for the action. This is, within a day, easily my favorite book of the year. If I could give this book all of the stars in the night sky, I would do that. That's how special it was to me.
— superstardrifter.com

I devoured this book in under a day. This book just set the new standard for fantasy fiction, and the bar is now set so high you can't see it from the ground.
— Every Book a Doorway

KD Edwards plays to his audience in the best possible ways, crafting a fun, engaging narrative that will tug on your heartstrings.



— Black Forest Basilisks

After finishing, I had precicely one word: Wow. It's a perfect blend of action-y and character-focused and offers something for just about everyone.


— To Other Worlds

"Edwards is able to masterfully interweave these plot points into the fabric of the larger narrative in a way that makes it one of the most compelling novels I've recently read."
— Prismatica Magazine

K.D. Edward's The Hanged Man is imaginative, vivid, and quite hard to put down when one needs to complete chores or other of life's necessities.
— FanGirl Nation
Pyr, 9781633884922, 387pp.
Publication Date: December 17, 2019
About the Author
K.D. Edwards is the author of The Last Sun, book one of the Tarot Sequence. He lives and writes in North Carolina, but has spent time in Massachusetts, Maine, Colorado, New Hampshire, Montana, and Washington State. (Common theme until NC: Snow. So, so much snow.) Mercifully short careers in food service, interactive television, corporate banking, retail management, and bariatric furniture have led to a much less short career in higher education, currently for the University of North Carolina System.