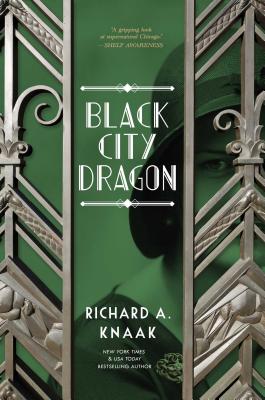 Black City Dragon
Paperback

* Individual store prices may vary.
Description
A historical urban fantasy set in Prohibition-era Chicago, which combines action, mystery, and romance against a backdrop of gangland wars and the threat of supernatural horror. For sixteen hundred years, Nick Medea has guarded the gate between our world and Feirie, preventing the Wyld--the darkest Feirie of all--from coming into Chicago to find human prey. But since he defeated Oberon, more and more Wyld have been slipping through. Nick and his Feirie companion, the shapeshifter, Fetch, have been busy hunting them down. Nick keeps coming across the Dacian Draco, the sign of his ancient enemy Galerius, including a tattoo worn by a human thug. Unfortunately, every trail ends as if years old. Claryce, Nick's reincarnated love, has narrowly escaped two attempts on her life, and when Nick sees her wearing a broach with the Draco on it, he knows they must look more deeply into her former lives. With Wyld and gangsters wreaking havoc in Chicago, Nick and Claryce must confront the secrets of their pasts if they are to have any hope of finding out Galerius's plans before it's too late to stop them. Nick will need the help of all his friends, both human and Feirie, and the powers of the dragon within him, to keep Galerius from endangering the gate, Chicago, and all of humanity.
Pyr, 9781633884946, 384pp.
Publication Date: March 26, 2019
About the Author
Richard A. Knaak is the New York Times and USA TODAY bestselling author of The Legend of Huma, World of Warcraft: Wolfheart, and nearly fifty other novels and numerous short stories, including "Black City Saint" and works in such series as Warcraft, Diablo, Dragonlance, Age of Conan, and his own Dragonrealm. He has scripted a number of Warcraft manga with Tokyopop, such as the top-selling Sunwell trilogy, and has also written background material for games. His works have been published worldwide in many languages. His most recent releases include Shade—a brand-new Dragonrealm novel featuring the tragic sorcerer—Dawn of the Aspects—the latest in the bestselling World of Warcraft series, and the fourth collection in his Legends of the Dragonrealm series. He is presently at work on several other projects.
or
Not Currently Available for Direct Purchase