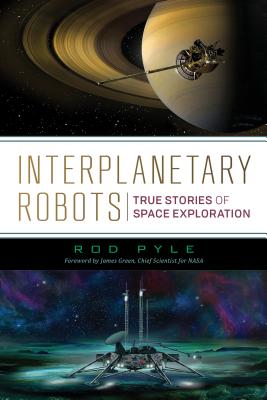 Interplanetary Robots
True Stories of Space Exploration
Paperback

* Individual store prices may vary.
Description
A NASA insider tells the exciting story of robotic space missions to explore the solar system.

Exploring the planets has been a goal of America's space program since the dawn of the space race. This insider's perspective examines incredible missions of robotic spacecraft to every corner of our solar system and beyond. Some were flown into glory, while others were planned and relegated to dusty filing cabinets. All were remarkable in their aspirations.

Award-winning science writer Rod Pyle profiles both the remarkable spacecraft and the amazing scientists and engineers who made them possible. From the earliest sprints past Venus and Mars to Voyager1's current explorations of the space between the stars, this exciting book sheds new light on ever-more ambitious journeys designed to increase the human reach into the solar system. Drawing on his perspective as a writer for NASA's Jet Propulsion Laboratory, ground zero for NASA's planetary exploration, the author further details plans now in development to look for signs of life on Jupiter's moon Europa, submarines that will dive into the hazy hydrocarbon lakes of Saturn's moon Titan, and intelligent spacecraft that will operate for months without human intervention on Mars and in the outer solar system well into the 2030s. Equally compelling are programs of exploration that were considered but never left the drawing board, such as automobile-sized biology laboratories designed for a Mars landing in the 1960s and plans to detonate atomic bombs on the moon.

Complemented by many rarely-seen photos and illustrations, these stories of incredible engineering achievements, daring imaginations, and technological genius will fascinate and inspire.
Praise For Interplanetary Robots: True Stories of Space Exploration…
"Interplanetary Robots by Rod Pyle is, quite simply, the best chronicle I've ever read about our golden age of planetary exploration. It's a behind-the-scenes look at the many missions, flown or not, designed to explore our solar system. Brilliant, thorough, and crack-me-up funny!"
 
—Pascal Lee, planetary scientist, Mars Institute, SETI Institute, and NASA Ames Research Center

"A breathtaking account of humanity's robotic exploration of the solar system. Compelling and well-written, this book immerses the reader in the political and scientific realities that challenged each interplanetary mission over the past sixty years. Rod Pyle's conversational style and insider perspective enable the reader to personally experience the scientific and historical discoveries, something few books of this genre are able to offer."
 
—Louis A. Del Monte, bestselling author of Genius Weapons, Nanoweapons, and The Artificial Intelligence Revolution

"A fun, eminently readable romp discussing the past, present, and future of interplanetary robotic spaceflight—Pyle makes a dense, multi-textured subject relatable to all readers with his (pardon the pun) down-to-Earth storytelling style."
 
—Emily Carney, author, and founder of the online group Space Hipsters
 
"In this optimistic, exciting book, master space storyteller Pyle turns to the ultimate in robotics: machines small enough to fit in a suburban driveway (or even a suburban living room), flung into the hostile abyss by dangerous rockets, maintaining radio contact with their human creators for years but almost never coming back, transforming our knowledge of our solar system. From his home base near NASA's Jet Propulsion Laboratory, Pyle surveys sixty years of progress and, in the 'Flash Forward' chapters, glimpses the future."

—Steve Fentress, director, Strasenburgh Planetarium, Rochester, NY

"Pyle has done it again! What he accomplished for human spaceflight with Amazing Stories of the Space Age he repeats in this consistently fascinating review of robotic space exploration. The thrilling successes throughout our solar neighborhood are here, but so are the almost equally interesting schemes that literally never left the ground. I learned something new from almost every page, while being entertained by Rod's signature humor and unique observations along the way. His own interactions with some of our robot emissaries make this an even more personal and enjoyable read."
 
—Mat Kaplan, host of the Planetary Society's Planetary Radio
 
"If machines ever replace us, they'll want to keep Pyle on hand to do what he does for our interplanetary robots—personalize their stories, spotlight what's important, and explain why with wit and wonder. This book is a first-class seat on all of these unmanned spacecraft."
 
—Dr. E. C. Krupp, director, Griffith Observatory
Prometheus Books, 9781633885028, 376pp.
Publication Date: January 29, 2019
About the Author
Rod Pyle is the author of the widely acclaimed Curiosity: An Inside Look at the Mars Rover Mission and the People Who Made It Happen and Destination Mars--called "the best recent overview of Mars missions" by the Washington Post--and also Destination Moon, Missions to the Moon, and a popular audiobook called The Space Race. He has produced numerous documentaries for the History Channel and Discovery Communications, including the widely praised Modern Marvels: Apollo 11. He has been an assistant professor at the University of La Verne and a lecturer with NASA's Johnson Space Center.
or
Not Currently Available for Direct Purchase