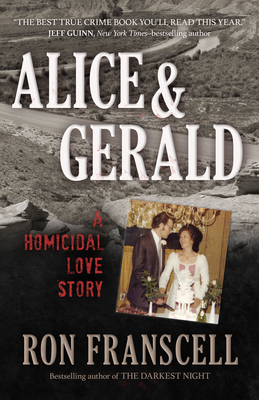 Alice & Gerald
A Homicidal Love Story
Paperback

* Individual store prices may vary.
Other Editions of This Title:
Digital Audiobook (7/22/2019)
Digital Audiobook (6/16/2019)
MP3 CD (7/23/2019)
Compact Disc (7/23/2019)
Description
Would you kill for love? True-crime master Ron Franscell tells the grisly story of Alice and Gerald Uden, a loving couple who murdered at least four people, and live happily ever after--while cops try for decades to piece together a petrifying tale of murder and secrets. The appalling details are made even more vivid by the author's familiarity with the Wyoming times and places that formed the backdrop of his national bestseller The Darkest Night.

In 1974, Alice, a desperate young mother in a gritty Wyoming boomtown, kills her husband and dumps his body where it will never be found, then slips away and starts a new life. But when her new man's ex-wife and two kids start demanding more of him, Alice delivers an ultimatum: Fix the problem or lose her forever. With Alice's help, Gerald "fixes" the problem in an extraordinarily ghastly way . . . and they live happily ever after. That is, until 2013,
almost forty years later, when somebody finds a dead man's skeleton in a place where Alice thought he'd never be found.

This page-turner by bestselling true-crime author Ron Franscell revisits a shocking cold case that was finally solved just when the murderers thought they'd never be caught.
Praise For Alice & Gerald: A Homicidal Love Story…
"Fascinating and disturbing. . . . A worthwhile read for true-crime fans."

—Booklist

"Compulsively readable. Imminently astonishing. Only Ron Franscell, one of America's most talented and thoughtful crime writers, could render this story of a deadly and monstrous relationship with both lightning-paced prose and a keen awareness of the psychopathology of his subjects. Bound to be a bestseller."
 
—Gregg Olsen, #1 New York Times–bestselling author of Starvation Heights

"This is going to be the best true-crime book you read in 2019, or in just about any year. Author Ron Franscell combines exhaustive research and plenty of literary talent to deliver the classic saga of four brutal murders and the decades-long efforts of dogged investigators to bring the married perpetrators to justice. In the process, he reminds the rest of us who write in this genre how it ought to be done."
 
—Jeff Guinn, New York Times–bestselling author of Manson and The Road to Jonestown

"Franscell is one of the finest true-crime writers I've ever read. At once horrific and stupefying, Alice & Gerald will catapult you into a world of narcissistic impulse and terrifying consequence."

—Craig Johnson, author of the Walt Longmire Mysteries

"A riveting and disturbing tale of wickedness unfolds over multiple decades, as the marriage of two evil people strengthens the bonds of their murderous souls. Franscell's brilliant storytelling and personal interviews are simply not to be missed!"
 
—Michael Bishop, author of A Murder in Music City: Corruption, Scandal, and the Framing of an Innocent Man

"The dark, murderous secrets of Gerald and Alice Uden are almost Shakespearean. You will think their story has got to be made up, but it's all true. Ron Franscell has done amazing research and writing in this book."
 
—Skip Hollandsworth, author of The Midnight Assassin: The Hunt for America's First Serial Killer

"Franscell never disappoints. A disturbing yet mesmerizing read, Alice & Gerald kept me turning pages, not wanting to close the book. Meticulously researched and skillfully written, this gripping true-crime account of two twisted killers weaves together the threads of four cold-blooded murders committed in the name of a depraved love."

—Kathryn Casey, bestselling author of In Plain Sight

"A darkly bewitching account of murder. The tale is grisly and beautifully rendered, with spare straight-ahead prose that brings the grit and glory of old Wyoming to life. An immaculate example of how true crime can read like fiction. I wish I'd written this book."
 
—Michael Cannell, author of Incendiary: The Psychiatrist, the Mad Bomber, and the Invention of Criminal Profiling
Prometheus Books, 9781633885127, 330pp.
Publication Date: April 9, 2019
About the Author
Ron Franscell is the acclaimed author of numerous books, including both fiction and nonfiction. His true-crime work, Morgue: A Life in Death (coauthored with renowned medical examiner Dr. Vincent Di Maio), was a 2017 Edgar® Award finalist; his debut novel Angel Fire was listed by the San Francisco Chronicle among the 100 Best Novels of the 20th Century West. During thirty years as a newspaper journalist, Franscell won many national awards, including the prestigious national Freedom of Information Award by Associated Press Managing Editors, and a Best of the West Award from Investigative Reporters and Editors (IRE). He is a native of Casper, Wyoming, and lives in San Antonio, Texas.