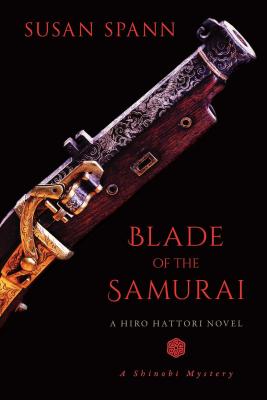 Blade of the Samurai
A Hiro Hattori Novel (A Shinobi Mystery #2)
Paperback

* Individual store prices may vary.
Other Editions of This Title:
Hardcover (7/15/2014)
Description
Master ninja Hiro Hattori and Portuguese Jesuit Father Mateo return to investigate a murder at the shogunate. June, 1565: Master ninja Hiro Hattori receives a pre-dawn visit from Kazu, a fellow shinobi working undercover at the shogunate. Hours before, the shogun's cousin, Saburo, was stabbed to death in the shogun's palace. The murder weapon: Kazu's personal dagger. Kazu says he's innocent, and begs for Hiro's help, but his story gives Hiro reason to doubt the young shinobi's claims. When the shogun summons Hiro and Father Mateo, the Portuguese Jesuit priest under Hiro's protection, to find the killer, Hiro finds himself forced to choose between friendship and personal honor. The investigation reveals a plot to assassinate the shogun and overthrow the ruling Ashikaga clan. With Lord Oda's enemy forces approaching Kyoto, and the murderer poised to strike again, Hiro must use his assassin's skills to reveal the killer's identity and protect the shogun at any cost. Kazu, now trapped in the city, still refuses to explain his whereabouts at the time of the murder. But a suspicious shogunate maid, Saburo's wife, and the shogun's stable master also had reasons to want Saburo dead. With the shogun demanding the murderer's head before Lord Oda reaches the city, Hiro and Father Mateo must produce the killer in time . . . or die in his place.
Seventh Street Books, 9781633885462, 264pp.
Publication Date: May 28, 2019
About the Author
Susan Spann is the 2015 Rocky Mountain Fiction Writers' Writer of the Year and the author of six other novels in the Shinobi Mystery series: Claws of the Cat, Flask of the Drunken Master, The Ninja's Daughter, Betrayal at Iga, Trial on Mount Koya, and Ghost of the Bamboo Road. She has a degree in Asian Studies and a lifelong love of Japanese history and culture. When not writing, she works as a transactional attorney focusing on publishing and business law, and raises seahorses and rare corals in her marine aquarium.