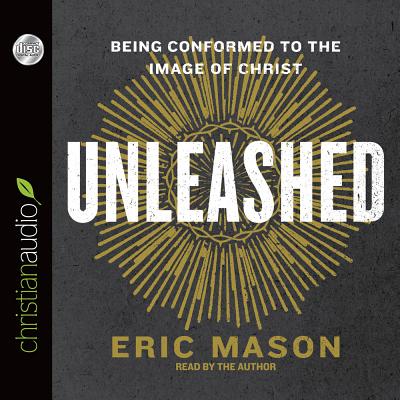 Unleashed (Compact Disc)
Being Conformed to the Image of Christ
Christianaudio, 9781633892521
Publication Date: August 5, 2015
Other Editions of This Title:
Paperback (8/15/2015)
* Individual store prices may vary.
Description
You're a Christian, now what? God not only saved you from something, but for something. Pastor Eric Mason is passionate about helping Christians unleash the transformative power of God in their lives as they learn to be faithful disciples of Jesus. Being conformed to the image of Christ is a lifelong journey for every Christian. Mason understands that spiritual transformation doesn't occur overnight. Unleashed outlines the process of spiritual growth from the first moments of faith to the last. Readers discover their potential in Christ in an age that is so often marked by suffering, grief, and defeat. Join countless others who are learning what it means to unleash God's power in their lives.
About the Author
Dr. Eric Mason lives in the heart of Philadelphia with Yvette and his two sons Immanuel and Nehemiah. Dr. Mason is founder and lead pastor of Epiphany Fellowship in Philadelphia, PA. He is also, the founder and president of Thriving which is an urban ministry organization committed to training leaders for ministry in cities locally, nationally, and internationally. Dr. Mason is also the author of Manhood Restored (Leadership Kit and Study Guide). Also, Dr. Mason has contributed to multiple publications to serve the body of Christ. Some would include The Mission of God Bible Study Bible, Keep Your Head Up, and several online articles. Dr. Mason serves on the Executive Board of the Acts 29 Network as well as the board of Reach Life Ministries. Dr. Mason has been graced by God to preaching and teach at churches and conferences in the US and Abroad. Christ has allowed Dr. Mason to serve in multiple ministry roles over the past 2 decades. Dr. Mason went to Bowie State University where he received a BS in Psychology. While at Bowie State University, he was burdened after trusting Christ to go into full-time vocational service to the Lord in ministry. While at BSU he acknowledged his calling under the leadership of Rev. Dr. James J. McCord at First Baptist Church of Highland Park in Landover MD. During the completion of his undergraduate degree, he taught bible studies on campus to the college students, lead people to Jesus, worked with youth and young adults at his church. Seeking to be a biblically literate minister of the gospel, Dr. Mason ventured to Dallas Theological Seminary where he earned a Master of Theology (ThM) degree. Upon arrival to Dallas, he immediately became a member of Oak Cliff Bible Fellowship under the pastoral leadership of Dr. Tony Evans who would then become his father in the Ministry. Meanwhile, Dr. Mason was hired by STEP/Bridge Builders (an inner-city organization) as a counselor and mentor to "at risk" in the Southern and Eastern sectors of Dallas Texas. The context of this service was several community centers, High schools, and projects discipling troubled youth and former gang members. He was co-youth pastor to over 500+ youth at Oak Cliff Bible Fellowship and then served the church as prison ministry director where he over saw 17 ministers who engaged troubled youth in the DFW metroplex. Upon completion of Seminary, Dr. Mason received his ordination into the gospel ministry by the council of elders at Oak Cliff Bible Fellowship with Dr. Tony Evans at the council's helm (May 2000). Dr. Mason ventured to Houston, TX to serve functionally in the role of Assistant Pastor of Good Hope Missionary Baptist Church (140+ yr old church home to the late Barbara Jordan) under the leadership of Dr. D. Z. Cofield who helped expand Dr. Mason's pastoral bandwidth. Dr. Mason counseled on every level, taught Wednesday nights, lead Sunday Morning Worship, Sunday School, preached 3 services multiple times a year, did weddings, led this church to transition to 70 small groups in this historic Black church (that is still going until this day), and much more. He was also, allowed by his pastor to begin a small but impactful itinerate ministry at this time. In addition, he served also as adjunct professor at the College of Biblical Studies. Dr. Mason then was called to serve as the Regional Director of the Urban Schools Alternative at Oak Cliff Bible Fellowship. Upon receiving the call to Philly, Fellowship Bible Church in Little Rock, AR offered to train him in leadership and church planting. After a year of sitting under the elder's tutelage, they affirm upon him through the laying on of hands and commissioned him to the work of church planting. He earned his Doctoral (D.Min) degree at Gordon-Conwell Theological Seminary May 2007. While starting Epiphany Fellowship, Dr. Mason served as Adjunct Professor at Biblical Theological Seminary for a time. Dr. Mason considers himself a foodie, coffee snob and enjoys reading, writing, art, and shopping for style.
or
Not Currently Available for Direct Purchase