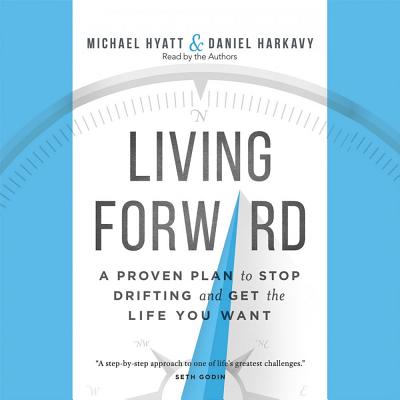 Living Forward (Compact Disc)
A Proven Plan to Stop Drifting and Get the Life You Want
Mission Audio, 9781633893665
Publication Date: March 1, 2016
Other Editions of This Title:
Hardcover (3/1/2016)
* Individual store prices may vary.
Description
Each of us has but one life to live on this earth. What we do with it is our choice. Are we drifting through it as spectators, reacting to our circumstances when necessary and wondering just how we got to this point anyway? Or are we directing it, maximizing the joy and potential of every day, living with a purpose or mission in mind?Too many of us are doing the former--and our lives are slipping away one day at a time. But what if we treated life like the gift that it is? What if we lived each day as though it were part of a bigger picture, aplan? That's what New York Times bestselling author Michael Hyatt and executive coach Daniel Harkavy show us how to do: to design a life with the end in mind, determining in advance the outcomes we desire and path to get there. In this step-by-step guide, they share proven principles that help readers create a simple but effective life plan so that they can get from where they are now to where they really want to be--in every area of life.
About the Author
Michael Hyatt is the former chairman and CEO of Thomas Nelson Publishers, now part of HarperCollins. He is a New York Times, Wall Street Journal, and USA Today bestselling author who has lived by the plan in Living Forward. Michael's blog is ranked by Google in the top one-half percent of all blogs, with 500,000 unique visitors a month and readers in more than two hundred countries. Michael has been married to his wife, Gail, for thirty-seven years. They have five daughters, four sons-in-law, and eight grandchildren. They live just outside of Nashville, Tennessee. Learn more at MichaelHyatt.com.Daniel Harkavy has been coaching business leaders to peak levels of success, performance, profitability, and fulfillment for more than twenty-five years. In 1996, he harnessed his passion for coaching teams and leaders and founded Building Champions, where he serves as CEO and executive coach. Over the past two decades, he and his team of coaches have worked with thousands of clients and organizations implementing the plan in Living Forward. He lives just outside Portland, Oregon, with his wife and actively serves his community as a member of nonprofit boards and a mentor to those seeking leadership advice. He is the proud father of four children and an avid surfer. Learn more at BuildingChampions.com.
or
Not Currently Available for Direct Purchase