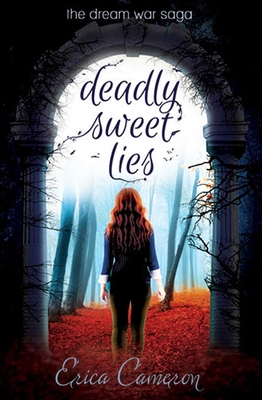 Deadly Sweet Lies (The Dream War Saga #2)
Paperback

* Individual store prices may vary.
Description
Nadette Lawson knows when you're lying.
Every night for the past two years, the Balasura have visited her dreams, enticing her to enter their world. And every night she's seen through their lies. Now, they're tired of playing in the shadows and they begin to stalk her in the waking world. It's no longer just an invitation; if Nadette doesn't join them, they'll take her family. Forever. She needs help, and the haven she's seeking may be just out of reach.

Julian Teagan is a master of deception.
To survive, he has to convince the world his mother isn't useless, that everything's fine, otherwise he'll lose what little he has left in this life. He knows the lying won't be enough to keep him and his mother in the shadows, but it's all he knows. The only light of truth is Orane, a Balasura who sees past Julian's facade and challenges him to face the darkness.

Then Orane is killed, and Julian learns his mentor was far from innocent. The Balasura have hunted children like him for centuries, and their next target, Nadette, is his one chance at finally being a part of something real. If Julian can just convince her to trust him…
Spencer Hill Press, 9781633920118, 309pp.
Publication Date: December 17, 2015
About the Author
After a lifelong obsession with books, Erica Cameron spent her college years getting credit for reading and learning how to make stories of her own. Erica graduated with a double major in psychology and creative writing from Florida State University and began pursuing a career as an author.

Erica is many things but most notably the following: writer, reader, editor, dance fan, choreographer, singer, lover of musical theater, movie obsessed, sucker for romance, ex-Florida resident, and quasi-recluse. She loves the beach but hates the heat, has equal passion for the art of Salvador Dali and Venetian Carnival masks, has a penchant for unique jewelry and sun/moon décor pieces, and a desire to travel the entire world on a cruise ship. Or a private yacht. You know, whatever works.

Her debut novel, Sing Sweet Nightingale, released March 2014 and it was the first volume of The Dream War Saga. In May 2015, Erica and her co-author Lani Woodland launched the Laguna Tides series with Taken by Chance.
or
Not Currently Available for Direct Purchase