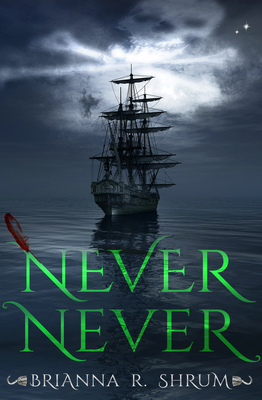 Never Never
Paperback

* Individual store prices may vary.
Description
James Hook is a child who only wants to grow up.

When he meets Peter Pan, a boy who loves to pretend and is intent on never becoming a man, James decides he could try being a child - at least briefly. James joins Peter Pan on a holiday to Neverland, a place of adventure created by children's dreams, but Neverland is not for the faint of heart.

Soon, James finds himself longing for home, certain that he is destined to be a man. But Peter refuses to take him back, leaving James trapped in a world where he is forbidden to grow up, unable to return to the world he loves. But grow up he does.

This story isn't about Peter Pan; it's about the boy whose life he stole. It's about a man in a world that hates men. It's about the feared Captain James Hook and his quest to kill the Pan, an impossible feat in a magical land where everyone loves Peter Pan.

Except one.
Praise For Never Never…
"Gr 8 Up—A masterful debut novel that delivers a unique and striking perspective on J.M. Barrie's beloved world of Neverland. The focus is on James Hook, a 13-year-old Londoner who cannot wait to be an adult. His only childhood indulgence is at night, when he dreams of being the captain of a pirate ship filled with ruffians and scallywags. When he happens upon Peter Pan in Kensington Gardens, James is bewitched by the lad's description of a magical world filled with mermaids and adventure. Unable to resist, he agrees to visit as long as he is back before boarding school begins. The Neverland he encounters is a dark and dangerous place, and James is shocked when Peter gleefully slits a pirate's throat. Pan refuses to return James to London, and the boy's initial admiration turns to hatred for this callous creature. Anguished and homesick, he is sickened to discover that while those around him do not age, he is rapidly maturing into a man. Hook embraces his destiny as a pirate and vows vengeance on the Pan. Filled with familiar characters such as the Lost Boys, the Darling children, and a bewitching and sensual Tiger Lily, Shrum's retelling is a deeply satisfying dark fantasy that just might change readers' perception of Peter Pan and Neverland itself. VERDICT A must-have for all young adult collections" — Amy Nolan, St. Joseph Public Library, St. Joseph, MI? - School Library Journal
Spencer Hill Press, 9781633920392, 356pp.
Publication Date: September 22, 2015
About the Author
Brianna Shrum lives in Colorado with her high-school-sweetheart-turned-husband, two boys, and two big, floppy hound dogs. She thinks chai tea is proof of magic in the world, and loves all things kissy, magical, and strange. She'd totally love to connect with you. You can find her saying ridiculous things on Twitter @briannashrum.