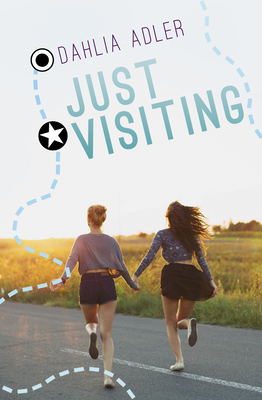 Just Visiting
Paperback

* Individual store prices may vary.
Description
Reagan Forrester wants out - out of her trailer park, out of reach of her freeloading mother, and out of the shadow of the relationship that made her the pariah of Charytan, Kansas.

Victoria Reyes wants in - in to a fashion design program and a sorority, in to the arms of a cute guy who doesn't go to Charytan High, and in to a city where she won't stand out for being Mexican.

One thing the polar-opposite best friends do agree on is that wherever they go, they're going together. But when they set off on a series of college visits at the start of their senior year, they quickly see that the future doesn't look quite like they expected. After two years of near-solitude following the betrayal of the ex-boyfriend who broke her heart, Reagan falls hard and fast for a Battlestar Galactica-loving, brilliant smile-sporting pre-med prospective... only to learn she's set herself up for heartbreak all over again. Meanwhile, Victoria realizes everything she's looking for might be in the very place they've sworn to leave.

As both Reagan and Victoria struggle to learn who they are and what they want in the present, they discover just how much they don't know about each other's pasts. And when each learns what the other's been hiding, they'll have to decide whether their friendship has a future.
Praise For Just Visiting…
"Gr 10 Up- Reagan Foster and Victoria Reyes have a simple plan: pick a college and get out of town together. But as the best friends start their weekend road trips to college campuses, things get complicated fast. Their relationship strains under the weight of old secrets and new experiences. Adler's latest book revolves around two very different girls- poor outcast Reagan and Latina fashionista Victoria- who love each other fiercely despite the secrets they hide from each other. This work begins like a cotton candy romp but quickly delves into frank discussions of sex, poverty, and bullying. Regardless, Adler never lets the story stray far from the friendship at its heart. Rea and Vic leap from the page with enough genuine life and emotion to smooth over the fact that background characters often stray too close to caricature, and the ending is satisfying despite being a little too tidy. The book's biggest strength comes from Adler's talent for pinpointing the raw emotion of every situation and building them into the feeling of a freight train barreling toward the girls as they try to decide their futures. VERDICT A complex emotional story in a lighthearted package. Highly recommended for older teens." — Amy Diegelman, Vineyard Haven Public Library, MA - School Library Journal
Spencer Hill Contemporary, 9781633920538, 348pp.
Publication Date: November 17, 2015
About the Author
Dahlia Adler is an Associate Editor of Mathematics by day, a blogger for the B&N Teen Blog by night, and writes at every spare moment in between. She is the author of Behind the Scenes, Under the Lights, Last Will and Testament, and Just Visiting. She lives in New York City with her husband and their overstuffed bookshelves.
or
Not Currently Available for Direct Purchase