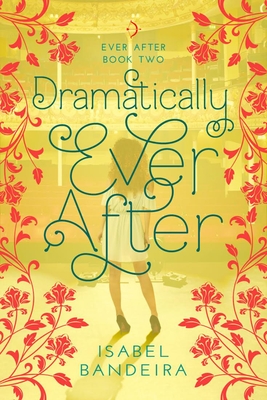 Dramatically Ever After
Ever After Book Two
Paperback

* Individual store prices may vary.
Description
Senior year is not shaping up to be the picture perfect movie Em Katsaros had imagined. Her super hot leading man is five thousand miles away. Her dad just got laid off. And Em can kiss her first-pick university goodbye if she doesn't snag a scholarship.

To turn this Shakespearean tragedy into the Academy Award-winning dream Em has written for herself, she enters a speech competition and manages to cinch a spot in the US Youth Change Council national round. Everything seems to be going by the script until she finds out Kris Lambert—senior class president, stuck-up jerk, and her nemesis—is going, too. Cue the dramatic music.

At the competition, Kris is different. Nice. Cute, even. But she knows his game way too well—be nice to your opponents and then throw them under the bus on your way to victory. Instead of becoming his next victim, Em decides to turn the tables by putting her acting and flirting skills to work. Unfortunately, as they get close to the final competition and judging, reality and acting start to blur. Can Em use the drama from the stage to get the future she's been dreaming of?
Praise For Dramatically Ever After: Ever After Book Two…
"It's a song as old as rhyme, set in New Jersey this time.
An aspiring professional actress, mixed-race teen Em Katsaros, whose mother is African-American and whose father is first-generation Greek-American, has a lot riding on winning a national speech competition. The grand-prize money can pay for her freshman year at Rutgers—and maybe convince her oh-so-practical parents that acting is not a dead-end career path. It seems that the only roadblock to achieving her dream is Kris Lambert, scion of the premier mega-wealthy, white family in their town of Lambertfield. He thinks that she is a drama queen. She thinks that he is a smarmy jerk. When they are both chosen to represent New Jersey in the competition in Boston, the stage is set for Em to re-evaluate her nemesis. Bandeira's (Bookishly Ever After, 2016) second novel owes Jane Austen a huge debt of gratitude for its overall formula and structure. The pacing is nimble and the dialogue frequently snappy, but the story ultimately fails to rise above its modern–Pride and Prejudice formula. Certain elements, such as Em's inexplicable love for her absentee foreign-exchange-student boyfriend whose only admirable quality is his making out, strain credulity. The romantic narrative conclusion is never in doubt, but the tale nicely cautions against believing preconceived notions and provides enough humor to entertain along the way.
A sure crowd-pleaser for its intended romance-loving audience. (Fiction. 12-16)" — Kirkus Review
"Gr 6–10—In this sequel to Bookishly Ever After, two teen friends are facing college applications and other more serious life issues. Em (Ephemia) Katsaros, a talented actress, is desperate to attend a university with a world-class drama program, not the more local (free) college where her mom works. Money is very tight, as her dad is unemployed, so Em is checking out every scholarship opportunity. The big one is a speech contest. Em is chosen as one of 100 young men and women to participate in the U.S. Youth Change Council, representing New Jersey. She has tough competition, not least from the male representative of her state, her stuck-up nemesis and classmate Kris Lambert. The event takes place over the course of a week, in Boston, where the 100 high school students are mentored prior to their final presentations, and Em is experiencing self-doubt. In order to psych out Kris, whose game plan is to be nice to his rivals and then decimate them, she decides to flirt with him and throw him off balance. They predictably begin to fall for each other. Teens familiar with reality shows such as American Idol and academic competitions will be a ready audience for this well-plotted, gently humorous, and relatable novel. VERDICT A great addition for those seeking sweet, lighthearted YA fare.—Susan Riley, Mamaroneck Public Library, NY" — School Library Journal
Spencer Hill Press, 9781633921009, 370pp.
Publication Date: June 20, 2017
or
Not Currently Available for Direct Purchase