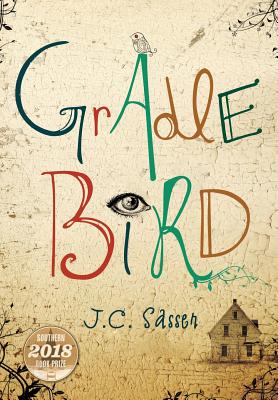 Gradle Bird
Hardcover

* Individual store prices may vary.
Other Editions of This Title:
Paperback (6/15/2017)
Description
Sixteen-year-old Gradle Bird has lived her entire life with her Grandpa, Leonard, at a seedy motel and truck stop off Georgia's I-16. But when Leonard moves her to a crumbling old house rumored to be haunted by the ghost of Ms. Annalee Spivey, Gradle is plunged into a lush, magical world much stranger and more dangerous than from the one she came.
Here she meets Sonny Joe Stitch, a Siamese Fighting Fish connoisseur overdosed on testosterone, a crippled, Bible-thumping hobo named Ceif "Tadpole" Walker, and the only true friend she will ever know, a schizophrenic genius, music-man, and professional dumpster-diver, D-5 Delvis Miles.
As Gradle falls deeper into Delvis's imaginary and fantastical world, unsettling dangers lurk, and when surfaced Gradle discovers unforeseen depths in herself and the people she loves the most.
Gradle Bird is an unusual tale of self-discovery and redemption that explores the infirmities of fatherly love, the complexities of human cruelty, and the consequences of guilt, proving they are possible to overcome no matter how dark and horrible the cause.
Praise For Gradle Bird…
"Anyone Who Doesn't Fall In Love With Gradle Bird, The Character, Might Want To Stop By An Urgent Care Facility For An EKG. Anyone Not Totally Mesmerized By The World Depicted In Gradle Bird, The Novel, Might As Well Forfeit His Or Her Human Being Id Card. J.C. Sasser's Invented A Complex, Big-Hearted, Dirt-Road-Smart Protagonist Surrounded By Hilarious One-Of-A-Kind Characters (And A Ghost). Absurd, Yet Utterly Believable. Southern, Yet Universal. I'm Jealous." –George Singleton, Author Of The Half-Mammals Of Dixie

"Lush, haunting and imaginative, Gradle Bird marks J.C. Sasser as America's new Southern Gothic darling, a name soon to be spoken alongside the likes of Harper Lee and Carson McCullers." –Bren McClain, author of One Good Mama Bone

"Think Flannery O'Connor riffing Elmore Leonard and you get some sense of this wildly inventive, picaresque novel that stretches the boundaries of what it means to be family and what it costs to love and be loved. But don't get me wrong. J.C. Sasser writes in her own lyrical style, weaving often tragicomic events into a mosaic of sometimes hallucinogenic wonder. Her characters seemed swept up in an arc of ever-pending disaster. And yet in the unforgettable presence of Gradle Bird herself, the book's 16-year-old chief protagonist, you learn how redemption can stumble into our lives at the unlikeliest of times from the unlikeliest of places."

"J.C. Sasser takes us on a romp of an adventure through the life, eyes and heart of Gradle Bird's dark and twisted, but loving and hilarious world in rural Georgia. Gradle Bird reads like it was written, in collaboration, by the ghosts of Flannery O'Connor and Florence King, while finishing off a bottle of Battlefield Bourbon. And truth is, if it had been the fruit of the ghosts of two of the South's darkest and wittiest writers, we could only hope that they would continue the collaboration. But we're in luck as J.C. Sasser is alive and well and, hopefully, will be telling her stories for years to come. It's a wonderful story, a wonderful book." – Robert Hicks, author of The Widow of the South and The Orphan Mother

"Any book that begins with the title character giving someone the bird on i-16 really speaks to my soul. Gradle bird is like a good country song, and it features some of the finest cursing I've ever read. Christians are going to love this book!" --Harrison Scott Key, author of The World's Largest Man

"I was caught in Gradle Bird's spell from the very first lines. J.C. Sasser draws a magnificently weird cast of characters into a Gothic tale that could only come out of the backwoods of the south. Gradle Bird is a supreme mix of the gritty, the grotesque, and the haunted. Any fan of Southern fiction will be transfixed, and any Southern writer should take careful note." – James Mcteer, Author Of Minnow

"J.C. Sasser can write a pretty sentence. That's obvious. The prose in Gradle Bird is gorgeous and can hold its own with anything written by William Gay, or Barry Hannah and the like, but if you dig a little deeper, the real jewel is Miss Bird herself and the rest of the cast of characters that get in your head and become part of your life. So it's also obvious that Sasser has been studying Elmore Leonard and Joe Lansdale as well. Her characters are vivid and bold, and most importantly, 100% Southern. There is magic in the South, and no one captures that better than Sasser has with Gradle Bird. The world at large argued that working class Southern literature died with Larry Brown. I'd counter that argument by handing them a copy of Gradle Bird. I personally hope Sasser has a lot more to say. The world of Southern fiction needs her."– Brian Panowich, Author of LIKE LIONS and BULL MOUNTAIN

"Gradle Bird is a dark Southern gothic teeming with bizarre characters lovingly drawn and perverse plot twists wrought by a master storyteller. This book—or perhaps J.C. Sasser's brilliantly imaginative mind—should come with caution tape around it. Stunned me again and again."–Nicole Seitz, author of The Cage-maker and Saving Cicadas

"Reminiscent of Faulkner, Gradle Bird is a magical gem of Southern writing." – Mary Arno, author of Thanksgiving

"Sasser has written a vivid and violently tender story. Landscape and people are both flawed and wounded, and their vulnerability is so raw, at times you want to turn away…but you can't. We are brought into a world where there is as much to fear as there is to love. With enough family secrets to make Faulkner blush. Gradle Bird infuses magical realism with classic Southern Gothic, taking the reader barreling down Georgia's I-16 with an unforgettable cast of characters."– Michele Moore, author of The Cigar Factory

"Gradle Bird gifts the reader with an astonishing spellbinding journey, one woven with prose that is not just poetry, but poetry laced with Southern colors and characters you will never forget. Gradle Bird stands alongside the classics of Southern literature." – JJ Flowers, author of Juan Pablo and the Butterflies

"Gradle Bird is edgy, thought-provoking, and anything but predictable." --Midwest Book Review, Diane Donovan

"Sasser's voice is as unique as the characters she has so skillfully crafted. Gradle Bird is sure to sing to readers long after the final page." –Nicole Waggoner, author of Center Ring and The Act

Koehler Books, 9781633932654, 312pp.
Publication Date: June 15, 2017
About the Author
J.C. Sasser started her professional career at age twelve, working as a dishwasher, waitress, and cook at a truck stop off Georgia's I-16. Over her life, she has worked as an envelope licker, tortoise tagger, lifeguard, Senate page, model, editor, water-polo coach, marine biologist, plant grower, and software consultant. Gradle Bird was a short list finalist in the 2015 William Faulkner William Wisdom novel competition, and her other writing credits include the short story and screenplay, The Pigeon Catcher (Ceiba Productions 2002). She lives in an old barn on Edisto Island, SC with her husband, Thomas, along with their two sons, T.C. and Robert-Esten, two dogs, Cro and Blue Moon June, Siamese Fighting Fish, and a flock of chickens. Gradle Bird is her first novel.