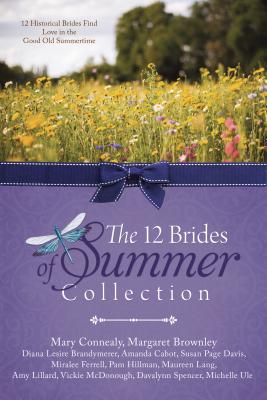 The 12 Brides of Summer Collection (Paperback)
12 Historical Brides Find Love in the Good Old Summertime
Barbour Books, 9781634090292, 512pp.
Publication Date: June 1, 2016
* Individual store prices may vary.
Description
Meet 12 adventurous Victorian era women—a beekeeper who is afraid of bees, a music teacher whose dog has dug up a treasure, a baker who enters a faux courtship, and six more—along with the men they encounter while making summertime memories. Will these loves sown during summer be strengthened by faith and able to endure a lifetime?

About the Author
Mary Connealy writes romantic comedy with cowboys. She is a Carol Award winner, and a RITA®, Christy, and Inspirational Reader's Choice finalist. She is the bestselling author of the Wild at Heart series, Trouble in Texas series, Kincaid Bride series, Lassoed in Texas trilogy, Montana Marriages trilogy, Sophie's Daughters trilogy, and many other books. Mary is married to a Nebraska cattleman and has four grown daughters and a little bevy of spectacular grandchildren. Find Mary online at www.maryconnealy.com.
Amanda Cabot is the bestselling author of more than thirty novels and half a dozen novellas, including Jeremy and Esther's story,
The Christmas Star Bride
, and
Waiting for Spring
, which tells Madame Charlotte's story
.
Although she grew up in the East, a few years ago Amanda and her high school sweetheart husband fulfilled a lifelong dream and are now living in Cheyenne. In addition to writing, Amanda enjoys traveling and sharing parts of her adopted home with readers in her Wednesday in Wyoming blog. One of Amanda's greatest pleasures is hearing from readers, and so she invites you to find her online at
www.amandacabot.com
.  
Miralee Ferrell is an award-winning, bestselling author with eighteen books, as well as numerous articles, short stories, and novellas in print. She and her husband, Allen, live on eleven acres in Washington State. Miralee loves interacting with people, ministering at her church, (she is a certified Lay Counselor with the AACC), and riding her horse. Miralee speaks at various women's functions and has taught at writers' conferences. Since 2007, she's had eighteen books release, both in women's contemporary fiction and historical romance. Miralee recently started a newsletter, and you can sign up for it on her website/blog
www.miraleeferrell.com
.  
Christian author Diana Lesire Brandmeyer writes historical and contemporary romances about women choosing to challenge their fears to become the strong women God intends. Author of A Mind of Her Own, A Bride's Dilemma in Friendship, Tennessee and We're Not Blended We're Pureed, a Survivor's Guide to Blended Families. Sign up for her newsletter and get free stuff. www.dianabrandmeyer.com
 
Bestselling author Margaret Brownley has more than forty-five books to her credit. She has won numerous awards, including the Heart of Excellence Readers' Choice award and Romantic Times Pioneer award. She is also a two-time Romance Writers of America RITA finalist. Her books have been published in nine languages, and she has written for a daytime soap. Not bad for someone who flunked eighth grade English. Just don't ask her to diagram a sentence. Margaret can be reached through her website at margaret-brownley.com
 
Susan Page Davis is the author of more than seventy Christian novels and novellas, which have sold more than 1.5 million copies. Her historical novels have won numerous awards, including the Carol Award, the Will Rogers Medallion for Western Fiction, and the Inspirational Readers' Choice Contest. She has also been a finalist in the More than Magic Contest and Willa Literary Awards. She lives in western Kentucky with her husband. She's the mother of six and grandmother of ten. Visit her website at: www.susanpagedavis.com.
 
CBA Bestselling author Pam Hillman was born and raised on a dairy farm in Mississippi and spent her teenage years perched on the seat of a tractor raking hay. In those days, her daddy couldn't afford two cab tractors with air conditioning and a radio, so Pam drove an Allis Chalmers 110. Even when her daddy asked her if she wanted to bale hay, she told him she didn't mind raking. Raking hay doesn't take much thought so Pam spent her time working on her tan and making up stories in her head. Now, that's the kind of life every girl should dream of. 
www.pamhillman.com
Maureen Lang writes stories inspired by a love of history and romance. An avid reader herself, she's figured out a way to write the stories she feels like reading. Maureen's inspirationals have earned various writing distinctions including the Inspirational Reader's Choice Contest, a HOLT Medallion, and the Selah Award, as well as being a finalist for the Rita, Christy, and Carol Awards. In addition to investigating various eras in history (such as Victorian England, First World War, and America's Gilded Age), Maureen loves taking research trips to get a feel for the settings of her novels. She lives in the Chicago area with her family and has been blessed to be the primary caregiver to her adult disabled son.
Amy Lillard loves nothing more than a good book. Except for her family. . .and maybe homemade tacos. . .and nail polish. But reading and writing are definitely high on the list. Born and bred in Mississippi, Amy is a transplanted Southern Belle who now lives in Oklahoma with her deputy husband, their genius son, three spoiled cats, and one very lazy beagle. When she's not creating quirky characters and happy endings, she's chauffeuring her prodigy to guitar lessons, orchestra concerts, and baseball practice. She has a variety of hobbies, but her favorite is whatever gets her out of housework. An award-winning author, Amy is a member of RWA and ACFW. She loves to hear from readers. You can find her on Facebook, Instagram, Google+, Twitter, Goodreads, and Pinterest. For links to the various sites, check her website: www.amylillardbooks.com.
 
Multi-published author Davalynn Spencer writes inspirational Western romance complete with rugged cowboys, their challenges, and their loves. She is the 2015 recipient of the Will Rogers Gold Medallion for Western Inspirational Fiction, second place winner in the 2014 Inspirational Reader's Choice Award, and a 2014 finalist for the Holt Medallion and Selah Awards. As a former rodeo-market and newspaper reporter, she has won several journalistic awards and has over 100 articles, interviews, and devotionals published in national periodicals. She teaches Creative Writing at Pueblo Community College and pens a popular slice-of-life column for a mid-size daily newspaper. Davalynn makes her home on Colorado's Front Range with a Queensland heeler named Blue and two mouse detectors, Annie and Oakley. Connect with her online at: www.davalynnspencer.com
 
Michelle Ule is a musician, historian and Bible study leader who graduated from UCLA. She's the author of five historical novellas and a Navy SEAL novel. Married to a now retired submarine officer whom she followed all over the world, she lives with her family in northern California. You can learn more about her at www.michelleule.com
 
Bestselling author Vickie McDonough grew up wanting to marry a rancher, but instead married a computer geek who is scared of horses. She now lives out her dreams in her fictional stories about ranchers, cowboys, lawmen, and others living in the Old West. Vickie is the award-winning author of more than forty published books and novellas. Her novels include the fun and feisty Texas Boardinghouse Brides series and the Land Rush Dreams series. Vickie and her husband Robert have four grown sons, one of whom is married, and a precocious ten-year-old granddaughter. When she's not writing, Vickie enjoys reading, antiquing, watching movies, and traveling. To learn more about Vickie's books or to sign up for her newsletter, visit her website at www.vickiemcdonough.com
 
or
Not Currently Available for Direct Purchase