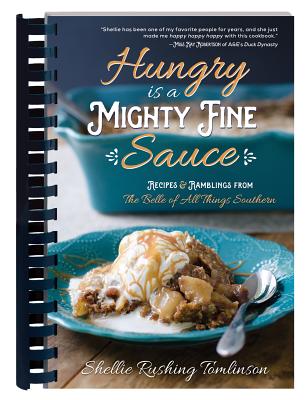 Hungry Is a Mighty Fine Sauce Cookbook (Spiral bound)
Recipes and Ramblings from the Belle of All Things Southern
Shiloh Run Press, 9781634097826, 224pp.
Publication Date: October 1, 2016
* Individual store prices may vary.
Description
Hey y'all!  Come on inside! I want you to meet my family~

I'm Shellie. . .a Jesus loving, story stacking cook known as The Belle of All Things Southern. I'm having something of a family reunion, and I'm inviting all of you to join me--from close friends and second cousins, to my loyal radio listeners, beloved readers, and anyone else who stumbles across our get-together!  
 
My specialty is delicious food born from a legacy of love and southern heritage, broken down into simple steps anyone can follow. Whether it's my Bodacious Black Bean Salad or Fresh Veggie Frittata, Spicy Sausage and Crawfish Spread or Fudge Nut Muffins, my recipes will satisfy your hungry group and keep them coming back for more. Hungry is a Mighty Fine Sauce is a collection of lip-smacking, rib-sticking dishes served with generous helpings of conversation because I truly believe the best meals come with a story. 

Featuring dozens of tried-and-true recipes complemented by entertaining stories, your hunger--and your craving for humor--are sure to be satisfied! Eye-catching photos, guaranteed to make your mouth water, are included throughout. . .sure to be a much-appreciated gift or centerpiece on your very own kitchen countertop.
 
About the Author
An incurable storyteller, down home southern cook, and bona fide people lover, Shellie Rushing Tomlinson enjoys entertaining and encouraging a wide range of audiences. Whether sharing her recipes and her humorous slant on growing up southern on the radio and via her popular web site 
http://www.allthingssouthern.com
, speaking in civic and educational settings, or offering inspiring thoughts in church retreats and ladies' seminars, Shellie's talks are always full of laughs, inspiration, and motivation.  
Shellie Rushing Tomlinson lives in Lake Providence, Louisiana with her husband, Phil. They have two children and five grandchildren. Shellie is the author of three self-published titles 
Lessons Learned on Bull Run Road
, 
'Twas the Night before the Very First Christmas
, 
Southern Comfort with Shellie Rushing Tomlinson 
and two nonfiction books with Penguin Group USA, 
Suck Your Stomach In and Put Some Color On
, voted Nonfiction Finalist of 2009 by SIBA, the SIBA Independent Booksellers Alliance and the May 2011sequel, 
Sue Ellen's Girl Ain't Fat, She Just Weighs Heavy!, 
also nominated as a SIBA Independent Booksellers Alliance Pick for Nonfiction. Comedian Jeff Foxworthy called her last book, "Laugh out loud funny!" Shellie adamantly denies bribing him for his endorsement. Her most recent release, 
Heart Wide Open, 
released March 2014 by Random House/Waterbrook is enjoying an enthusiastic welcome in the faith market.  
Shellie is owner, creator, and publisher of 
All Things Southern
, a website updated weekly with fresh southern features. These three minute features run each week on twenty-eight radio stations across the states as pre-taped segments comprising her daily radio show, All Things Southern. Shellie also hosts her own talk show, ATS LIVE, every Monday evening at 5-6 PM CST on 
TALK 540KMLB
. One of her popular segments each week is the fifteen minute author interview where Shellie interviews fellow authors. The show streams LIVE and podcasts are available so everyone can join Shellie's southern celebration!  
Shellie writes a weekly inspirational feature in 
Newsstar,
 a Gannett paper serving the Ark/La/Miss, pens a monthly print and online column for regional magazine 
Louisiana Road Trips
, blogs with four other award winning authors at 
Southern Belleview.com
 and enjoys a busy speaking schedule. 
Praise For Hungry Is a Mighty Fine Sauce Cookbook: Recipes and Ramblings from the Belle of All Things Southern…
"You are going to love this cookbook. Not only do you get great recipes that even the pickiest of men, like mine, will love but you get great stories. Who doesn't love to pick up a cookbook and look through the recipes and read fun stories by the author. Shellie has been one of my favorite people for years, and she just made me happy happy happy with this cookbook. She shares things in such a fun way. I can just see her face in my mind telling the stories as I read them. She is a beautiful person with incredible stories to tell. A 'real' storyteller!"
—Miss Kay Robertson from Duck Dynasty
"Hilarious sassy southern stories tucked between can't-wait-to-try-this recipes. . .some tried and true southern fare, others invented by Shellie herself, a true culinary artist. This girl knows good y'all. Particularly when it comes to what she calls the holy trinity of Southern cooking: chopped onion, bell pepper, and celery. I reckon the Trinity is the secret sauce of Shellie's Perfect Pea Topping Relish and a dozen other yumdillyicious marvels that make you want to slap your mama (one of Shellie's delightful colloquialisms I just might have to borrow!). A must-have for all belles and belle-wannabes!"
—Debora M. Coty, Humorist, Speaker, and Author of the Too Blessed to be Stressed Cookbook
"As a new wife and cook, I love how Mrs. Shellie keeps it real and simple while sharing her best cooking secrets with me!"
—Mary Kate Eacham Robertson, Wife of the Young and Beardless John Luke Robertson of A&E's Duck Dynasty
"Did you ever meet a new friend who, in an instant, made you feel as if you've known her for years? Whose welcoming presence makes you want to relax, kick off your shoes, and linger? Who inspires you to think deeply and laugh out loud? Now imagine that woman also loves to cook and invites you to drop by for supper (or lunch, or breakfast, or dessert. . .) That  is how you'll feel reading Shellie's hilarious, uplifting stories and mouth-watering recipes in Hungry Is a Mighty Fine Sauce. Like you've just spent time with a warm, funny friend surrounded by fabulous, home-cooked food. Doesn't get much better than that, my friends."
–Becky Johnson, Coauthor (with her daughter, Rachel Randolph) of We Laugh, We Cry, We Cook and Nourished: A Search for Health, Happiness and a Full Night's Sleep
"I have had the good fortune to swap biscuits at the table with the Queen of Us All, and I can attest that everything Shellie says in these pages is the Gospel Truth, or at least a pretty good representation of it. What I can't figure out is how a woman who can cook this good can stay so skinny (Bless her heart. . .and Southerners will understand that). Maybe it's because the one thing Shellie does better than cooking is swapping stories. I'm getting a copy of Hungry Is a Mighty Fine Sauce for each of my four grown Yankee children. Git you a copy and eat up!"
–Karen Spears Zacharias, Author of Burdy
"With her trademark southern humor and wit, Shellie Rushing Tomlinson delivers a cookbook that will warm both your heart and your appetite. You  might even forget to cook the delicious recipes as you'll get caught up in the stories, anecdotes, and beauty of the book itself. But don't forget to cook, because Shellie brings us the best of her own kitchen and farm in this collection of recipes and stories. If you get one cookbook this year, let it be this one!"
–Patti Callahan Henry, New York Times bestselling author of The Idea of Love


"We southerners love our stories and our food; we'll eat and talk most anywhere, but we do a fine job of bringing the two together over a crowded dinner table. In Hungry Is a Mighty Fine Sauce, Shellie Tomlinson takes food and stories to a whole NEW level. It's filled with funny stories about Shellie's family and friends. Who doesn't love the story about Lady, the holy ghost dog, and then there's one about Shellie, her BFF Rhonda, and a practical joke that occurred at 25,000 feet. With all those great stories there is also a host of yummy recipes, like Shellie's Mexican Lasagna, Mama's Chicken and Dressing, Holiday Hurt Yourself Bread, and Aunt Judy's Banana Nut Cake. And y'all, this is my favorite part—these recipes have ingredients I can find in my pantry and at my local grocery store. No obscure roots or unheard-of spice that you can only find in stores where they sell unicorn horns and fairy dust. Oh and the pictures—goodness, the pictures are gorgeous. Shellie combines flat out funny stories with mouthwatering recipes, and that makes this one of my favorite cookbooks—ever. I know what I'm getting everyone on my Christmas list this year!"
–Mary R Snyder, Author of God, Grace & Girlfriends: Adventures in Faith and Friendship and Authentic Girlfriends: Real Women Finding Real Faith
or
Not Currently Available for Direct Purchase