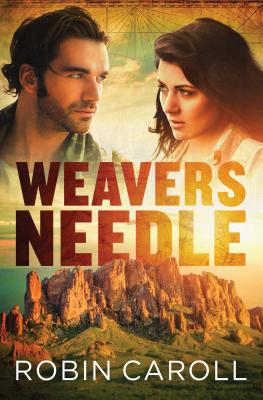 Weaver's Needle (Paperback)
Shiloh Run Press, 9781634099943, 320pp.
Publication Date: June 1, 2017
* Individual store prices may vary.
Description
Two recovery specialists.
One murder.
A hunt for the Dutchman's Lost Gold Mine becomes a race of survival.
 
Former Army MP Landry Parker fell into the recovery specialist role quite by accident—to help her ailing father. Now that she's on her own, she is determined to prove herself and honor her family legacy.

After being shot in the line of duty, former police officer Nickolai Baptiste became a recovery specialist, and he's good at his job—maybe even the best.
           
A potential client pits Landry and Nickolai against one another to find the Dutchman's Lost Gold Mine map that was stolen from her murdered husband, and the potential payday is too enticing to pass up. The trail takes them from New Orleans to Weaver's Needle in Arizona where legend claims the mine is hidden. Landry and Nickolai are no strangers to adventure, but the unlikely partners quickly discover there's someone after the treasure and there are those who want to ensure the lost mine in Arizona's Superstition Mountain stays lost forever.

Can Landry and Nickolai work together despite their distrust of each other to save the legend before more innocent lives are lost? Will they find the real treasure isn't the gold, but something more valuable. . .true love and understanding?
About the Author
"I love boxing. I love Hallmark movies. I love fishing. I love scrapbooking. Nope, I've never fit into the boxes people have wanted to put me in." Robin Caroll is definitely a contradiction, but one that beckons you to get to know her better. Robin's passion has always been to tell stories to entertain others and come alongside them on their faith journey—aspects Robin weaves into each of her twenty-five-plus published novels. When she isn't writing, Robin spends quality time with her husband of nearly three decades, her three beautiful daughters and two handsome grandsons, and their character-filled pets at home. Robin gives back to the writing community by serving as executive director/conference director for ACFW. Her books have been recognized in such contests as the Carol Award, Holt Medallion, Daphne du Maurier, RT Reviewer's Choice Award, Bookseller's Best, and Book of the Year. You can find out more about Robin by visiting www.robincaroll.com.
 
Praise For Weaver's Needle…
"
Weaver's Needle
puts a new and intriguing spin on the many legends surrounding the Lost Dutchman's Mine in the Superstition Mountains of Arizona.  —Lorena McCourtney,
New York Times
bestselling author of
The Ivy Malone Mysteries
, the
Mac 'n' Ivy Mysteries
, and the
Cate Kinkaid Files
"[Robin Caroll] seamlessly weaves the suspense, romance, faith, contemporary, and historical threads of this captivating story and draws a heartwarming outcome from an intriguing setting, fascinating characters, and impossible odds." —Cynthia Ruchti, author of 20+ books, including A Fragile Hope
 
"A non-stop adventure of a treasure hunt in the vein of National Treasure—this time deep in the heart of the Superstition Mountains in Arizona. Filled with Caroll's trademark suspense, killer twists, and romance, there's everything to love in this book!" —New York Times bestselling author Tosca Lee

"Robin Caroll's new book, Weaver's Needle, is an exciting read with interesting characters you want to root for." —Margaret Daley, author of Her Baby Protector
 
"Weaver's Needle is the best romantic suspense I've read all year. Robin Caroll is a master at layering rich details with unexpected plot twists and likeable characters. Highly recommended!" —Colleen Coble, USAToday bestselling author
"Weaver's Needle is a thrilling race—a page-turning, heart-slamming suspense story with enough romance to make you need a box of chocolate. Highly recommended!" —Carrie Stuart Parks, award-winning author of When Death Draws Near and Portrait of Vengeance

 
"As a fan of adventure-driven romance and suspense, I loved Weaver's Needle by Robin Caroll. This page-turner had a level of realism and emotion that hit me deep in the heart. Her best yet! Don't miss it.  —Cheryl Wyatt, USA Today bestselling author of romance with virtue 
 
"In Weaver's Needle, Robin Caroll is at her best, showcasing the interesting characters and complex plots her readers have come to expect. Filled with details that transported me to the setting, this is a book that romantic suspense lovers will inhale. A definite keeper on my shelf." —Cara Putman, award-winning author of Beyond Justice and Shadowed by Grace
 
"Robin Caroll does it again! Weaver's Needle is a compelling combination of whodunit, treasure hunt, and romance. You'll be rooting for Landry Parker and Nickolai Baptiste from the first page to the last. Great fun!" -Rick Acker, bestselling author of The Enoch Effect and Death in the Mind's Eye
 
"Robin Caroll skillfully weaves her best story to date! Weaver's Needle is a unique blend of romance, suspense, and characters who have rich depth. And it's a story full of symbolism as the hero and heroine's search for treasure leads them to the true gold hidden in each other. Simply put, I adore this story!"—Dineen Miller, multi-published and award winning author of The Soul Saver and Winning Him Without Words  
 
"There's nothing I like reading more than a novel about a treasure hunt, and Robin Caroll delivers in this heart-pounding search for an old map and lost gold mine. If you enjoy romantic suspense, you'll love Weaver's Needle!" —Melanie Dobson, award-winning author of Chateau of Secrets and The Silent Order
Caroll has struck gold with her latest novel! A fresh approach to the legend of the lost Dutchman gold mine, it's an intriguing blend of adventure, romance and suspense. 
— Carrie Townsend
Weaver's Needle will delight readers who love a well-developed murder mystery.
— Cristel Phelps
Caroll's latest tale imagines the real-life legend of Dutchman's Lost Mine, reportedly hidden in Arizona's Superstition Mountains. Plenty of dialog makes for a fast-paced read and the steadily developing romance between Landry and ­Nickolai adds to the satisfying ending. ­For romantic suspense fans, especially those who like a bit of Western flavor and lore mixed in with their thrills.