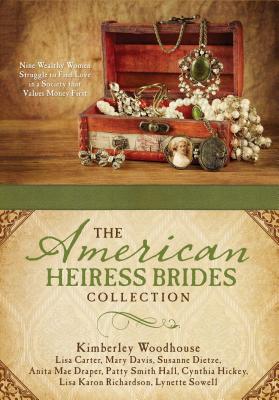 The American Heiress Brides Collection
Nine Wealthy Women Struggle to Find Love in a Society that Values Money First
Paperback

* Individual store prices may vary.
Description
Nine wealthy women seek men trustworthy of their greatest treasure—their hearts.

Meet nine young women in America between 1866 and 1905 who have been blessed by fortunes made in gold, silver, industry, ranching, and banking. But when it comes to love, each woman struggles to find true love within a society where "first comes money, second comes marriage." What kind of man can they trust with their greatest treasure—their hearts?

The Heiress and the Homesteader by Lisa Carter
1880 – Montana
Running from the suitor of her father's choosing, haughty silver heiress Eugenia falls for a most unsuitable, proud but poor, homesteader as she tends to his ailing grandmother during harvest. From separate worlds, can they find a place for love to flourish?

The Reluctant Heiress by Mary Davis
1905 – Boston, MA
Victoria must decide whether to accept her inheritance with its proviso of a forced marriage or walk away from a fortune. Her attorney, Graham, finds it difficult not to cross the line from business to love with the enchanting heiress. 

In for a Penny by Susanne Dietze
1894 – Philadelphia, PA
Banking heiress Penelope Beale is pushed by her status-conscious parents to marry a lofty English lord, but she's drawn instead to a lowly art historian who shares her passion for service—Emmett Retford, the lord's younger brother.

Sweet Love Grows by Anita Mae Draper
1890 – McLeod County, MN
Amelia Cord never doubted her father's love—despite her illegitimacy. When he dies without a will, handsome by-the-books attorney Jeremy Moore produces a vindictive legal heir who demands her eviction without an inheritance. Can sweet love grow in spite of the odds?

Hometown Heiress by Patty Smith Hall
1895 – Mills of South Georgia
Journalist Matthew Langley strives to make a difference in the world through his writing, but it's not until he meets textile heiress Dania Eison that he learns that changing people's lives starts at home.

Savannah's Trial by Cynthia Hickey
1866 – Ozark Mountains
The fate of the ranch rests on Savannah Worthington's shoulders. Can she trust the handsome stranger her mother hired to help her, or is he one of many who wants what Savannah has struggled to save?

A Family Inheritance by Lisa Karon Richardson
1883 – San Francisco, CA
Anne Shepherd has made her own fortune in the California gold fields, but what she's always wanted was a family. When the aunt she's invited to live with her arrives with Jack Wilberforce in tow, Anne may have gone bust or she just might have hit pay dirt.

Maggie's Newport Caper by Lynette Sowell
1895 – Newport, RI and New York City
A Gilded Age heiress throws caution to the wind during the Newport summer season to hunt down a jewelry thief targeting the wealthy after her family is robbed. 

All That Glitters by Kimberley Woodhouse
1895 – Juneau, AK and Denver, CO
Investing in Alaska gold mines, a Denver heiress and her father enjoy the reprieve from money-hungry relatives back in Colorado when disaster strikes. A trusted employee agrees to escort the heiress home, but keeping her alive proves almost as difficult as preventing himself from falling in love with her.
Barbour Books, 9781634099974, 448pp.
Publication Date: January 1, 2017
About the Author
Lisa Carter and her family make their home in North Carolina. In addition to "Mule Dazed," she is the author of seven romantic suspense novels and a contemporary Coast Guard romantic series. When she isn't writing, Lisa enjoys traveling to romantic locales, teaching writing workshops, and researching her next exotic adventure. She has strong opinions on barbecue and ACC basketball. She loves to hear from readers and you can connect with Lisa at www.lisacarterauthor.com.
MARY DAVIS is an award-winning author of over a dozen novels in both historical and contemporary themes, four novellas, two compilations, and three short stories, as well as being included in various collections. She is a member of American Christian Fiction Writers and is active in two critique groups.
Mary lives in the Colorado Rocky Mountains with her husband of over thirty years and two cats. She has three adult children and one grandchild. She enjoys playing board and card games, rain, and cats. She would enjoy gardening if she didn't have a black thumb. Her hobbies include quilting, porcelain doll making, sewing, crafts, crocheting, and knitting. http://marydavisbooks.com  https://www.facebook.com/mary.davis.73932
Susanne Dietze
 began writing love stories in high school, casting her friends in the starring roles. Today, she's the award-winning author of a dozen new and upcoming historical romances who's seen her work on the ECPA and Publisher's Weekly Bestseller Lists for Inspirational Fiction. Married to a pastor and the mom of two, Susanne lives in California and enjoys fancy-schmancy tea parties, the beach, and curling up on the couch with a costume drama and a plate of nachos.  You can visit her online at www.susannedietze.com and subscribe to her newsletters at http://eepurl.com/bieza5.  
Anita Mae Draper's
historical romances are woven under the western skies of the Saskatchewan prairie where her love of research and genealogy yield fascinating truths that layer her writing with rich historical details. Her Christian faith is reflected in her stories of forgiveness and redemption as her characters struggle to find their way to that place in our heart we call home. Anita loves to correspond with her readers through any of the social media links found at on her website at www.anitamaedraper.com.
Readers can enrich their reading experience by checking out Anita's story boards on Pinterest at www.pinterest.com/anitamaedraper.  
PATTY SMITH HALL is an award-winning, multi-published author with Love Inspired Historical and Heartsong/Harlequin.  She currently serves as president of the ACFW-Atlanta chapter and is active on Facebook, Pinterest and Twitter. She calls North Georgia her home which she shares with her husband of 30+ years, Danny; two gorgeous daughters and a future son-in-love. Visit her website at www.pattysmithhall.com.   
Cynthia Hickey grew up in a family of storytellers and moved around the country a lot as an army brat. Her desire is to write about real, but flawed characters in a wholesome way that her seven children and five grandchildren can all be proud of. She and her husband live in Arizona where Cynthia is a full-time writer.
Lisa Karon Richardson is an award-winning author and a member of American Christian Fiction Writers. Influenced by books like The Little Princess, Lisa's early books were heavy on creepy boarding schools. Though she's mostly all grown-up now, she still loves a healthy dash of adventure in any story she creates, even her real-life story. She's been a missionary to the Seychelles and Gabon and now that she and her husband are back in America, they are tackling new adventures—starting a daughter-work church and raising two precocious kids.


Lynette Sowell is an award-winning author with New England roots, but she makes her home in Central Texas with her husband and a herd of five cats. When she's not writing, she edits medical reports and chases down stories for the local newspaper.

Kimberley Woodhouse is an award-winning and bestselling author of more than fifteen fiction and nonfiction books. A popular speaker and teacher, she's shared her theme of "Joy Through Trials" with more than half a million people across the country at more than 2,000 events. Kim and her incredible husband of twenty-five-plus years have two adult children. She's passionate about music and Bible study and loves the gift of story. 
You can connect with Kimberley at: www.kimberleywoodhouse.com and www.facebook.com/KimberleyWoodhouseAuthor  
or
Not Currently Available for Direct Purchase