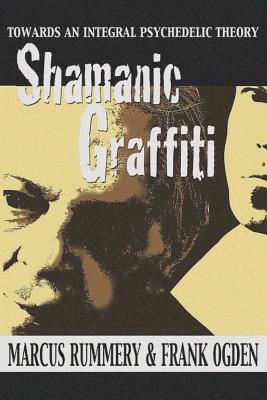 Shamanic Graffiti (Paperback)
100,000 Years of Drugs, 100 Years of Prohibition
Trine Day, 9781634240994, 240pp.
Publication Date: December 15, 2016
* Individual store prices may vary.
Description
Freud said dreams were the "royal road" to the unconscious, and then along came a superhighway: psychedelics. Personally, we can access the psychedelic experience, but Frank Ogden shepherded over a thousand people's experiences. What is presented is the howling unconscious released from the normal chemical constraints that restrict it. Written in the simple, but vivid style Frank popularized in his bestselling, The Last Book You'll Ever Read, Shamanic Graffiti presents an alternative history of the brain and it's functions: shamanism. Giving real world examples, the book finishes-up by exploring the theories of two pre-eminent psychedelic theoreticians, Dr. Timothy Leary and Dr. Stan Grof and looks at the future of psychedelic drugs.
About the Author
Frank Ogden was educated in Canada and the United States and served in World War II. During the 1960s, he joined a medical team researching LSD at Hollywood Hospital. He helped found Canada's first think-tank, taught at the Ontario College of Art and the New England School of Art in Boston, and was a founding member of the World Future Society in Canada. Frank has been profiled on numerous TV and radio stations and in newspapers and magazines around the globe, including: CNN, PBS, CBC, Forbes, LA Times, Globe & Mail, Washington Post; U.S. News & World Report; Toronto Sun, and Financial Times. Frank passed away in 2012. Marcus Rummery has been an artist all of his life. A member of numerous bands and comedy troops, he began performing stand-up comedy in 1996. He has performed all across Canada and been featured on CBC Radio's Definitely Not the Opera. In 2002 he became certified to teach Bikram's Method Hot Yoga, and since 2014 has taught his own yoga called "Hot Prana." In 2008 produced the film, Big Medicine – the Techno-Shamanism of Frank Ogden. Marcus lives in Vancouver Canada.
Praise For Shamanic Graffiti: 100,000 Years of Drugs, 100 Years of Prohibition…
"Here is a highly readable account of how Canadian scientists and artists and enthusiasts have been world leaders in the 'consciousness revolution'. Marcus Rummery's book will be recognized as the standard contribution to the field. Reading it is not only a consciousness-raising experience, but it also a hair-raising experience." —John Robert Colombo, Canadian author, editor and poet
"Ogden and Rummery delve into a history that's endangered to be forgotten, repressed, marginalized. At this time of psychedelic and entheogenic re-awakening their book is an invaluable resource." —Andrew Feldmar, psychotherapist, co-investigator (with Dr. Ingrid Pacey) in Vancouver's MDMA and Post Traumatic Stress Disorder study
"This book contains vivid first-hand accounts of psychedelic insights and offers a reappraisal of the true value of those experiences, both it terms of treatment and personal growth. Drawing extensively on co-author Frank Ogden's experiences, it also provides a rich description of the infamous Hollywood Hospital addiction treatments with LSD, of which Ogden played a historic role – a story that needs to be told. Rummery explores a cast of familiar characters and offers compelling evidence to suggest LSD deserves a second chance." —Erica Dyck, Associate Professor, History of Medicine, The University of Saskatchewan; author, Psychedelic Psychiatry: LSD from Clinic to Campus
or
Not Currently Available for Direct Purchase