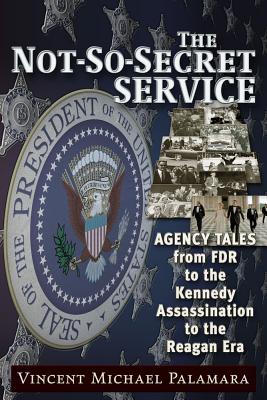 The Not-So-Secret Service (Paperback)
Agency Tales from FDR to the Kennedy Assassination to the Reagan Era
Trine Day, 9781634241205, 240pp.
Publication Date: May 1, 2017
* Individual store prices may vary.
Description
While there haven't been many Secret Service related books about U.S. presidents, the ones still in print (and even those long out of print) are often sanitized memoirs of a politically correct nature or "tell-all" tabloid historical junk meant merely for entertainment purposes. The Not-So-Secret Service provides the facts with the bark off, so to speak, and reveals politically incorrect information of a decidedly unsafe nature. It may be controversial and against the grain, but this book is heavily documented and timely, as the Secret Service guards our political candidates, foreign dignitaries, and, of course, the President, the first family and the ex-presidents and their families.

About the Author
Vince Palamara is the leading civilian literary Secret Service expert. He is the author of Survivor's Guilt: The Secret Service & The Failure to Protect President Kennedy and JFK: From Parkland to Bethesda - the Ultimate Kennedy Assassination Compendium. Palamara has appeared in over 100 other author's books, radio, television/DVDs, newspapers, at national conferences, and many online resources. 

Praise For The Not-So-Secret Service: Agency Tales from FDR to the Kennedy Assassination to the Reagan Era…
"Vince Palamara is the foremost authority on the secret service in the 60s. He is a personal friend of mine and a very good researcher" —former Secret Service agent Abraham Bolden
"I am impressed with your research, accuracy and willingness to 'tell it like it is.'" —former Secret Service agent Robert Deprospero. 
"You are, unquestionably, the main authority on the Secret Service with regard to the assassination." —best-selling author Vince Bugliosi
"Vincent Michael Palamara, who long has been the preeminent authority on the extraordinary—and strange—acts of omission or commission by the Secret Service which made JFK's preventable murder possible." —Donald E. Wilkes Jr., professor emeretus, University of Georgia Law School
"Vince Palamara is, with little question, the critical author who has the most knowledge of the failures of the Secret Service in their obligation to protect President Kennedy on November 22, 1963." —author James Dieugenio