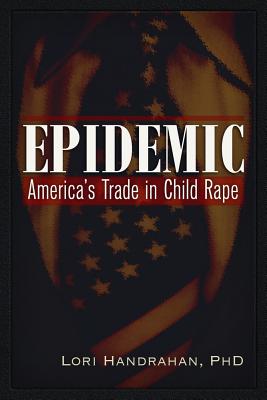 Epidemic (Paperback)
America's Trade in Child Rape
Trine Day, 9781634241595, 184pp.
Publication Date: October 20, 2017
* Individual store prices may vary.
Description
The problem of child sex abuse and its cover-up is real. A generation of American children are being destroyed. If you think this happens to someone else's children and your children are safe, you are mistaken. Your children might be enduring sexual abuse right now while you remain dangerously ignorant. America's appetite for child pornography puts all our children at risk. Your children and mine. Whether you acknowledge it or not. This book is a wake-up call about a subject too few people want to discuss. That is, while no one was watching, America has become a child pornography nation.

About the Author
Dr. Lori Handrahan has spent more than 20 years working in international humanitarian and human rights for the United Nations and other organizations. Her Ph.D. is from The London School of Economics.
Praise For Epidemic: America's Trade in Child Rape…
"I view Dr. Handrahan's efforts to pull together the data surrounding child pornography and child sexual abuse that was scattered, until this book came out, as a seminal document from which I hope Congressional hearings, corporate action, and greater parental awareness will come. Through the data and information amassed in Epidemic, it is no longer possible to equate child sexual abuse, pornography, and exploitation as the acts of a few raincoat wearing men or sophisticated entertainment, but the most hateful and evil conduct imaginable." —J. Robert Flores, National Law Center for Children and Families, Vice President and Senior Counsel, 1997 - 2001 Office of Juvenile Justice and Delinquency Prevention, United States Department of Justice, Administrator, 2002 - 2009 Coordinating Counsel on Juvenile Justice and Delinquency Prevention, Vice Chairman Congressional Child Online Protection Act Commission , Commissioner, 1998 - 2000 Deputy Chief, Child Exploitation and Obscenity Section, Criminal Division, Senior Trial Counsel, 1989 - 2007
"Finally, someone with the strength and courage to expose the epidemic that is destroying our country. Child sexual abuse, in all its forms, is not and never has been just a family's dirty little secret. It has been under our collective noses all along and we have ignored the stench. Dr. Lori Handrahan's thorough research deftly illustrates how money, sex, and the exploitation of our children have fueled a fire that is ravaging our nation, our world. Epidemic: America's Trade in Child Rape answers questions that no one dares to ask and identifies abusers whom we don't want to admit exist." —Sgt. Stephen J. Pickering, Maine State Police (retired)
"Epidemic has courageously illuminated a parallel universe that coexists with the universe of Little League, Boy Scouts, Disneyland, and the other hallmarks of wholesome, youthful Americana—a universe where lies masquerade as truth, where shadows reflect light, where innocence is condemned. Until our society as a whole makes a brave, concerted effort to illuminate this universe, countless children will be condemned to destruction." —Nick Bryant, author, The Franklin Scandal: A Story of Powerbroker, Child Abuse, and Betrayal
"Dr. Handrahan's expose on the horrific rape and exploitation of our children is brave, bold and overdue! Her book is a thorough and meticulous collection of statistics that should be considered an invaluable resource for those working on legislation or education on behalf of children. Thanks Dr. Handrahan for 'blowing the lid' off these often intentionally hidden and underreported crimes." —Alisa Jordheim, author, Made in the USA: The Sex Trafficking of America's Children and founder, Justice Society
"As a leading expert in Florida, tracking down predators and brining justice to the victims and their families, I deal with these crimes against children every day. Yet, even I was taken back by the scope of the epidemic as detailed in this book. Human trafficking and child exploitation are crimes that often take place in plain sight but until it affects someone personally many people choose to pretend child sex trafficking doesn't exist in their community, in our country. After reading Epidemic, if you continue to look the other way, you are part of the problem." —Trent Steele, President and Chairman, Anti-Predator Project
"Riveting! Excellent research and analysis. Dr. Handrahan's work is not only painstakingly revealing it exposes the depth and scope of the challenges daunting every local, state, and federal government offical working in the field of child sexual exploitation. A must have reference book. Dr. Handrahan's work is timely and commendable." —Conchita Sarnoff, Investigative Journalist and author, TrafficKing
"This is a Must Read book for those who seek a better, a safer, world for their children and grandchildren and who know that only public awareness of Child Injustice will lead to the preventive and punitive measures essential to diminishing and finally wiping out the inhuman practices documented by Dr. Handrahan." —Professor Madhav Nalapat, UNESCO Peace Chair, Manipal University, India
"The safety of our children is an issue that all Americans must be concerned with. Sex crimes against children in particular, cyberporn and all the rest is beyond atrocious. Lori Handrahan has dedicated her life to fighting these crimes. Her book is a must read and a clarion call to all who are about the future of our children." —Paul Brandus, White House reporter, West Wing Reports
or
Not Currently Available for Direct Purchase