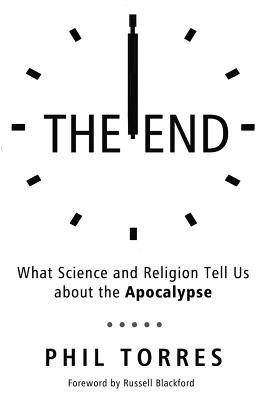 The End (Paperback)
What Science and Religion Tell Us about the Apocalypse
Pitchstone Publishing, 9781634310406, 288pp.
Publication Date: February 16, 2016
* Individual store prices may vary.
Description
We live in a genuinely unique period of human history, one in which the alarmist's hackneyed warning that "The end is near!" could actually come true. The world is cluttered with increasingly powerful advanced technologies. Global warming and biodiversity loss are unchecked catastrophes that will likely push society to the brink of collapse. How are we to respond to this situation? What can we do to maximize the probability of a positive outcome for our species? The End surveys the expanding wilderness of big-picture hazards before us. It offers a comprehensive and detailed analysis of our evolving existential predicament, which includes risks from synthetic biology, nanotechnology, nuclear weaponry, and (possibly, soon) superintelligence. But understanding the science of risks isn't enough to effectively mitigate them: one must also understand the social, political, and especially religious contexts in which advanced technologies are being developed. The End provides this knowledge by showing how faith-based belief in religious eschatologies (or end-times narratives) is inching us ever closer to a secular apocalypse. Action needs to be taken immediately to avert a disaster. The question is whether humanity will choose reason over faith, observation over revelation, and science over religion.
About the Author
Phil Torres is a philosopher who writes about emerging technologies, existential risks, and religious eschatology. He's published articles in a wide range of academic journals, is a regular contributor at the Institute for Ethics and Emerging Technologies, and is the author of A Crisis of Faith: Atheism, Emerging Technologies, and the Future of Humanity. He lives in Carrboro, North Carolina. Russell Blackford is an Australian philosopher, literary critic, and writer.
Praise For The End: What Science and Religion Tell Us about the Apocalypse…
"Phil Torres takes us on a fascinating journey through some rather alarming territory. His fear that the human race may soon be extinct is all too clearly justified – but so also is his message that we can do many things to minimize the danger." —John Leslie, fellow of the Royal Society of Canada; author, The End of the World: The Science and Ethics of Human Extinction
"Phil Torres' The End is the most chilling reality check on over-optimism I've ever read, a gripping narrative that could be a Hollywood blockbuster film script but in fact is grounded in facts and data about what threatens to send humanity the way of the dinosaurs. Expect the best but prepare for the worst by reading this important book." —Michael Shermer, publisher, Skeptic magazine; monthly columnist, Scientific American; author, The Moral Arc: How Science and Reason Lead Humanity toward Truth, Justice, and Freedom
"Torres does an excellent job introducing potential dangers of superintelligent machines, without expecting the reader to be an expert in Artificial Intelligence, but without dumbing down the topic." —Roman Yampolskiy, Director, Cybersecurity Laboratory, University of Louisville; 2015 Research Advisor, Machine Intelligence Research Institute
"Phil Torres' interesting and highly original book incorporates religion, science, and thoughtful science fiction (the kind that might someday become science). He illuminates the dangers of a religious apocalypse (laughable, were it not for the possibility that believers in a fictional, god-induced apocalypse might acquire the scientific technology to bring about a nonfictional, human-induced apocalypse) . . . . Though generally pessimistic about the future of our planet, Torres provides the reader with strategies to maximize the likelihood that future generations will continue to have a quality life on earth – or, if necessary, on another planet." —Herb Silverman, Distinguished Professor Emeritus, College of Charleston; Founder and President, Secular Coalition for America; author, Candidate Without a Prayer: An Autobiography of a Jewish Atheist in the Bible Belt
"Phil Torres has a knack for lucid presentation. For the purposes of the book, the balance between keeping things simple and paying attention to details and complications is just perfect." —Matthias Steup, Department of Philosophy Head, Purdue University
"This one-of-a-kind-book provides an accessible yet expert education into several global doomsday threats, both secular and religious, both real and possible. Highly enlightening and very highly recommended!" —John W. Loftus, author, Why I Became an Atheist and The Outsider Test for Faith
"With this work Torres has given us not just a hair raising survey of the multiple dangers facing humanity in this century and beyond but a way of thinking that might allow us to escape them." —Rick Searle, Affiliate Scholar, the Institute for Ethics and Emerging Technologies; Adjunct Professor of Political Science and History, Delaware Valley College
"With this treatise, Torres insightfully illuminates the many potential perils, both present and on the horizon, that we face as a species." —Jonathan Lyons, Assistant Professor, Bucknell University; Affiliate Scholar, the Institute for Ethics and Emerging Technologies
"People interested in ensuring that humanity successfully navigates the twenty-first century need to read this concise and comprehensive contribution to catastrophic risk literature." —James J. Hughes, PhD, Executive Director, Institute for Ethics and Emerging Technologies; author, Citizen Cyborg
"If science and religion agree on nothing else, they agree on one singularly important thing: the world will one day come to an end. Any agreement stops there. As Phil Torres compellingly and forcefully argues, the surest way to avoid—or rather, delay—this inevitability, is to remove religion from the entire conversation. Only then will we begin to have a chance of accurately setting and slowing the Doomsday Clock." —Peter Boghossian, author, A Manual for Creating Atheists
or
Not Currently Available for Direct Purchase