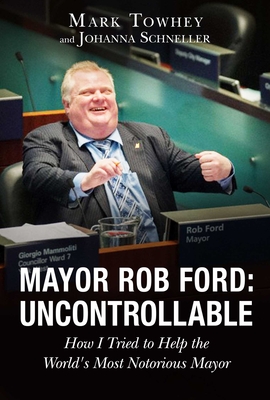 Mayor Rob Ford
Uncontrollable: How I Tried to Help the World's Most Notorious Mayor
Hardcover

* Individual store prices may vary.
Description
Rob Ford—the most ridiculed and scandal-ridden mayor—is an international celebrity. When the photo of him smoking crack cocaine circulated, garnering billions of hits, it was the icing on the cake. Ford, not just the favorite buffoon of late-night comics and journalists, was also a known alcoholic and the subject of legal, political, and police investigations—stripped of his mayoral powers by Toronto's City Council and a star subject in a murder investigation.

Here for the first time, Ford's former chief of staff Mark Towhey, who tried to wrangle Ford during his highly public meltdown, comes clean, filling in incredible behind-the-scenes details previously unknown and providing invaluable context. With this highly anticipated and much-talked-about tell-all, we go deep into Ford's personal life, including his addictions and his rivalry with his brother; we watch him as he runs Toronto; we overhear hair-raising late-night phone calls and see private, after-hours events; and we also get the much-gossiped-about but little-known account of Towhey's desperate struggle to protect the mayor from himself.

This juicy read is, like Ford, political candy, but it doesn't expose Ford for the sake of ridicule—it empathizes with him and explains him. It provides a fascinating portrait of twenty-first-century urban politics, as well as a character study of a larger-than-life personality, a mayor so colorful that he remains in office as a councillor and—despite it all—may one day become mayor again.
Skyhorse, 9781634500425, 360pp.
Publication Date: October 27, 2015
About the Author
Mark Towhey served as senior adviser and, later, chief of staff to Rob Ford from 2010 to 2013, helping to run North America's fourth-largest city, with fifty-three thousand employees and a $13 billion budget. Prior to working with Ford, Towhey was an esteemed management consultant for clients around the world, and today he works for Ballacaine Strategy & Execution. He also hosts a popular weekly radio program and was the executive director of Patrick Brown's recent successful political campaign.

Johanna Schneller is one of North America's leading freelance journalists specializing in entertainment features, a screenwriter, and the former host of TVOntario's film series Saturday Night at the Movies. She was a senior writer for GQ and has had cover stories in magazines such as InStyle, Premiere, Vanity Fair, Ladies' Home Journal, and More. Currently, she writes the weekly Fame Game column in the Globe and Mail.