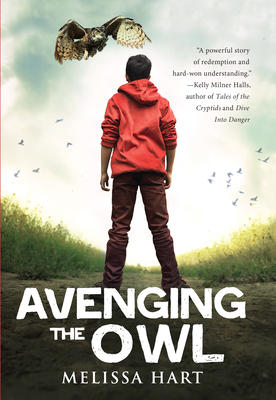 Avenging the Owl (Hardcover)
Sky Pony, 9781634501477, 224pp.
Publication Date: April 5, 2016
Other Editions of This Title:
Paperback (2/20/2018)
* Individual store prices may vary.
Description
A long time ago, in a galaxy far, far away, Han Solo avenged the destruction of an innocent planet by helping Luke Skywalker blow up the Death Star. Han walked away with a gold medal and the love of his life. But when Solo Hahn—named in honor of the beloved action hero—tries to avenge the death of his gray-and-white kitten, he gets eight months of community service. Eight months of working at the local raptor center helping owls—his now sworn enemies.

For the first time in his life, Solo is labeled a troubled kid, an at-risk youth. He'd always gotten good grades, had good friends, and gotten along with his parents. He used to volunteer to read Reader's Digest to old people at the retirement home next door, and his favorite thing in the whole wide world was to surf. He wrote screenplays for fun. But when his parents uproot him and move the family from California to backwoods Oregon, Solo starts to lose track of the person he was. Everything is upside down, and he finds himself dealing with things way beyond his understanding. He's the new kid in town, and he's got a bad reputation. The question is: What will he do next?

This is a story about staying true to yourself when things get tough. Solo has every reason to lash out, but he ultimately needs to find a way to cope. Avenging the Owl deals with the difficult issues of suicide and depression, but more than anything it captures the powerlessness of being a kid. It won't be easy, but the wild beauty of Oregon, its cold, empty beaches and captivating wildlife, may be just what Solo and his family need to help them start over.
About the Author
Melissa Hart is the nonfiction instructor for Whidbey Island's MFA Program in Creative Writing. Her articles and essays have been published by the Washington Post, the Los Angeles Times, the Boston Globe, Writer's Digest, and many others. Melissa currently resides in Eugene, Oregon, where she can hear western screech owls in her backyard.

Sky Pony Press, with our Good Books, Racehorse and Arcade imprints, is proud to publish a broad range of books for young readers—picture books for small children, chapter books, books for middle grade readers, and novels for young adults. Our list includes bestsellers for children who love to play Minecraft; stories told with LEGO bricks; books that teach lessons about tolerance, patience, and the environment, and much more. While not every title we publish becomes a New York Times bestseller or a national bestseller, we are committed to books on subjects that are sometimes overlooked and to authors whose work might not otherwise find a home.
Praise For Avenging the Owl…
"Solo's dad walked away from a successful Hollywood career writing cartoons, traded the Corvette for a VW bus, and moved his family from their beachfront home to a trailer in Oregon, where Solo's efforts to avenge his kitten's death at the claws of an owl go horribly wrong. Sentenced to community service at a facility rehabilitating injured birds of prey, Solo plots his escape. Eric, a neighbor with Down syndrome and a passion for bugs, is a nice kid but no substitute for Solo's surfing buddies. Despite himself, Solo is drawn to the injured birds, even Artemis, a great horned owl who loves being sprayed with water from the hose. Solo's boss and a senior volunteer reach out to Solo—his parents, not so much. Moving was supposed to give Solo's dad space to write a novel drawing on his Japanese-American family's internment during World War II —except he can't write. Calamities mount. The VW bus breaks down, infuriating Solo's anxious mom. Solo's friends back home have found a replacement for him. A budding writer, Solo gains distance from stressful events by reframing and fashioning them into screenplays. There's plenty to observe—birds aren't the only creatures with wounds to tend and heal. The strong setting and well-drawn cast of complicated, evolving characters (Eric and his mother are standouts) overcome a tangle of subplots and negligible high-concept premise. A memorable read."—Kirkus Reviews

"A good action-adventure story compelling enough for reluctant readers. Hand to fans of books about the great outdoors and the wilderness." —School Library Journal

"A powerful story of redemption and hard-won understanding." —Kelly Milner Halls, author of Tales of the Cryptids and Dive into Danger

"A beautiful and powerful story about learning to forgive and finding your true bliss." —Miriam Spitzer Franklin, author of Extraordinary

"I couldn't help rooting for Solo, whose goodness and vulnerability shines through his tough facade. Avenging the Owl is a story with talons—it grips your heart and refuses to let go." —Helen Landalf, author of Flyaway

"Hart's one-of-a-kind hero's tale is instructive, original, and completely unputdownable." —Karen Karbo, author of Minerva Clark Gets a Clue

"Like all the best books, Avenging the Owl seized me from the first sentence and did not let me go." —Tommy Hays, author of What I Came to Tell You

"Avenging the Owl doesn't squint at the sometimes painful pursuit of happiness and the awkwardness that can go hand-in-hand with loyalty. But it also, with poignancy and clarity, proves sometimes the bravest thing a person can do is simply stand still when everything in him screams to run away." —Beth Vrabel, author of A Blind Guide to Stinkville and the Pack of Dorks series

"Though Hart's knowledge of raptors drew me in, what touched me most was how she acknowledges it's okay to be angry with the people we love and gently demonstrates one way to move through it to acceptance and change." —Rebecca Petruck, author of Steering Toward Normal

"In the midst of a super-rotten situation, Solo Hahn emerges triumphant just like the movie hero he's named for. He's reluctant, realistic, loyal, funny, and brave. I loved every minute I got to spend with him. I loved this book!" —Ana Maria Spagna, author of The Luckiest Scar on Earth

"Solo's dad walked away from a successful Hollywood career writing cartoons, traded the Corvette for a VW bus, and moved his family from their beachfront home to a trailer in Oregon, where Solo's efforts to avenge his kitten's death at the claws of an owl go horribly wrong. Sentenced to community service at a facility rehabilitating injured birds of prey, Solo plots his escape. Eric, a neighbor with Down syndrome and a passion for bugs, is a nice kid but no substitute for Solo's surfing buddies. Despite himself, Solo is drawn to the injured birds, even Artemis, a great horned owl who loves being sprayed with water from the hose. Solo's boss and a senior volunteer reach out to Solo—his parents, not so much. Moving was supposed to give Solo's dad space to write a novel drawing on his Japanese-American family's internment during World War II —except he can't write. Calamities mount. The VW bus breaks down, infuriating Solo's anxious mom. Solo's friends back home have found a replacement for him. A budding writer, Solo gains distance from stressful events by reframing and fashioning them into screenplays. There's plenty to observe—birds aren't the only creatures with wounds to tend and heal. The strong setting and well-drawn cast of complicated, evolving characters (Eric and his mother are standouts) overcome a tangle of subplots and negligible high-concept premise. A memorable read."—Kirkus Reviews

"A good action-adventure story compelling enough for reluctant readers. Hand to fans of books about the great outdoors and the wilderness." —School Library Journal

"A powerful story of redemption and hard-won understanding." —Kelly Milner Halls, author of Tales of the Cryptids and Dive into Danger

"A beautiful and powerful story about learning to forgive and finding your true bliss." —Miriam Spitzer Franklin, author of Extraordinary

"I couldn't help rooting for Solo, whose goodness and vulnerability shines through his tough facade. Avenging the Owl is a story with talons—it grips your heart and refuses to let go." —Helen Landalf, author of Flyaway

"Hart's one-of-a-kind hero's tale is instructive, original, and completely unputdownable." —Karen Karbo, author of Minerva Clark Gets a Clue

"Like all the best books, Avenging the Owl seized me from the first sentence and did not let me go." —Tommy Hays, author of What I Came to Tell You

"Avenging the Owl doesn't squint at the sometimes painful pursuit of happiness and the awkwardness that can go hand-in-hand with loyalty. But it also, with poignancy and clarity, proves sometimes the bravest thing a person can do is simply stand still when everything in him screams to run away." —Beth Vrabel, author of A Blind Guide to Stinkville and the Pack of Dorks series

"Though Hart's knowledge of raptors drew me in, what touched me most was how she acknowledges it's okay to be angry with the people we love and gently demonstrates one way to move through it to acceptance and change." —Rebecca Petruck, author of Steering Toward Normal

"In the midst of a super-rotten situation, Solo Hahn emerges triumphant just like the movie hero he's named for. He's reluctant, realistic, loyal, funny, and brave. I loved every minute I got to spend with him. I loved this book!" —Ana Maria Spagna, author of The Luckiest Scar on Earth