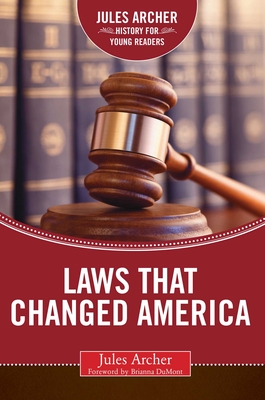 Laws that Changed America (Hardcover)
Sky Pony, 9781634501767, 160pp.
Publication Date: June 27, 2017
* Individual store prices may vary.
Description
Jules Archer begins with laws that opened up America—public lands and homesteading—and continues with banking, the Bill of Rights, subversion and sedition, foreign policy. Natural resources, labor, business, education and welfare, farming, Prohibition, the New Deal, the draft and G. I. Bills, slavery and civil rights. Archer chronicles the history of laws in America.

Each chapter opens with a dramatic incident, and then develops the laws relating to it. Brisk up-to-date, authoritative, informative—this volume will be valuable a supplementary reading in the classroom, as well as a welcome addition to libraries across the country. Readers of all ages will find this an exciting approach to what is usually considered difficult material.
About the Author
Brianna DuMont is author of the Changed History series, which makes history come alive by exposing its murky underbelly. The first book in the series, Famous Phonies: Legends, Fakes, and Frauds Who Changed History, includes gems about "I-must-not-tell-a-lie" George Washington and schoolless Shakespeare. When she's not writing quirky books, Brianna travels the world in search of great museums and historical sites. When she's at home, she is a full-time writer and researcher who is quickly becoming best friends with her local librarian. She and her family live in Chicago, Illinois.