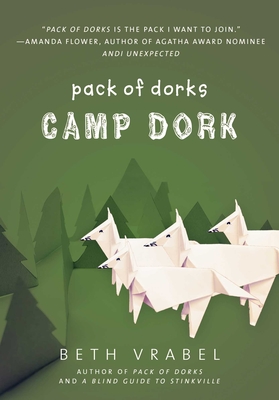 Camp Dork (Pack of Dorks) (Hardcover)
Sky Pony, 9781634501811, 240pp.
Publication Date: May 3, 2016
Other Editions of This Title:
Paperback (4/17/2018)
MP3 CD (9/27/2016)
* Individual store prices may vary.
Description
Lucy and her pack are back, in this sequel to Beth Vrabel's heartwarming and humorous debut, Pack of Dorks. Sheldon convinces Lucy, Sam, April, and Amanda to join him at a weeklong sleep-away summer camp—Camp Paleo: Live Like a Caveman. Like cavemen, they're going to have to make do without air conditioning or a heated pool. They'll learn archery and dig for fossils. And Grandma's coming too; she's taking a job as lunch lady for the camp next door.

At the last minute, Sam backs out to go to a gymnastics training camp instead. Lucy wonders why she misses him so much—it's not like he's her boyfriend or anything. Why does the word "boyfriend" make her blush, even when she's only thinking it? She needs a distraction. Enter Mr. Bosserman, the grouchy camp leader who won't budge on the caveman aspect of the camp. The old man needs some softening up, and Lucy knows just the person for the job: Grandma.

One successful match made, Lucy starts to see potential lovebirds everywhere. And setting up couples keeps her from facing the question tickling the back of her mind: Is she in love with Sam? But when the wrong campers fall for each other, the pack falls apart, all under the watchful eye of a super secret blogger who's been writing about the camp's activities Gossip Girl–style. Even worse? A thief is targeting everyone but Lucy, setting her up to look guilty. Soon Lucy again finds herself alone, left to fix the messes she's made and face her own feelings. If she fails, the pack may be splintered for good.
About the Author
Beth Vrabel is the award-winning author of A Blind Guide to Stinkville, A Blind Guide to Normal, and the Pack of Dorks series. She can't clap to the beat or be trusted around Nutella, but indulges in both often, much to the dismay of her family. She lives in the Dallas, Texas area.
Praise For Camp Dork (Pack of Dorks)…
"Vrabel has a rare talent for expressing the tenderness, frustration, awkwardness, confusion, and fun of growing up. VERDICT In Vrabel's capable hands, the ups and downs of adolescence shine through with authenticity and humor." —School Library Journal

"With good humor, Vrabel explores the pitfalls of emerging preteenhood. This quick read nonetheless effectively delves into interpersonal pitfalls that will be familiar to most older grade schoolers, and Lucy's developing insight may even provide a few hints for staying on the right path. Honest, funny, and entertaining." —Kirkus Reviews

Praise for Beth Vrabel and Pack of Dorks:

"Lucy's perfectly feisty narration, emotionally resonant situations and the importance of the topic all elevate this effort well above the pack." —Kirkus Reviews, starred review

"Pack of Dorks is the pack I want to join." —Amanda Flower, author of Agatha Award nominee Andi Unexpected

"Vrabel paints a realistic depiction of tween life, particularly its emotional confusion. Preteen readers will connect with Lucy's personal struggles and be entertained by her disastrous attempts at camp life." —Booklist

"Vrabel has a rare talent for expressing the tenderness, frustration, awkwardness, confusion, and fun of growing up. VERDICT In Vrabel's capable hands, the ups and downs of adolescence shine through with authenticity and humor." —School Library Journal

"With good humor, Vrabel explores the pitfalls of emerging preteenhood. This quick read nonetheless effectively delves into interpersonal pitfalls that will be familiar to most older grade schoolers, and Lucy's developing insight may even provide a few hints for staying on the right path. Honest, funny, and entertaining." —Kirkus Reviews

Praise for Beth Vrabel and Pack of Dorks:

"Lucy's perfectly feisty narration, emotionally resonant situations and the importance of the topic all elevate this effort well above the pack." —Kirkus Reviews, starred review

"Pack of Dorks is the pack I want to join." —Amanda Flower, author of Agatha Award nominee Andi Unexpected

"Vrabel paints a realistic depiction of tween life, particularly its emotional confusion. Preteen readers will connect with Lucy's personal struggles and be entertained by her disastrous attempts at camp life." —Booklist