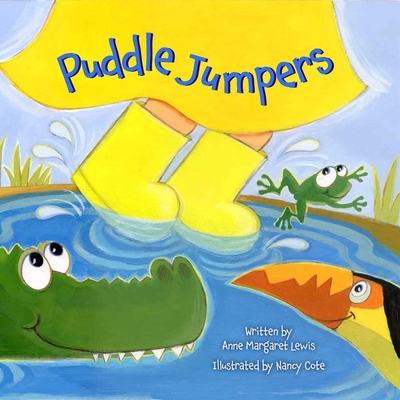 Puddle Jumpers (Hardcover)
Sky Pony Press, 9781634501859, 32pp.
Publication Date: February 2, 2016
* Individual store prices may vary.
Description
It's a rainy day in the month of May and Sam spots a rainbow, and then a puddle. A perfect spring puddle. His mother warns, "No No jumping in puddles You must keep clean today " but Sam can't stop himself from testing the water with his galoshes. And then the puddle invites him to play. The puddle whispers, "Jump, Puddle Jumper, jump " and with that very first jump, Sam is off on an adventure of the imagination. He'll be a frog in a pond, with a hat and some spots and a magic wand. He'll be a crocodile with pink polka dots and teeth like blades, and a polar bear with purple polar hair. He's going to jump, leap, dance, plunge, swim, and jump again. Sam is having so much fun in his puddle that even Mom can't resist. With a leap and a thwump, she's jumping too, cheering, "Jump, Puddle Jumper, jump " This happy picture book celebrates the simple, pure joy of jumping in a rain puddle. Nancy Cote's cheerful illustrations are full of kid appeal, a perfect match to a story that captures the magic of being a child. Let your imagination take you on your own adventure the next time you encounter an irresistible puddle. Aimed for children ages 3 to 6, this is a charming book about letting your imagination run wild and also about the joys children can find in even just a simple rain puddle. Encouraging kids to explore their outside world provides important developmental play for kids and parents will find the mom's reluctance and then acquiescence a good reminder that adults need to enter the world of children in order to allow them to explore their world and to learn from it. Sky Pony Press, with our Good Books, Racehorse and Arcade imprints, is proud to publish a broad range of books for young readers--picture books for small children, chapter books, books for middle grade readers, and novels for young adults. Our list includes bestsellers for children who love to play Minecraft; stories told with LEGO bricks; books that teach lessons about tolerance, patience, and the environment, and much more. While not every title we publish becomes a New York Times bestseller or a national bestseller, we are committed to books on subjects that are sometimes overlooked and to authors whose work might not otherwise find a home.
About the Author
Anne Margaret Lewis is an award-winning and bestselling author of more than ten children's books. She enjoys working with fun fictional characters and carefully weaving important lessons into her stories. A graduate of the University of Michigan, she lives with her husband and four children in Traverse City, Michigan. Nancy Cote is a children's book author and illustrator whose playful style has garnered her international attention. She is the recipient of multiple awards, including the Oppenheim Toy Portfolio Gold Seal Award, the AGA "Pick of the Lists," the Smithsonian Notable Book for Children, and the Society of School Librarians International Honor Book. She is the author and illustrator of Watch the Cookie!, published by Sky Pony Press. She lives in Somerset, Massachusetts.