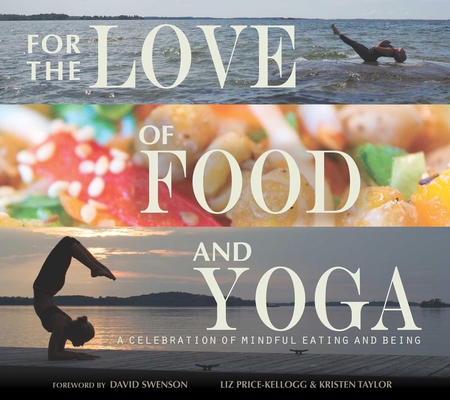 For the Love of Food and Yoga
A Celebration of Mindful Eating and Being
Hardcover

* Individual store prices may vary.
Description
Written by a yoga student and teacher, For the Love of Food and Yoga is a visually rich exploration of how the inner awareness we develop on our yoga mats fuels our bodies, minds, and overall states of well-being, which subsequently impacts our lifestyles and food experiences.

This book is comprised of one hundred "YogiBites"—a collection of time-tested yoga teachings—paired with one hundred original, soul-satiating recipes that are vegetarian, vegan, or raw. A handful of the playful and thoughtful recipes that will encourage us to eat, feel, and live well include:

• So Hum . . . Mus
• Conscious Chicks
• Hatha Hot and Sour Soup
• Reuben Revelation
• Warrior Noodle
• Bird of Paradise Piña Colada

The book's foreword is written by David Swenson, recognized today as one of the world's foremost practitioners and instructors of Ashtanga Yoga.
Praise For For the Love of Food and Yoga: A Celebration of Mindful Eating and Being…
"From their little slice of Thousand Islands heaven, Price-Kellogg and Taylor serve up a novel smorgasbord of yoga delicacies. Masterly samplings of eternal teachings and exquisitely photographed postures are made all the tastier by accompanying recipes like 'Baba Ganesh' and 'Namaste Napoleons.' Yum indeed!"
—Carrie Schneider, yoga teacher, author of Yoga Within

"This is a wonderful book, all about mindful living, eating, and being. Through recipes and photographs taken in one of the most beautiful places in North America, Yoga Food demonstrates just how thrilling the journey can be."
—Jennifer Trainer Thompson, author of more than sixteen books, including Jump Up and Kiss Me: Spicy Vegetarian Cooking

"Such a refreshing way to look at and experience the 'yoga' of eating … Beautiful pictures of places, poses, people, and plates of healthy, vibrant food. The book is sprinkled with subtle humor on literally every page, along with recipes just inviting us back to our kitchens to prepare and enjoy with friends and family. What a concept!"
—Peter Sterios, ERYT-500, creator of Manduka

"Yoga Food is a feast for the eyes, palate, body and soul. Liz and Kristen share their authentic way of living with us. Their book will leave you feeling enriched and inspired."
—Katrin J. Schubert, MD, PhD, author of the 5-Minute First Aid for the Mind series

"The combination of inspirational quotes, thoughtful writing, creative recipes, and photographs of asanas set within the beauty of the natural environment encourages us to take a deeper and more conscious approach to nourishing our bodies and feeding our souls. This book is an important addition to any yoga practitioner's library."
—Kathy Falge, MA, LMT, KPJAYI authorized level 2 Ashtanga Yoga Teacher
Skyhorse, 9781634503518, 336pp.
Publication Date: September 8, 2015
About the Author
Coauthors Liz Price-Kellogg (E-RYT) and Kristen Taylor are the founders of Live Yum, a company dedicated to inspiring a culture of mindful being through the ancient teachings and practice of yoga. Liz, a yoga teacher for nearly two decades, is the "caregiver" of River Yoga, located in Thousand Islands, New York. A dedicated yogi and mother of two young children, Kristen embraces the teachings of yoga to support whole health for her family. Liz and Kristen are passionate about creating foods that nourish the body, mind, and soul.