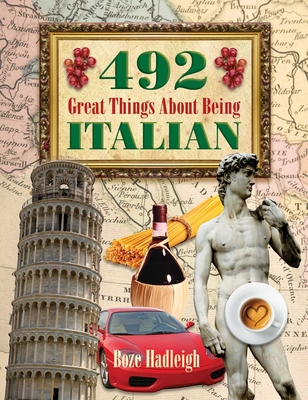 492 Great Things About Being Italian (Paperback)
Skyhorse, 9781634505345, 288pp.
Publication Date: September 15, 2015
* Individual store prices may vary.
Description
492 Great Things About Being Italian is fun, informative and catnip for 17 million Italian-Americans. It follows in the footsteps of other successful books aimed at this minority proud of its remarkable—and ongoing!—heritage. It comprises 492 (as in 1492…) individual people, things, places and phenomena that make one proud to be Italian (or half-Italian, which adds millions more to the target market).

But one doesn't have to be Italian to enjoy this book, any more than one has to be Jewish to love rye bread! Italy is Americans' second-favorite travel destination outside North America, and Italian foods, celebrities, entertainment, etc., are popular with most everyone.

It's also the kind of book that once you peek inside, you won't be able to read just one entry of the 492—it's like potato chips!
About the Author
author of Celebrity Feuds! and Hollywood and Whine, has written more than 15 books. He holds a master's degree in journalism, speaks five languages, and has been a winner on Jeopardy! Boze also writes extensively for magazines, and his work has appeared in more than 100 publications including TV Guide, Playboy, and Us. The author splits his time, when not traveling the world, between Beverly Hills and Sydney, Australia.
Praise For 492 Great Things About Being Italian…
"Packed with lovely information to please every person of Italian origin and every lover of Italian culture. . . . A great Christmas gift for Italophiles."
—Linda Binkley, Italian American Heritage Foundation

"Packed with lovely information to please every person of Italian origin and every lover of Italian culture. . . . A great Christmas gift for Italophiles."
—Linda Binkley, Italian American Heritage Foundation