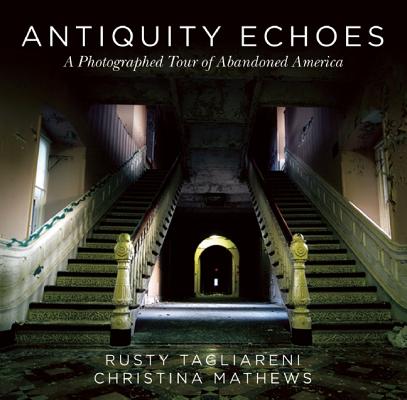 Antiquity Echoes (Hardcover)
A Photographed Tour of Abandoned America
Skyhorse, 9781634505437, 304pp.
Publication Date: October 20, 2015
* Individual store prices may vary.
Description
An incredible tour through places long forgotten.

Antiquity Echoes is a guided tour of some of our nation's most compelling abandoned locations. With a wide spectrum of places covered, readers will be walking the dark halls of an abandoned mental asylum on one page and lost in the overgrowth of an abandoned theme park on the very next. With a focus on history and first-hand accounts by the authors, Antiquity Echoes is far more than a collection of photography and text; it's an adventure story—one that is enhanced by QR codes linking to videos of these incredible locations.

Rusty Tagliareni and Christina Mathews have spent years traveling the country documenting forlorn locations throughout the United States, sharing their deep passion for history and preservation in an effort that has helped generate alliances with many historic societies and preservation organizations.

What makes a place worth remembering? Antiquity Echoes ventures that this value derives from the lessons a place can teach us, even long after it has been of use. No matter how forgotten a place has come to be, underneath the overgrowth, cracked paint, and filth of ages, lie countless stories awaiting a sympathetic ear.
About the Author
Rusty Tagliareni has been documenting abandoned locations for over fifteen years. What had originally begun as a mere high school curiosity slowly transformed throughout the years into a very passionate endeavor. He and his partner, Christina Mathews, who is a videographer, now travel many thousands of miles to document, and thus preserve on film, our nation's most captivating abandoned places. Their work has been featured in many publications, and on television programs such as "60 Minutes."
or
Not Currently Available for Direct Purchase