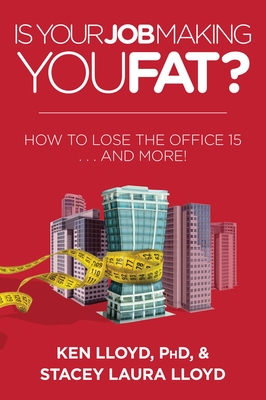 Is Your Job Making You Fat? (Paperback)
How to Lose the Office 15 . . . and More!
Skyhorse, 9781634505642, 312pp.
Publication Date: February 2, 2016
Other Editions of This Title:
MP3 CD (9/20/2016)
* Individual store prices may vary.
Description
The only thing that should be fat on your job is your paycheck.

There is a "huge" worldwide obesity problem. While fads and quick-fix diets abound, they fail to address an important question in weight gain today: is your job making you fat? The answer is "Yes."

This bold assertion is based on a great deal of global research that continues to confirm a compelling relationship between working and weight gain. The powerful link between the workplace and the waistline is due to numerous factors, including the sedentary nature of today's jobs, the onslaught of unhealthy foods that are constantly foisted upon employees, higher levels of job stress, longer and more demanding work hours, peer pressure, new and unconventional jobs, and even more. Put it all together and you have the perfect storm for weight gain.

Is Your Job Making You Fat? not only identifies and analyzes all of the central sources of weight gain associated with work, but also provides highly effective steps to control this ever-expanding problem and help you lose weight. Authors Ken and Stacey Lloyd offer a new approach where you apply your businesslike mindset and skill-set to weight management. After all, at work, you have a plan that includes objectives, benchmark dates, strategies, priorities, deadlines, and measurable results. This book shows you how to use this same methodology to take charge of your weight.
About the Author
Ken Lloyd, PhD is a nationally-recognized management consultant, author, speaker, and newspaper columnist.

Stacey Laura Lloyd is an author and social media consultant.
Praise For Is Your Job Making You Fat?: How to Lose the Office 15 . . . and More!…
"In addition to being fun to read, this volume provides a veritable menu of suggestions for staying healthy and active despite a busy schedule." —Library Journal

"Just in time for the postholiday bloat comes this timely diet guide from Ken Lloyd (Performance Appraisals and Phrases for Dummies) and Stacey Laura Lloyd. If you have a white-collar job, you're likely at risk of encountering an unhealthy "corporate foodscape," the authors warn. Fortunately, after pointing out the many potential minefields (the candy bowl, the "lovely leftovers"), the authors also offer plenty of healthy alternatives and advice. Creative ideas include standing/treadmill desks and exercises to perform in the car, train, or even in your chair. The Lloyds also offer strategies to help deal with the temptations involved when dining out or traveling for business. The authors adopt a gentle, conversational tone, using alliteration ("coffee conundrum," "restaurant realities," "furniture, fitness, and fatness") to make their simple hints memorable and often humorous…" —Publishers Weekly

"This book provides you with a clear understanding of the compelling link between the workplace and weight gain, while also equipping you with a vast array of highly effective and innovative strategies to help you manage your weight on the job. It's an excellent resource for employees and employers alike." –Marc Benioff, Chairman & CEO, Salesforce.com

"In addition to being fun to read, this volume provides a veritable menu of suggestions for staying healthy and active despite a busy schedule." —Library Journal

"Just in time for the postholiday bloat comes this timely diet guide from Ken Lloyd (Performance Appraisals and Phrases for Dummies) and Stacey Laura Lloyd. If you have a white-collar job, you're likely at risk of encountering an unhealthy "corporate foodscape," the authors warn. Fortunately, after pointing out the many potential minefields (the candy bowl, the "lovely leftovers"), the authors also offer plenty of healthy alternatives and advice. Creative ideas include standing/treadmill desks and exercises to perform in the car, train, or even in your chair. The Lloyds also offer strategies to help deal with the temptations involved when dining out or traveling for business. The authors adopt a gentle, conversational tone, using alliteration ("coffee conundrum," "restaurant realities," "furniture, fitness, and fatness") to make their simple hints memorable and often humorous…" —Publishers Weekly

"This book provides you with a clear understanding of the compelling link between the workplace and weight gain, while also equipping you with a vast array of highly effective and innovative strategies to help you manage your weight on the job. It's an excellent resource for employees and employers alike." –Marc Benioff, Chairman & CEO, Salesforce.com